On April 16, aotejia (002239) recently released the performance forecast for the first quarter of 2021, which is expected to turn loss into profit year on year. During the reporting period, the net profit attributable to the shareholders of the listed company ranged from 20.3 million yuan to 30.4 million yuan, turning losses into profits over the same period of last year; the basic earnings per share ranged from 0.006 yuan / share to 0.009 yuan / share.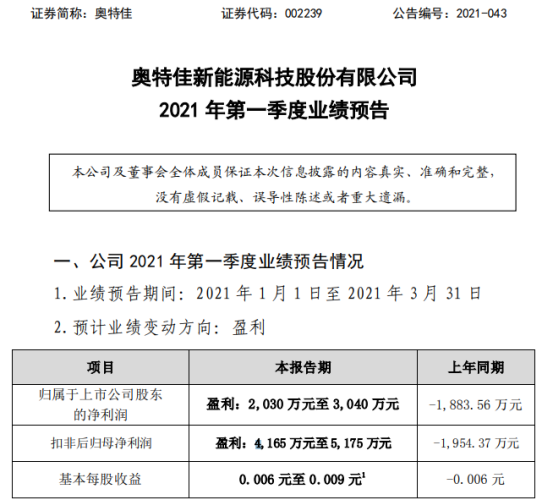 During the reporting period, affected by the rapid recovery of the downstream market, the production and sales of various main products of the company were booming, and the business income and related profits increased significantly compared with the same period of last year, turning losses into profits, with a larger year-on-year growth.
Meanwhile, the novel coronavirus pneumonia epidemic is seriously affected by the external business environment, and the extraordinary non profit and loss items cause a larger period cost. During the reporting period, some of the company's overseas business parts logistics had to adopt the air transportation mode, resulting in higher logistics costs, of which the air transportation cost included in the current non recurring profit and loss was about 53 million yuan, which greatly restricted the growth momentum of the company's net profit. With the overseas epidemic gradually under control.
It is estimated that this adverse effect will end in the second quarter of 2021. In addition, there was an increase in staff salaries, sales expenses, interest expenses and the impact of exchange rate changes.
According to the data of digbei.com, Ortega is an enterprise providing overall thermal management solutions for automobiles. Its main business is the development, production and sales of automotive thermal management system products and technologies, mainly including automotive air conditioning compressor, automotive air conditioning system, engine cooling, new energy automotive battery thermal management and other R & D and production businesses.
0