On April 18, bitcoin came out of a wave of collapse market. Compared with the intraday high price, bitcoin once fell by more than $9000, with a intraday drop of more than 15%. Industry insiders believe that due to the lack of adequate supervision and round the clock continuous trading mechanism, the price fluctuation of virtual currency is more severe and the investment risk is greater. On April 18, Li Bo, vice governor of the people's Bank of China, pointed out at the sub Forum on digital payment and digital currency at the Boao Forum for Asia 2021 annual meeting that he was studying the regulatory rules of comparative special currency and stable currency. In the future, if any stable currency wants to become a widely used payment tool, it must be subject to strict supervision, just like banks or quasi banking financial institutions.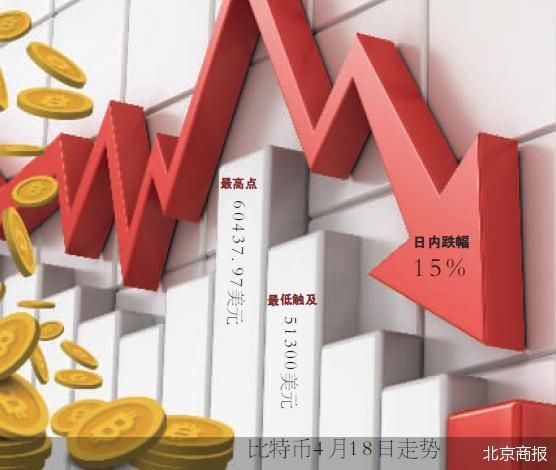 Bitcoin plummeted 15%
The virtual money market is on the roller coaster again. On April 18, the topic of "bitcoin falling below $52000" hit the microblog hot search list. This was due to the collapse of bitcoin at 11 a.m. that day, which plummeted nearly $7700 within half an hour.
According to wind data, after the opening on April 18, bitcoin showed a fluctuating downward trend, gradually declining from the highest point of $60437.97. At 11 am, bitcoin plummeted from US $59000.01 to US $51300, a sharp drop of more than US $9000 from the highest point in the day, and a drop of more than 15% in the day. As of 20:16 on the 18th, bitcoin's decline narrowed slightly to US $53986.62, down 10.32% within the day.
Bitcoin's "diving" has also further affected other small currencies. According to the data of coinmarketcap, the global currency price website, as of 19:30 on April 18, from the 24-hour trading situation, the top 30 virtual currencies in market value once fell across the board.
The transaction time line will be extended to last week, the virtual currency also has a "brilliant" moment. Beijing Business Daily reporter noted that since April 13, bitcoin trading price has continued to rise, and constantly refresh the highest price in history. On April 14, bitcoin hit as high as $64899, which is also the current record of bitcoin price.
Also of concern this week is dog money. As a new favorite in the coin circle, Dog Coin won the platform of Tesla president Musk on April 15, with a 50% rise in the day. On April 16, doggie's rise continued. It rose as high as 250% in 24 hours, reaching the highest of US $0.33. The market value of doggie's trading exceeded US $60 billion, making it one of the top 10 in terms of market value.
Under the background of virtual currency diving, doggy currency was not spared. It fell by more than 18% in 24 hours. As of 19:30 on April 18, doggy was at US $0.3069, down 0.42% in 24 hours, ranking fifth in market value.
Wang Peng, assistant professor of Renmin University of China, told Beijing Business Daily that in reality, virtual currencies, including bitcoin, do not have the function of currency trading in financial settlement systems of various countries. Virtual currency has the property of financial derivatives, and its price trend is also affected by many factors. Sudden regulatory trends, news and public opinion, and major technological changes may make its trading price fluctuate significantly.
Wang Peng pointed out that in addition to the above reasons, another reason is the excessive concentration of virtual currency holders. Virtual currency trading is mainly carried out through the third party, namely the virtual currency exchange, and the trading platform becomes the largest holder, which also makes it possible for the makers to form a group and control the currency trading price.
Bad news comes out frequently
As Wang Peng said, bitcoin trading price is affected by many factors. Beijing Business Daily reporter further combed and found that this week, in addition to Musk's "shoudan" dog coin, all kinds of news about virtual currency, such as the listing of the old virtual currency trading platform coinbase and the move of the Central Bank of Turkey, were frequent.
As for the reasons for bitcoin's current round of decline, the industry generally believes that it is closely related to Turkey's central bank's move to stop virtual currency trading.
On April 17, a number of media reports pointed out that the Turkish central bank issued a statement on the same day, saying that bitcoin and other virtual currencies are explicitly prohibited as a form of payment for goods and services. Turkey's central bank also banned e-money institutions from acting as intermediaries for transfers to virtual money platforms.
Moreover, on April 18, the Indian government's regulatory policy on virtual currency came out again. Many media reported that the Indian government would ban virtual currency and impose fines on those who trade or even hold such assets in the country. Any act related to encrypting assets was defined as a criminal act.
In fact, since December 2020, when bitcoin started its soaring mode, in addition to Turkey, there have been frequent calls from countries at home and abroad to guard against the risks of virtual currency, and the supervision of virtual currency has been gradually tightened. US Treasury Secretary John Yellen has publicly said that bitcoin is highly speculative and investors should be careful.
In terms of tightening the supervision of virtual currency, according to foreign media reports, South Korea has implemented the real name system of virtual currency trading since March 25. The virtual currency trading platform of South Korea must report its trading data to government agencies before September 2021, and said that it will severely crack down on illegal activities related to virtual currency trading. On April 5, the Central Bank of Argentina issued a notice to domestic regional banks, requiring them to submit the transaction data Customer information about buying or holding bitcoin and other virtual currencies.
"The gradual tightening of virtual currency supervision by foreign central banks is also related to the continuous rise of virtual currency prices." Wang Peng said that under the loose monetary policy led by overseas countries in 2020, the prices of virtual currencies, including bitcoin, will rise sharply. Take Turkey, which has a weak economic and financial foundation, as an example. After a large amount of inflation, the speculative virtual currency accumulates a large number of systemic risks, which will further erode the global financial and settlement system dominated by the central bank. The relevant financial regulatory departments will inevitably adopt a more cautious attitude towards the virtual currency.
The general trend of strengthening supervision
"In recent years, strengthening the supervision of virtual currency has become one of the main trends in the world." Jiang Zhaosheng, research director of zero one blockchain and researcher of digital asset research institute, pointed out that with the increasing scale and influence of virtual money market, the impact and change on traditional economy and financial system will be more profound, and the supervision of global virtual money will be further tightened.
In Jiang Zhaosheng's view, Turkey's stricter supervision will have a certain reference value for other countries' virtual currency supervision policies. At the same time, due to the internationalization and digitalization of virtual currency, the trend of joint supervision will become more prominent.
Li Bo said that it is necessary to ensure that speculation on such assets will not cause serious financial risks. Li Bo said that encrypted assets are an investment option. It is not a currency in itself, but an alternative investment. So we think encryption assets should play a role in the future, as an investment tool or alternative investment. As an investment tool, many countries, including China, are also studying what kind of regulatory environment such an investment mode should have. Although this regulatory rule is the minimum regulatory rule, there should still be regulatory rules.
In addition to the impact on the normal monetary system, virtual currency transaction also has many risks for ordinary users. As early as September 2017, the Central Bank of China, together with seven ministries and commissions, issued the notice on preventing the risks of token issuance financing, which pointed out that no organization or individual should engage in the financing activities of token issuance illegally. Since then, many places have issued "risk tips on" virtual currency "trading activities" to remind users to guard against risks.
Under the price fluctuation of virtual currency, the whole network contract market ushered in a high burst. According to the data of bitcoin home, as of 20:30 on April 18, 478000 people had suffered warehouse explosion in the last 24 hours, with a total of 6.162 billion US dollars, about 40.18 billion yuan.
Beijing Business Daily reporter Yue Pinyu and Liao Meng
[the above content is transferred from "Beijing Business Daily website", which does not represent the view of this website. If you need to reprint it, please get permission from the website of Beijing business daily. If there is any infringement, please contact to delete it. 】
0