Facebook made no secret of its ambition. The day after the rumors began to fly, it made it public – a high-profile move into the field of audio social networking. Since the popularity of clubhouse overnight, audio social networking has become a new hot spot for Internet enterprises. However, although tuyere seems to have something to do, clubhouse itself is facing great difficulties in terms of content regulation, privacy issues, and business models, not to mention the new Facebook.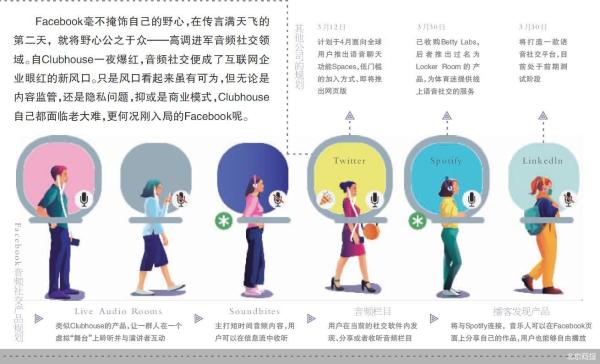 Here comes the competition
This time, Facebook is a big shot, and will launch more than one product in the audio social field. On Monday local time, Facebook CEO Zuckerberg announced that a number of products that emphasize voice content rather than text, images or videos will be released in the coming months.
Among them, the audio function named live audio rooms was put on the agenda earlier. Users can have real-time conversations with others through live audio rooms, similar to the club house that caused a sensation at the beginning of the year.
According to Facebook, live audio rooms will be available to users of Facebook and Messenger this summer. Before launch, the company will test this feature in certain groups on Facebook. Zuckerberg added that Facebook will invest a lot of money in live audio rooms and gradually improve it in the next few years.
Facebook has also made some improvements to differentiate itself from clubhouse. According to Facebook Product Manager fidji Simo, the voice room on the clubhouse is temporary and will disappear when the room is closed. Facebook, on the other hand, has a different feature: users can save their room discussions and download them as podcasts. In addition, Facebook will add a pay function to help content creators make money from their fans.
As a social giant, Facebook is not alone. In an interview on Monday, Zuckerberg also revealed the name of another product, soundbits, which focuses on short-term audio content. Facebook will use algorithms to recommend short-term audio content that users are interested in. Users can listen to it in the information stream.
In addition to these two specific functions or products, Facebook is also developing podcast functions to enable users to find, share or listen to audio programs in current social software.
According to Zuckerberg, Facebook will also integrate with online music service spotify in the future, so that musicians can share their works on Facebook page and users can play freely. The integration project is known inside Facebook as the "Boombox project.".
Encircle and suppress clubhouse
Facebook's move is no surprise. In February, it was reported that the company was developing a product to compete with clubhouse. Just a day before Facebook's official announcement, some media had exposed Facebook's plan in advance. From imitation to innovation, Facebook's great efforts are also reasonable. After all, the popularity of Clubhouse at the beginning of the year made the global Internet envious.
At the end of January this year, under the leadership of Tesla CEO musk and the founder of Robin Hood, clubhouse was sought after by users all over the world, and even experienced a short-term system overload. According to app Annie, from February 1 to 16, the number of global downloads of the app increased from 3.5 million to 8.1 million, and an invitation code was fired to $150.
Recently, clubhouse has also begun to expand its territory. Its Android developers once tweeted a screenshot of using clubhouse on pixel mobile phones, and said that the Android clubhouse was released in May.
At the company's weekly public meeting on Sunday, clubhouse announced that the company had completed a new round of round C financing, but did not disclose the amount of financing. The round valued the club at $4 billion, according to people familiar with the matter.
With the rapid development of clubhouse, the Internet giants smell new opportunities, and the audio track is booming. According to the latest report released by Andersen Securities Research Center, the global online audio market will grow from 10.5 billion yuan in 2018 to 30.7 billion US dollars in 2023, with a compound annual growth rate of 23.8%.
On the 12th of last month, twitter announced that it plans to launch the voice chat function spaces for users around the world in April. In fact, this function took shape as early as last November, but I didn't expect that clubhouse was born to seize the opportunity to get out of the circle. Spaces can be called the "advanced version" of Clubhouse: low threshold way to join, the first to launch Android version, and the upcoming web version. Another source said that Twitter had tried to buy clubhouse for as much as $4 billion, but failed.
It's not just Facebook and twitter that have made a lot of efforts. Many Internet giants are ready to move. At the end of March, spotify announced that it had acquired Betty labs, which launched a product called locker room, which mainly provides online voice social services for sports fans. Linkedln also announced plans to develop voice functions, which are currently in the preliminary testing stage.
Chronic disease of privacy
Clubhouse enjoys the advantages of time, place and people – the epidemic has stimulated the demand for online social networking, the mystery of invitation system, the intimacy of voice dialogue, and the attraction brought by celebrities, but it's hard to say whether the success of clubhouse can be reproduced.
In fact, the road of audio social networking may not be as easy as expected. Even clubhouse faces many doubts. For example, data leakage is a chronic disease in the social field. On April 12, cyber News reported that clubhouse was suspected to have been attacked by hackers. A SQL database containing 1.3 million users' personal information was leaked to the hacker forum, including user records, such as user ID, name, photo URL, user name, links to other social media and other personal information.
In March, cnil, the French data protection agency, said it had launched an investigation into the clubhouse. Earlier, cnil received a petition, which read: "we call for an immediate and comprehensive investigation into clubhouse's violations of privacy laws. If the operation of clubhouse is illegal, the maximum penalty will be imposed. "
Facebook is familiar with data leakage. On how to protect privacy in audio social products and other issues, Beijing Business Daily reporter contacted Facebook, but as of press, no specific reply has been received.
Moreover, clubhouse is facing a short-lived dilemma. According to the survey data of sensor tower, the number of downloads of clubhouse in March this year was only 2.7 million, down 72% from 9.6 million in February, only slightly higher than 2.4 million in January.
In addition, the commercialization of audio social networking has just begun, and it is difficult to make a conclusion about its future liquidity. Previously, clubhouse had been free. On April 5, it launched the first payment function for cash. At present, all users can initiate payment, and guarantee that 100% of the "rewards" will enter the content creator's account.
In this regard, Facebook plans to launch a function called stars, in which users can directly reward the creators of the live audio studio. In the future, it will also open a single purchase or subscription channel function. In addition, Facebook will set up a special creator fund for soundbites to motivate audio creators.
According to Feng Huakui, the founder of mischievous e-commerce, it's still early to talk about cash flow in the field of voice and social communication. Now the question is whether it can take root. On the one hand, it's hard to say whether voice social products can survive on their own. The supplementary positioning of voice social products in social scenes is not clear. Video conference can also solve this demand. In addition, voice is used for communication, so whether it can create a social tipping point is also a problem. Generally speaking, the application space is not too large.
As for the improvement space of voice social in the future, Internet analyst Yang Shijie said that the development difficulties lie in: on the one hand, it can not be popularized in a large area, and the audience is relatively narrow; on the other hand, the platform activity and retention rate may not be high; on the other hand, there are no product barriers, and the competition ratio is high; on the other hand, there is commercial cash flow, with small appreciation potential and weak cash flow ability, such as will The service of the staff. In addition, after users communicate on this voice social platform, they will eventually return to a more mature social platform for in-depth communication. It feels more like a complementary function based on a mature social platform.
Feng Huakui also said that voice social networking, as a strategic subsidiary product of Internet enterprises, may have certain value. Facebook may be out of strategic consideration, such as helping to increase users, preventing others from stealing edge traffic, and helping users' stickiness.
Beijing Business Daily reporter Tao Feng Tang Yitian
[the above content is transferred from "Beijing Business Daily website", which does not represent the view of this website. If you need to reprint it, please get permission from the website of Beijing business daily. If there is any infringement, please contact to delete it. 】
0