Users in the retail market are iterating. The "Z generation" from 1995 to 2009 is gradually becoming a new "consumer responsibility", known as the "afterwave". They were born in the Internet age, grew up with the Internet, smart phones, tablet computers, etc., and have different consumption habits from the previous generation. Research reports show that "Z generation" groups are willing to pay for their interests, love UGC (user generated content) platform, pursue "lazy economy" and "home culture", and prefer beauty and adoration.
Consumers decide the market, and the market decides the industry. The business environment of various industries is being redefined by "generation Z".
"We are optimistic about the prospect of" good consumption "in the long run." Ye Guofu, founder, chairman of the board and chief executive officer of mingchuang Youpin, once said that the pursuit of cost performance alone can no longer move young consumers, and the "good consumption" that can bring happy experience to consumers is the new track for young consumers.
In fact, the increasing influence of "generation Z" on the consumer market has made more and more enterprises and brands transform and develop according to the consumption habits and preferences of this group. This brings new opportunities as well as new challenges to enterprises and brands.
A generation born for interest leads new consumption trends
Generation Z is building a new consumption era with its love.
As a generation growing up in the mobile Internet and social media, they have accepted the influence of multiculturalism and have a stronger demand for self-expression and identity. Their love drives them to speak up to the times, and they are willing to show their attitude with strong consumption.
According to cbndata's "Z generation consumer attitude insight report", China's Z generation spending amounts to 4 trillion yuan, accounting for about 13% of the country's total household spending, and the growth rate of consumption is far higher than that of other age groups. Z generation circle with interest, not stinging to pay for the things they care about.
And this circle based on vertical interest has ushered in the explosion of circle consumption.
Take the pop box for example. According to the first "hand cutting list of post-95 players" released by a certain platform in 19 years, blind box has become the fastest growing and most expensive hobby of post-95 players. Nearly 200000 consumers spend more than 20000 yuan on blind box, and hard core players spend millions a year.
In this popular fashion single product market, the consumption preference of Z generation is also reflected. The blind box products are also launched for the purpose of catering to consumer demand. The different strategies of each brand determine the recognition of Z generation to its blind box products.
As a collection store of "young people love to go shopping", various blind box series products of mingchuang Youpin greatly enrich the choice space of consumers, so that each fan group can explore their favorite products here. This is due to the IP strategy launched by mingchuang Youpin as early as 2016.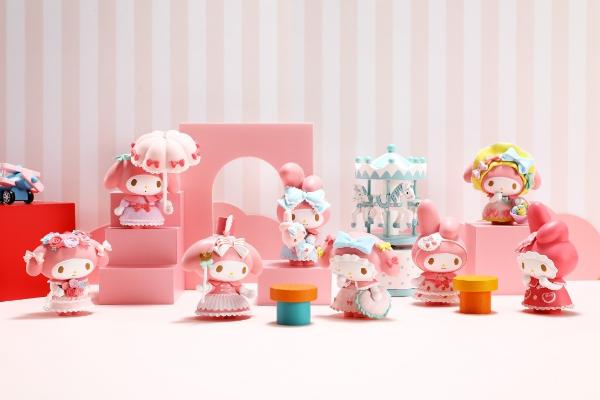 Meleti IP series blind box launched by mingchuang Youpin is highly praised
Based on the advantages of friendly cooperation with many top copyright owners at home and abroad, mingchuangyou products, relying on domestic 2000 + physical stores and online multi platform layout, has launched a series of blind box products, covering more than a dozen global popular IP addresses, such as Hello Kitty, Disney villain, cat and mouse, and melody. On the basis of the original "cost-effective" label, the blind box helps mingchuang Youpin achieve the consumption upgrade from cost-effective to creativity and experience, and build a new persuasive brand line.
This measure is also a "shortcut" to reach Z generation. As the main force of cross-border joint consumption, they account for far more than all other intergenerational consumers, and the post-90s and post-95s together account for more than 70% of the sales.
Close to the consumption trend, better life attracts "afterwave"
Under the trend of diversified development, many consumer markets have been carved up. However, if we understand the consumption logic of generation Z, it is not difficult to find that the view that "all businesses are worth doing again" is correct.
Z generation is diversified and personalized, and their enthusiasm for interest makes them "choose what I love". The "face value" is undoubtedly an important factor affecting their choice of consumption objects. Like tea, perfect diary, vitality forest, etc. behind the explosion, are related to the high appearance value of products.
"Beauty is justice" has become the new generation's consumption vitality, and "design with attitude" is easier to win the recognition of Z generation.
Focusing on young consumers, famous and high-quality products are closely related to the current consumption trend of the young generation in product development. In 2018, the brand established the original design agency MDA (miniso Design Academy) and signed contracts with famous designer teams in Finland, Denmark, Norway, Spain, South Korea and other countries. After many years, the brand has continuously incubated simple, natural and textured original products. The products developed by MDA adhering to the concept of "good design, good life" have won many international design awards such as red dot, if and a 'design award.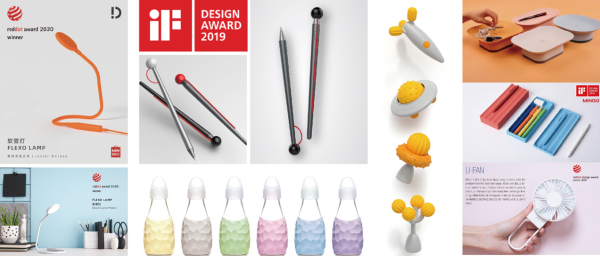 Our products have won many international design awards such as red dot, if and a 'design award
Generation Z is a new user with iterative requirements. More distinctive consumer behavior is the difference between them and the previous generation of users, but the emphasis on the product itself is a common feature of different generations of users. In fact, whether it's IP co branding strategy or "high-value" product design, it's still products that can conquer generation Z in the end.
Mingchuang Youpin is well aware of this and has always been based on product development. Under the resonance of "high-quality supplier resources, large-scale direct procurement, rapid settlement, low rate of price increase to ensure high quality and low price", by reducing intermediate links, increasing circulation efficiency, realizing rapid response and efficient turnover, mingchuang top quality products consolidate the high cost-effective products of "high quality and low price" as the cornerstone of the brand.
In addition, over the years, mingchuang Youpin has been delivering the life attitude of "a better life has nothing to do with price" to consumers. The brand DNA of "high quality and low price", "joy" and "free will" has won the emotional resonance of generation Z, and made them turn this resonance into action support.
From the upstream to seize high-quality design resources and suppliers, to build a mature supply chain system, to the downstream to deeply lay out all channels, to do a good job in community marketing, to accumulate nearly 28 million consumer members. Relying on multi brand, multi format and multi track, famous and high-quality products continue to further occupy the minds of young consumer groups, and explore the future and imagination space of new consumption.
0