On April 26, Zhongwei (300919) recently released the first quarter report of 2021. During the reporting period, the company achieved an operating revenue of 3689539640.80 yuan, up 135.23% year on year; The net profit attributable to shareholders of listed companies was 211547175.77 yuan, up 237.63% year on year.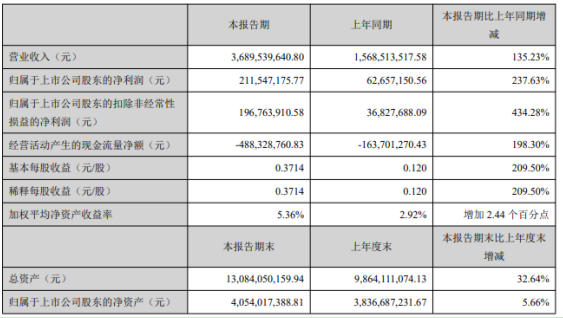 During the reporting period, the net cash flow from operating activities was -488328760.83 yuan, and the net assets attributable to shareholders of the listed company at the end of the reporting period was 4054017388.81 yuan.
The total operating revenue increased by 135.23% over the same period of last year, which was mainly due to the substantial growth of sales volume of lithium battery cathode precursor materials with the development of new energy industry.
According to digbei.com, Zhongwei's main business is the research and development, production, processing and sales of lithium battery cathode material precursors.
0