How many chances are there to save the card machine, or storage card, that fell into the river? In the Crystal River wildlife reserve, Florida, USA, while watching the manatees eating, tour guide Dustin Molina accidentally found a camera on the river bed, but it was seriously rusted, and the screen on the back of the camera had broken. However, Molina and his colleagues found that the SD card in the camera could still read the data.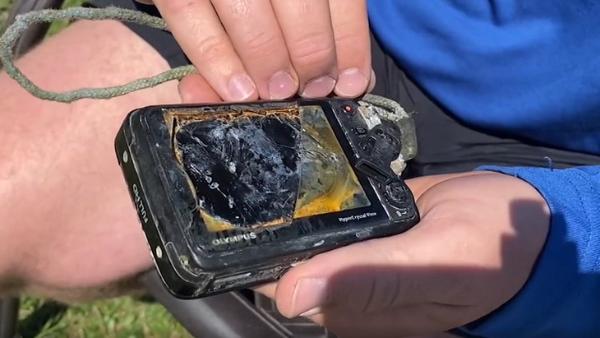 The back screen is broken
Molina picked up the camera belongs to Olympus tough series tg-620 waterproof DC. The bare metal waterproof depth is 5m, and it can withstand 1.5m high drop impact and – 10 ℃ low temperature. Molina found that more than 2000 photos were stored in the SD card, including pictures of Crystal River, rowing, skiing and family vacations in different places; The photos date back to 2012, and the latest one was taken in 2014.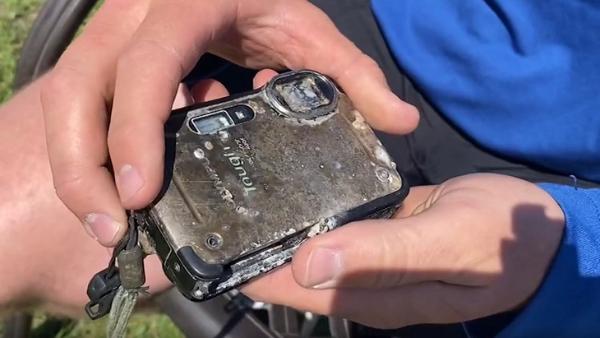 The camera is seriously rusted
Molina searched for the owner of the camera through the social app page of the guide center, hoping to return the photos. After the spread of netizens, the owner Lori Stephens was finally found in North Carolina. She recalled that she and her family came to Florida for a holiday and played upright boards at Kings Bay on Crystal River. After a while, a group of about 8 to 10 manatees came swimming. She was so excited that she wanted to take out her camera to take a picture, but she forgot to tie her wristband to the camera for a moment. As a result, it fell into the water. "I know exactly where the camera fell into the river, but we couldn't find it for an hour," she said.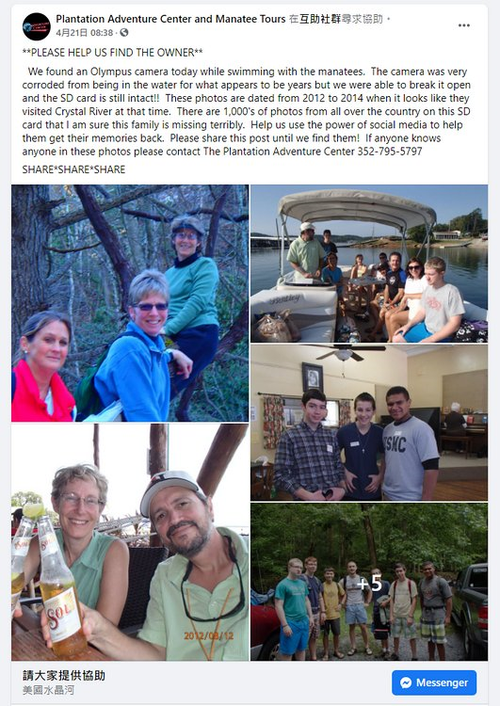 Molina's Guide center openly searches for the owner of the camera through social software, hoping to return the photos
To celebrate Lori's 60th birthday, the Stephens family plans to spend a holiday in Florida in a few weeks and celebrate the recovery of the lost photo, which has been lost for seven years. In addition, Lori is also very grateful to all the people who have contributed to the search for the owner of the camera, so that she can remember the happy memories of the past again.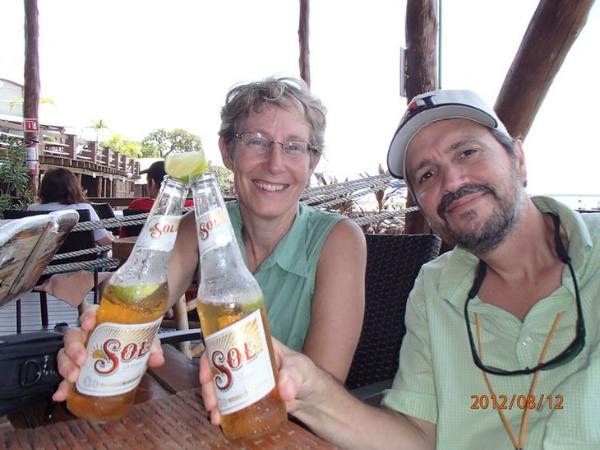 Lori Stephens, the owner of the camera, lives in North Carolina when she and her family went to Florida for a holiday.
via:dcfever
Author: Shen Pei
0