On April 26, Mingxin intelligent (836786) recently released its 2020 annual report. During the reporting period, the company achieved an operating revenue of 88540049.84 yuan, up 168.89% year on year; The net profit attributable to the shareholders of the listed company was 12192556.13 yuan, up from – 4582429.47 yuan in the same period of last year, turning losses into profits year on year.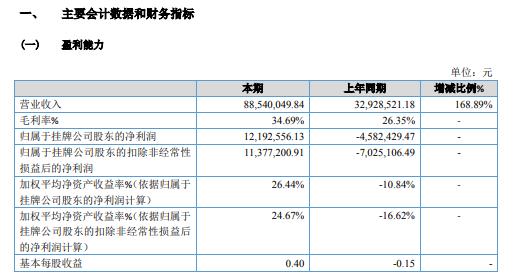 During the reporting period, the net cash flow from operating activities was 4734421.18 yuan, and the net assets belonging to the shareholders of the listed company were 52214662.68 yuan by the end of 2020.
The operating revenue increased by 55611528.66 yuan or 168.89% compared with the same period of last year. It was the company's R & D and production line of masks during the epidemic period. Due to the market demand, the company continues to improve its R & D capability and launch more intelligent products, which will provide favorable guarantee for more enterprises to resume production. At the same time, the company actively expands and optimizes the market layout, and constantly improves the sales mode of products. The company has gradually changed its focus from providing industrial robot non-standard customized automation system integration products to industrial automation standard products and modular products, supplemented by non-standard customization, and actively explored product application fields to effectively promote revenue growth.
Compared with the same period of last year, the operating profit and net profit increased significantly, which was due to the company's investment in the production and sales of new products during the reporting period. At the same time, through effective adjustment of cost strategy and mass production, the production cost was reduced and the gross profit rate of some products was increased. With the increase of sales revenue, the operating profit and net profit increase simultaneously.
During the period, the financial expenses were 522636.07 yuan, 392480.25 yuan in the same period of last year, with a year-on-year increase of 33.16%.
According to the data of digbei.com, Mingxin intelligent belongs to the general equipment manufacturing industry. It is a provider of integrated solutions for industrial robots. Relying on the production technology and experience of welding robot trajectory planning and automatic off-line programming technology, visual seam tracking and visual three-dimensional measurement technology, as well as the understanding of industrial applications, it can provide reference for automobile, engineering machinery, sports equipment, etc Customers in ceramic, 3C and many other industries develop, manufacture and sell customized and intelligent industrial robot integrated systems that can realize automatic welding, cutting, handling, assembly, glaze spraying and other functions. They also sell industrial robot bodies of international famous brands such as OTC and Nachi in Japan, and provide after-sales maintenance services for customers.
0