Beijing business daily (reporter Zhao Dan) on April 26, China Resources beer (holding) Co., Ltd. (hereinafter referred to as "China Resources beer") announced the establishment of Runhui investment (Shenzhen) enterprise (limited partnership). The joint venture is invested by China Resources Snow Beer, a wholly-owned subsidiary of China Resources beer, and established in partnership with Hengqin runchuang, Shenzhen Bohui and Feihong Zhuxin. At the same time, the above companies have entered into a partnership agreement.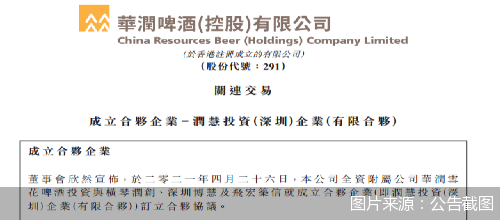 It is understood that all partners of the partnership have subscribed a total of 500 million yuan. Among them, China Resources Snow brewery invested 150 million yuan, Hengqin runchuang 50 million yuan, Shenzhen Bohui 100000 yuan and Feihong Zhuxin 299 million yuan.
According to the announcement, the underlying assets mainly invested by the partnership are the inefficient assets invested by China Resources snowflake beer, including but not limited to the land use rights of the factories that have been shut down due to their capacity adjustment, the buildings and facilities on the land, and other inefficient assets invested by China Resources snowflake beer approved by the risk control committee.
As for the reasons for entering into the joint venture, China Resources beer pointed out in the announcement that China Resources snowflake beer invests exclusively in the production, sales and distribution of beer products. In recent years, China Resources snowflake beer has invested in capacity optimization, so that some of its breweries are no longer in operation. In view of the experience of other parties in asset management and the expertise in real estate management and investment, the establishment of a partnership and the possible sale of China Resources brewery to the partnership (if such sale is carried out) may enable China Resources brewery to redevelop the land or sell the land or related use right assets to a third party, To maximize the value of the land where the factories are located.
[the above content is transferred from "Beijing Business Daily website", which does not represent the view of this website. If you need to reprint it, please get permission from the website of Beijing business daily. If there is any infringement, please contact to delete it
0