On April 29, Bank of Jiangsu (600919) recently released its 2020 annual report. During the reporting period, the company achieved an operating income of 52026195000 yuan, up 15.68% year on year; The net profit attributable to the shareholders of the listed company was 15065745000 yuan, up 3.06% year on year.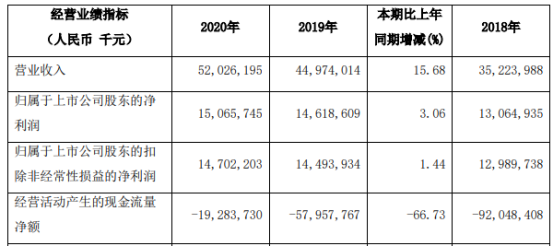 During the reporting period, the net cash flow from operating activities was – 19283730 thousand yuan, and the total assets were 2337892914 thousand yuan by the end of 2020.
The scale of asset custody has grown steadily, and the efficiency has been improved continuously. By the end of the reporting period, the company's asset custody scale was 3.04 trillion yuan, an increase of 20.69% over the beginning of the year. The asset custody scale and public fund custody scale continued to rank first in the city commercial bank, with a total custody income of 475 million yuan.
According to the announcement, the total remuneration of directors, supervisors and senior managers during the reporting period was 20.4124 million yuan. Xia Ping, chairman of the board of directors, received a total pre tax remuneration of 880600 yuan from the company, and Wu Dianjun, executive director, vice president and Secretary of the board of directors, received a total pre tax remuneration of 812000 yuan from the company.
According to digbei.com, the business scope of Jiangsu bank mainly includes: absorbing public deposits; Issuing short-term, medium-term and long-term loans; Handle domestic settlement; Handle bill acceptance and discount; Issuing financial bonds; Acting for issuing, cashing, underwriting government bonds and short-term financing bonds; Buying and selling government bonds, financial bonds and corporate bonds; Engage in interbank lending; Provide letter of credit service and guarantee; Acting for payment and insurance business, financing for customers, sales of funds, sales of precious metals, collection and payment and custody of collective fund trust plan; Providing safe deposit box business; Handle entrusted deposit and loan business; Engaged in bank card business; Foreign exchange deposits; Foreign exchange loans; Foreign exchange remittance; Foreign currency exchange; Settlement and sale of foreign exchange, agent forward settlement and sale of foreign exchange; International settlement; Foreign exchange trading on its own and on behalf of customers; Interbank foreign exchange lending; Trading or acting as an agent for trading foreign currency securities other than stocks; Credit investigation, consultation and witness business; Online Banking Service; Other businesses approved by the banking regulatory authority and relevant departments.
0