In 2020, under the synchronous effect of actively preventing and controlling the epidemic and accelerating social development, China's economy will still grow by 2.3% against the trend in the impact of the global epidemic, leading the recovery. In 2021, we will continue to make full use of our power to achieve business growth and let enterprises and China's economy develop together.
In the 2021 government work report, it is mentioned that we should help small, medium and micro enterprises and individual businesses that are most directly affected and have a large number and wide range to tide over the difficulties. In order to help all walks of life, especially the small and medium-sized enterprises in urgent need of increasing revenue and reducing expenditure, start smoothly in March, Jingdong enterprise purchase aims at the purchase demand of household appliances of enterprise users such as office fixed assets, employee tea break, employee health, marketing materials, etc., and cooperates with all major brands to launch the "enterprise start-up season" activity, launching the enterprise purchase discount as low as 50%, so as to facilitate small and medium-sized enterprises to get a lower price Input, quickly prepare high-quality starting materials, and enter the production and operation state efficiently.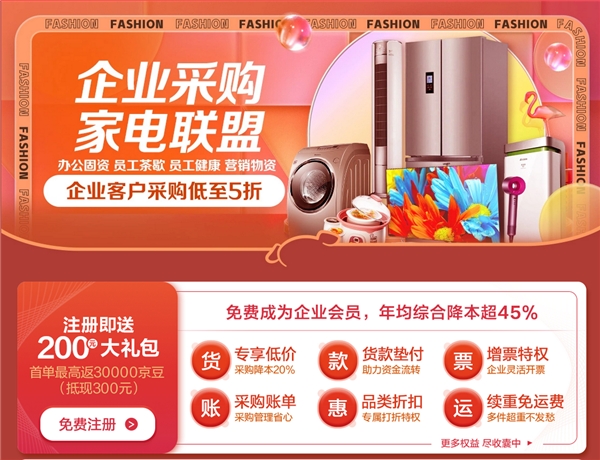 In terms of technological innovation, the platform advantages of digital, intelligent and customized purchasing of Jingdong enterprises can accurately match the needs of enterprises, and help small and medium-sized enterprises with weak purchasing bargaining power, difficulty in cost control, delay in delivery due to small purchasing volume, high logistics cost, difficulty in goods quality supervision, and untimely information receiving. The platform's "fast procurement, light management, one-stop" integrated solution can reduce the cost of enterprise users' home appliance procurement and the whole process service, and at the same time, promote the upgrading of procurement management mode and service innovation with technology.
Focusing on the five scenarios of "procurement management, commodity source, asset management, offline services, and value-added rights and interests", JD enterprise purchase reduces the capital, manpower, and energy input of small and medium-sized enterprise users in supply chain management by polishing the platform, optimizing the industrial structure, innovating the business model, expanding offline resources, and integrating SaaS platform resources, so as to realize the explicit cost and implicit cost At the same time, small and medium-sized enterprises can focus more on their main business and achieve high-quality development.
In addition, relying on the advantages of platform digital management and big data, B2M (enterprise customized service) has become an important advantage for JD enterprises to attract small and medium-sized enterprise users. With the upgrading of consumption structure and the Post-80's and post-90's becoming the backbone of the society, the pursuit of office environment quality and highlighting the enterprise's personality has become the current mainstream demand, and due to the different purchasing needs of enterprises from all walks of life, homogeneous and standardized commodities have been difficult to meet the personalized needs of enterprises.
In the past, due to the limitation of procurement quantity, the customized demand of small and medium-sized enterprises was difficult to achieve. Therefore, relying on the group's supply chain capability, Jingdong enterprise has opened up a B2M enterprise personalized customization platform, grasped the needs of small and medium-sized enterprises, and built a new flexible supply chain ecosystem. On the one hand, it provides a customized order platform for front-end users to meet users' diversified, personalized and customized commodity trading experience, and realize diversified and efficient customized commodities. The platform provides system tools to support attribute customization, graphic customization, volume customization, enterprise customization and other customized scenarios, so as to promote consumption experience and promote supply chain upgrading.
On the other hand, Jingdong also provides an intelligent factory platform for factories with flexible production, enabling small-scale, batch and intelligent orders to enter the downstream production supply chain, helping factories build a production mode of rapid response, first sale, then production and zero inventory, and successfully complete contract fulfillment services. It not only meets the convenient and low-cost personalized purchasing needs of small and medium-sized enterprises, but also injects new vitality into household appliance manufacturers and household appliance market.
JD's "enterprise start-up season" home appliance enterprise purchase activities will continue throughout March, with more enterprise customers purchasing as low as 50% discount, enterprise members enjoying exclusive low price, advance payment, ticket increase privilege, purchase bill, category discount, weight and freight free and other welfare rights, helping small and medium-sized enterprises to save money, worry and time, and helping enterprises to operate digitally, intelligently and efficiently Exhibition.