On April 28, the third national "Shuangpin Online Shopping Festival" was officially launched. As a major consumer Province in China, Guangdong will focus on "brand consumption and quality consumption" with the theme of "better Guangdong products", so as to promote the expansion of new consumption physique.
As a special e-commerce platform for participating in the double festival for the third time, vipshop launched the "May Day Sale Carnival" this year, with a special launch of the summer clothes discount and the sale of beauty products such as sunscreen, hoping to accompany consumers with summer products to spend the coming hot summer.
It is worth mentioning that the launching ceremony of 2021 Shuangpin Online Shopping Festival (Guangdong) was held at 10 a.m. on April 28 in the Inman studio on the vipshop platform.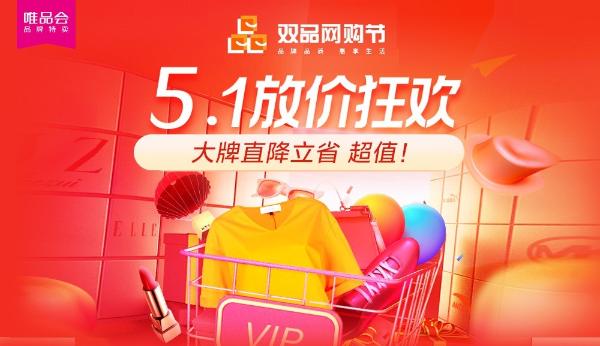 May day sale Carnival helps consumers enjoy quality online shopping feast
In order to make consumers enjoy a diversified online shopping feast in the "Shuangpin Online Shopping Festival", vipshop will launch a series of promotional activities with various forms and rich contents, including "fashion day", "Beauty Day", "sports day", "30% discount for big brands" and "hot list" and other special activities in May.
At the special events, vipshop gathered a series of brand goods with high cost performance, including famous beauty brands Estee Lauder, whoo Hou, Winona, huaxizi, fashion clothing brands Yiner, oshli, Yixiang Liying, fashion sports brands Li Ning, Anta, FILA, etc. Among them, Winona sells sunscreen with a special price of 97 yuan, and Estee Lauder's seventh generation small brown bottle face essence only needs 628 yuan, the sound 2021, the new spring dress is as low as 65% off, and Lining's summer sports short sleeved price is only 70 yuan less than…
In addition, vipshop will, for the first time, launch a new marketing method of brand live broadcasting with goods in Shuangpin online shopping festival" During the "Shuangpin Online Shopping Festival", vipshop will organize several brand live shows every day to bring consumers a more interactive and experiential live online shopping experience. For example, on the 28th in vipshop's "living in the left studio", a variety of costumes with strong intangible cultural heritage characteristics will be displayed, including intangible cultural heritage blue printing, intangible cultural heritage plant dyeing, non legacy cloud yarn, cheongsam and horse face skirt, etc. consumers can start with the best quality goods at the best price with 20% off surprise welfare price and no threshold coupons.
Quality assurance, SF distribution, comprehensive protection of consumer shopping experience
As the world's largest brand special e-commerce company, vipshop has signed long-term strategic cooperation agreements with many brand companies to purchase goods directly from brand companies to ensure authentic products. In addition, vipshop strictly supervises the supply chain and conducts spot checks on brand goods every quarter and every month to strictly ensure that brand goods meet national and industrial standards.
In addition to selecting high-value genuine products for consumers, vipshop has also upgraded its membership system to ensure the consumer experience. Users can enjoy the service of sf-e-mail when they buy 88 yuan. At the same time, the demand for return and exchange of goods without reason within seven days will be guaranteed. For all self operated goods purchased by users in vipshop, the return and exchange service will be completed by Shunfeng.
In addition, vipshop will continue to deepen its cooperation with Shunfeng, continuously improve the logistics efficiency and distribution service quality, and basically achieve no blind spot coverage. The more remote areas, the more logistics distribution efforts, and improve the "last mile" distribution consumption experience.
In addition, in order to optimize the user experience, vipshop also increased the upgrade of customer service system, providing "return and exchange in one" and "one click free door-to-door return" services, further improving the timeliness of user problem solving. In addition, price protection is supported within 10 days after successful order payment to further improve the user shopping experience.
On the 12 day of April 28th, -5, the "double goods online shopping festival", vip.com will give the most awesome discount and the most sincere price, so that consumers can taste the real sweetness and enjoy the good quality and good price of the brand.
0