On March 11, Wangfujing (600859) recently announced that Beijing Capital Tourism Group Co., Ltd., the company's controlling shareholder, increased its holding of 3.8813 million shares by means of centralized bidding, with a cumulative increase of 97.0732 million yuan, accounting for 0.5% of the company's total issued shares.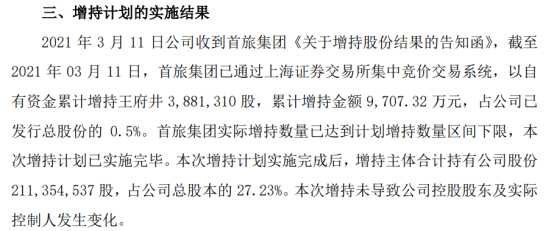 According to the announcement, the group held 207473227 shares before the increase, and 211354537 shares after the increase, accounting for 27.23% of the total share capital.
According to the company's 2020 performance pre reduction announcement, the net profit attributable to shareholders of Listed Companies in 2020 is expected to decrease by 52 million yuan to 60 million yuan compared with the same period of last year, with a year-on-year decrease of 54% to 62%.
According to the data of digbei.com, Wangfujing's main business is commodity retail and commercial property rental business, covering department stores, shopping malls, outlets, supermarkets and other major formats, as well as online retail channels.