On March 12, Wang Xiaoyan, a shareholder of Digital China (securities code: 000034), pledged 23.88 million shares to Beijing Huaqi Electronic Technology Co., Ltd. to provide guarantee.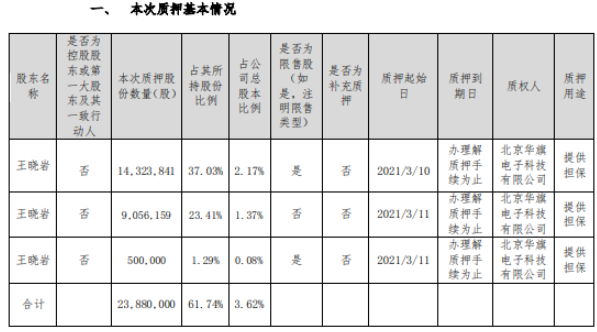 The total pledged shares were 23.88 million, accounting for 61.74% of the company's shares and 3.62% of the company's total share capital. The term of the pledge is from March 10, 2021 to the date of handling the procedures for the release of the pledge.
According to the announcement, Wang Xiaoyan held 38678205 shares of the company, accounting for 5.86% of the total share capital of the company. A total of 24493392 shares have been pledged, accounting for 63.33% of the shares held by the company and 3.71% of the total share capital of the company.
According to the company's report for the third quarter of 2020, the net profit attributable to shareholders of Listed Companies in the first three quarters of 2020 was 393608966.92 yuan, down 22.85% from the same period of last year.
According to digbei.com, digital China's main businesses include cloud computing and digital transformation business, information technology application innovation business, it distribution and value-added service business.