This year's five-day Labor Day holiday is coming. With the coming of the holiday, many small and medium-sized enterprises and start-ups are ready to work harder after the holiday under the favorable national policies. New goals, new starting points, new equipment, for enterprises, whether it is the initial preparation and start-up or the development of expansion and upgrading, site decoration and material procurement are hard operating costs. In order to alleviate the financial pressure of small, medium and micro enterprises and let entrepreneurs have more energy and time to study business development, Jingdong enterprise purchase opened the May Day commercial household appliances Carnival week and household appliances cool Carnival activities for enterprise users in advance, using double purchase benefits to increase revenue and reduce expenditure for enterprises. Search for keywords such as air conditioner purchase, refrigerator purchase, fan purchase, freezer purchase and washing machine purchase in Jingdong, you can go directly to the event venue and start super value purchase of household appliances.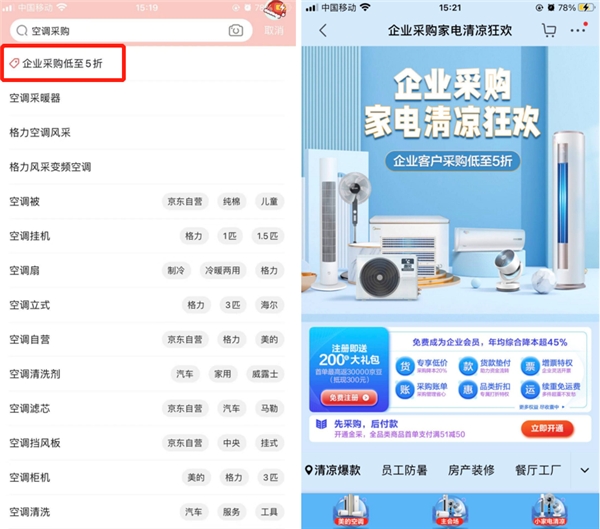 In the face of the different needs of different industries for office equipment, Jingdong enterprises purchase a large number of high-quality home appliances for enterprises from all walks of life. For example, in the catering industry, large capacity commercial kitchen appliances and refrigerators are needed, such as letron 800 liter vertical refrigerators, Demas food sample cabinet, Dongbei water bar console and other products, which are hot-selling products on the enterprise purchase platform. In the information industry, high-performance commercial laptops and intelligent display devices are more helpful to improve work efficiency. For example, Hisense 4K high-definition touch smart screen and Changhong 86 inch intelligent touch screen all-in-one machine are favored by enterprise users. In the real estate industry, the demand for central air conditioning has increased significantly, and the number of enterprise users of Danmei's full DC variable frequency household central air conditioning and Oakes office store ceiling commercial air conditioning has increased sharply.
In addition to the commercial household appliances for different industry specific use scenarios, Jingdong enterprise also provides all kinds of household appliances that are closely related to office life for all enterprises, creating a comfortable, healthy and warm office environment for enterprises. In the allergy season, air purifier, air conditioner and fan become the necessary household appliances to ensure the appropriate temperature and humidity and clean air in the office. For the "take rice group", the refrigerator and microwave oven are their "two-piece set of dry rice". Coffee machine, soybean milk machine, small oven and bread machine can make employees "charge" at any time during the rest time when they are working hard and hungry on weekdays. And in the May Day festival, it's more intimate and practical to prepare high-value personal protective electric appliances and wanghong kitchen electric appliances for employees as gifts.
At the same time, in order to further reduce the financial pressure of enterprise procurement, Jingdong enterprise procurement also provides exclusive accounting period service "enterprise financial procurement" to enterprise members. This service is an accounting period product provided for high-quality enterprise customers when purchasing in Jingdong. It provides enterprise customers with a convenient payment experience of "purchase first, then repay", and can enjoy the longest 21 days of interest free and long-term payment The exclusive rights and interests of the maximum amount of 500000 will help small, medium and micro enterprises save money, worry and time in purchasing household appliances.
What is more worth mentioning is that Jingdong enterprise purchase not only creates the above multiple preferential activities for the majority of enterprise users, but also promotes the healthy, high-quality and sustainable development of small and medium-sized enterprises by relying on its own high-quality resources and focusing on the development needs of local enterprises and industrial belts. In the recently launched Wuhan start-up season activity, Jingdong enterprise has created a scene based one-stop home appliance purchasing entrance for small and medium-sized enterprises in Wuhan. At the same time, it helps enterprises to plan purchasing schemes, distinguish use scenarios, design process before sales, and supports door-to-door installation, on-site use guidance, maintenance and other services in after-sales service, Help start-ups to easily deal with the problem of start-up.
In the future, Jingdong will continue to rely on the group's digital intelligent supply chain advantages, integrate the internal ecological resources of Jingdong, and create one-stop services for enterprises together with business associations, brand manufacturers, SaaS service providers, financial institutions, entrepreneurial platforms, industrial parks, etc. Based on the industrial advantages of Hubei, combined with the industrial characteristics of Hubei, we will reduce the cost and improve the efficiency of local brands, expand the market together, and create an exclusive "digital city" business card for Wuhan.
0