After exercise, go home and turn on the water heater to take a bath. The water temperature changes from cold to hot; The fresh-keeping effect of refrigerators which have been used for ten years is declining, and the refrigerators begin to freeze frequently; Automatic washing machine no longer automatic water injection, drying, continuous strike… In life, do you often encounter these embarrassing situations? In fact, this is the appliance in remind you: they should "retire"!

Many consumers have a misconception that home appliances do not need to be replaced if they are not damaged. In fact, it is not, because household appliances also have service life. For example, the service life of the refrigerator is 12 years, the range hood is 8 years, and the electric water heater can only be used for 8 years at most. If household appliances are allowed to be "extended service", it will not only increase the power consumption and lead to a sharp rise in electricity charges, but also cause various safety problems harmful to health, such as radiation, bacteria breeding, electric leakage, etc., which can be said to have serious consequences. Therefore, timely elimination of more than or near the service life of household appliances, is a wise choice.
As the daily necessities of every family, the replacement of household appliances will not only improve the safety of household appliances, but also improve the quality of life. However, several household appliances, such as televisions, washing machines, refrigerators and air conditioners, are large and heavy products. In the process of replacement, consumers will inevitably encounter problems such as not knowing how to dismantle the machine, having nowhere to recycle old appliances and not installing new ones, These problems in the process of product after-sales service also lead to the reduction of consumers' willingness to replace.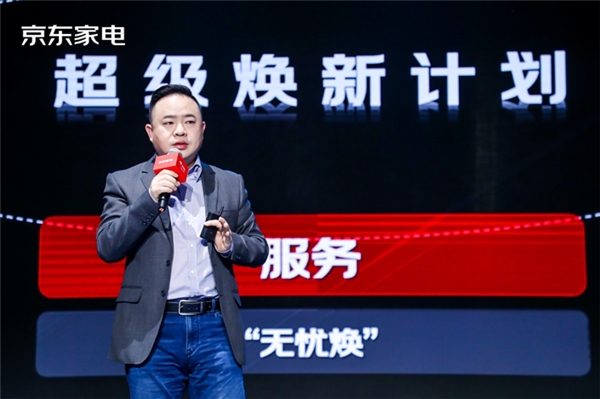 Xie fan, vice president of Jingdong group and President of home appliance business division, introduced "super Huanxin plan" to partners in detail
In order to eliminate the concerns of consumers in the process of replacement, it is easy to realize a new life. Recently, at the Jingdong home appliance Partner Conference, Jingdong home appliance launched the "worry free exchange" upgrade service. According to Xie fan, vice president of Jingdong group and President of home appliance business division, as early as 2013, the "3030180" service of 30 day price guarantee, 30 day quality problem refund and 180 day quality problem replacement implemented by Jingdong home appliance group overturned the industry and set a benchmark in the industry. This time, in order to make it convenient for everyone to "rejuvenate life", JD household appliances further upgraded the replacement process and perception. The goal is to realize the door-to-door service of four actions, namely delivery, installation, dismantling and recycling. Meanwhile, the front desk carries out marking, search and other sensory enhancement, so as to finally create a convenient "worry free replacement" service with the integration of "delivery, installation, dismantling and collection", Let consumers really realize worry free replacement.
As a household appliance purchase platform trusted by consumers, Jingdong household appliances has always put meeting the needs of consumers in the first place and insisted on providing high standard services for consumers. Over the years, Jingdong household appliances has been actively promoting and strengthening the "old for new" service, and cooperating with upstream brand enterprises to upgrade household appliances. During the period of November 11 last year, the number of orders for trade in service of JD household appliances increased by 226% year on year, leading the industry in quality service. The launch of the "worry free exchange" service is the overall packaging and upgrading of the existing advantageous services of JD home appliances, which will effectively help consumers to rejuvenate their quality of life.
Under the background of consumption upgrading and green development, the ultimate goal of service upgrading of JD household appliances is quality upgrading. Through timely updating, we can constantly meet the needs of consumers for quality and personalized products. At the same time, through the reverse incentive of the market, we can encourage enterprises to actively develop and produce high-performance products, so as to promote the two-way improvement of consumers' quality of life and the quality of industry development.
0