On May 1, Jingdong joined hands with high-end brand Casati to launch new products, and Casati Galaxy series air conditioners were officially launched on Jingdong platform. With the unique aesthetic concept and profound technical blessing, Casati Galaxy air conditioning redefines the high-end aesthetics, and sets off a storm of popularization of healthy air conditioning in the air conditioning market.
In the context of consumption transformation and upgrading, people put forward higher requirements for healthy quality of life, and high-end air conditioning has sprung up. In order to better meet the quality pursuit of consumers, Casati adheres to the open R & D concept. With the blessing of Jingdong Omni channel and digital intelligent supply chain, Casati has accurate insight into the needs of users, and repeatedly polished the product details from comfort, health and wisdom.
In the process of design, Casati adheres to the spirit of craftsman, and the production of a panel needs to go through 17 processes. In order to create more colors to meet the needs of consumers, hundreds of designers, together with major material companies around the world, have repeatedly selected from more than 60000 colors. In order to bring a more comfortable air supply experience, the air guide plate is formed by 48 diamond stars and more than 4000 Golf spheres, realizing a soft wind of up to 192 strands.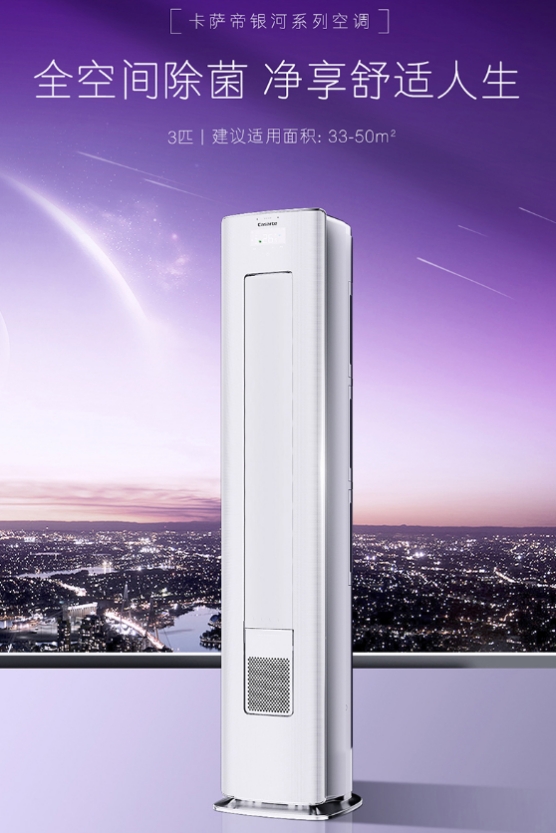 This Casati Galaxy air conditioner can also achieve indoor full space temperature balance, the temperature difference within 3 minutes is less than 0.5 ℃, the sterilization rate of the whole space can be as high as 99%, so that users can not only enjoy the comfortable temperature, but also breathe fresh air. Casati Galaxy air conditioner also uses voice password to replace the remote control, and its AI intelligent voice system has a high recognition degree, which really introduces the air conditioner into the era of intelligent voice.
While the products bring the ultimate experience, Jingdong, as a new product launch platform, continues to make efforts in the channel end to further improve the user's consumption and service experience, and comprehensively practice the user centered business philosophy. This is also the original intention of the joint research and development of Jingdong household appliances and Casati air conditioner. In the current wave of market diversification and consumption upgrading, to meet the needs of consumers' healthy and high-quality life has become a powerful driving force for the home appliance industry to move forward to the road of high value.
As a close partner of Jingdong household appliances, kasadi brand has settled in Jingdong as early as 2014, focusing on the tuyere of the mobile Internet era, and started o2o mode in 2015 to build an online and offline interactive platform to provide high-end users with one-stop shopping service of "online booking offline experience online payment", so as to achieve a win-win situation between the platform and the brand. Since then, the strategic cooperation between the two sides has been continuously upgraded. As an active promoter of innovation in the home appliance industry, based on its Omni channel and supply chain advantages, Jingdong has cooperated with the production end to continuously cultivate new technologies and new products, so as to trigger and meet the new needs of different user groups, and then promote new consumption. Since the cooperation, Casati's high-quality and high-value products launched in Jingdong home appliances have been favored by the majority of users, and it has also handed over a very bright report card at 618, 815, 11.11 and other important sales nodes.
In the future, with the advantages of digital intelligent supply chain of online and offline Omni channels, JD household appliances will cooperate with Casati to realize the whole scene layout from product positioning, R & D design to marketing promotion and channel sales, help the brand to create high-quality products that meet the new needs of consumers, and jointly accelerate the popularization of new categories such as health air conditioning, so as to promote the new upgrade of air conditioning market, Create a new market growth channel to promote new consumption with new demand.
0