On April 30, Guolian Fisheries (300094) recently released its 2020 annual report. During the reporting period, the company achieved an operating income of 4494106122.88 yuan, down 2.89% year on year; The net profit attributable to the shareholders of the listed company was -268750547.89 yuan, which was lower than the loss in the same period of last year.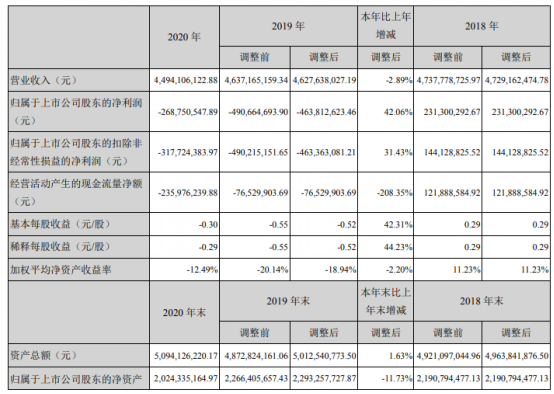 During the reporting period, the net cash flow from operating activities was -235976239.88 yuan, and the net assets attributable to shareholders of listed companies were 2024335164.97 yuan by the end of 2020.
During the reporting period, the company made full use of the functions of the food R & D centers in Shanghai and Zhanjiang to strengthen R & D of the company's superior product resources, such as shrimp, fish and crayfish, and achieved more than 80 new product projects, including Spanish style shrimp baked rice, salted egg yolk crisp fish skin, crayfish chicken leg hamburger, crayfish pasta, double-layer crispy pizza 41 new products, such as orange grilled sea bass fillet, are on the market and are recognized by the market. During the reporting period, the company continued to strengthen the market expansion work with large chain catering groups, and made efforts to improve the comprehensive service capabilities of food customization, industrial promotion and distribution. In the face of the impact of the epidemic on the domestic catering industry, the company's western fast food business broke through the impact of the epidemic by virtue of its stable supply chain, strong R & D and service capabilities, realized the growth against the trend, and newly cultivated Burger King Damile, Yonghe King and other big customers. During the reporting period, the company's catering heavy customer channel achieved business income of about 629 million yuan, a year-on-year increase of 4.21%.
According to the announcement, the total remuneration of directors, supervisors and senior managers during the reporting period was 6.9949 million yuan. Li Zhong, chairman of the board of directors and general manager, received a total pre tax remuneration of 817600 yuan from the company, and fan Chunhua, chief financial officer, received a total pre tax remuneration of 380400 yuan from the company.
According to digbei.com, Guolian fisheries is committed to becoming the most influential marine food enterprise in the world. It is one of the few domestic marine food enterprises with global procurement, intensive processing and food research and development. It provides customers in global catering, food, supermarket and other industries with comprehensive solutions from food supply, dish research and development to industrial production.
0