On March 10, digbei.com, Jigang precision (836720) recently released its 2020 annual report. During the reporting period, the company achieved an operating revenue of 260182703.64 yuan, a year-on-year increase of 24.96%; the net profit attributable to shareholders of listed companies was 43696432.38 yuan, a year-on-year increase of 61.04%.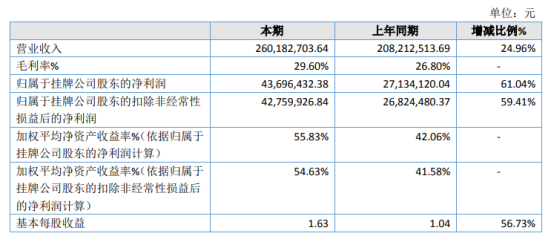 During the reporting period, the net cash flow from operating activities was 97577350.59 yuan, and the net assets belonging to the shareholders of the listed company were 25494739.20 yuan by the end of 2020.
The operating revenue increased by 51.9702 million yuan year-on-year, with a year-on-year increase of 24.96%, mainly due to the substantial increase in sales of heater products with high temperature sterilization function and electric tools products with invention patents of our company, as well as the introduction of new sales orders from Cummins and other new customers to increase sales contribution.
The reasons for the increase are as follows: (1) due to the impact of the epidemic, the sales of steam heater products with high gross profit and high temperature anti-virus function in our company have increased significantly, and the company has greatly optimized the product order structure, increased the proportion of high profit products such as Cummins Filtration system parts, eliminated the production of low profit and loss making products. (2) During the reporting period, the company's output value increased significantly compared with the same period. Under the relatively stable fixed cost, the fixed cost was diluted and the marginal scale effect was enlarged. (3) During the reporting period, we increased the investment in the introduction of automatic assembly line, greatly improved the production efficiency, and introduced robots for unmanned operation, which improved the production efficiency and reduced the manufacturing cost. And process optimization can reduce the manufacturing cost. At the same time, we continue to increase the optimization of product structure, greatly increase the proportion of products with higher gross profit, enhance the profitability of enterprises, and increase the profit contribution.
During the reporting period, the financial expenses were 2525987.02 yuan, a year-on-year increase of 60.51%, which was mainly caused by the sharp increase of interest expense on the increase of working capital loans from banks in the reporting period, with a year-on-year increase of 528500 yuan. In addition, the increase of RMB exchange rate against the US dollar in the reporting period led to a year-on-year increase of 372300 yuan in the loss of export foreign exchange. During the period, the investment income was 1785.57 yuan, compared with 73210.06 yuan in the same period of last year, with a year-on-year decrease of 97.56%.
According to the data of digbei.com, Jigang precision is a R & D and production-oriented enterprise based on the metal products industry, focusing on R & D, production and sales of new energy auto parts, heaters, electronic appliances and office equipment.