There is a kind of happiness, called "mother's taste". When I was young, no matter what happened, as long as I thought that my mother would always be with me, my inner sense of dependence would make me feel at ease; After adulthood, we study, work and start a family. Although the attachment is still there and we also want to spend more time with our mother, the time we can squeeze out is still less and less.
So, what can we do for mom? On Mother's day, let's talk about "Mother & amp; Please don't underestimate this connection. A well decorated and comfortable residence can help mom's daily life to a certain extent. After all, the "moms" in the retirement stage may be at home for more than 20 hours a day. Residence, equivalent to another kind of company, how can we not deal with it seriously?
So, here's the problem. In the end, how to decorate can not only show their inner sustenance, but also let their parents love; It's not only warm and elegant, but also convenient and applicable?
First, the style tends to be "calm and plain".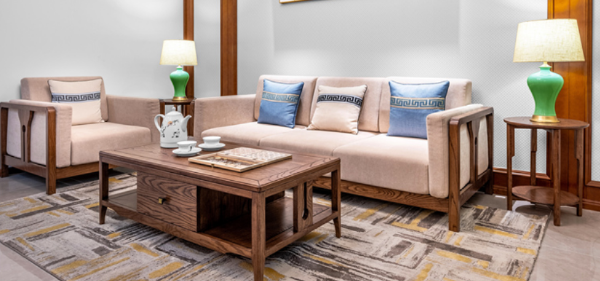 (all round sample room – Begonia)
"Begonia as before" is a Chinese style launched by quanbaoyuan home decoration. The design idea is relatively pure, and the decoration style tends to return to nature. In the context of the design, many parents have gone through the ups and downs of life, after seeing all kinds of things in the world, their inner needs no longer have much to do with flashiness. What they really need is the calmness of the years. But this kind of style expresses with the Chinese style, again suitable.
Obviously, the traditional Chinese style of mahogany has become cumbersome and tacky in modern home decoration" "Haitang still" combines cultural characteristics, Zen style and light luxury taste in a simple way, expressing a new home atmosphere integrating Chinese style, Japanese style and Western minimalist style. The overall space is mainly neutral color, with the removal of too much tedious carving and decoration of solid wood, with leather, cotton and hemp and other materials to render the return of nature, the touch is undoubtedly quiet and harmonious.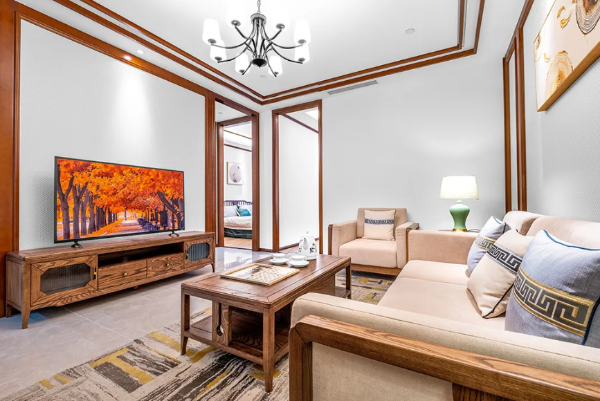 (all round model room – Begonia – living room)
And on the decorative line of the wall and ceiling, the dark border is adopted, which brings a sense of hierarchy visually, and makes people feel concise and comfortable, very stylish. Chinese style chandeliers are not used in the lighting, but western style. This combination makes the overall style no longer old-fashioned and enhances the modern sense.
Second, the space tends to be "spacious and bright".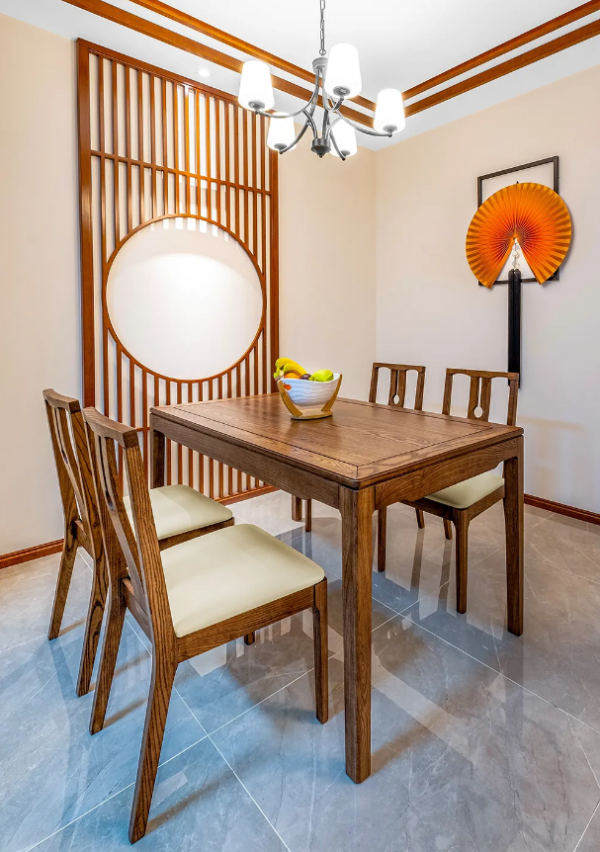 (all round model room Haitang restaurant)
Zen style in home decoration is more "freehand", but also many benefits. We all know that the environment can affect people's emotions, "Zen" gives people a sense of peace of mind, although the impact is subtle, but it is really useful. Secondly, the style of "Zen" is simple and steady, and the color is simple and calm, which is also in line with the aesthetic of parents, a young group; Thirdly, the simple layout brings about the release of space. As parents get older, the home environment should not be too complex. It should be simple, but also maintain a certain space range to facilitate parents' indoor activities. The starting point of these design considerations can be said to be quite intimate.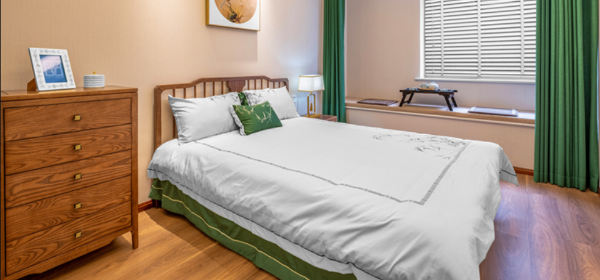 (fully enclosed model room – Begonia – bedroom)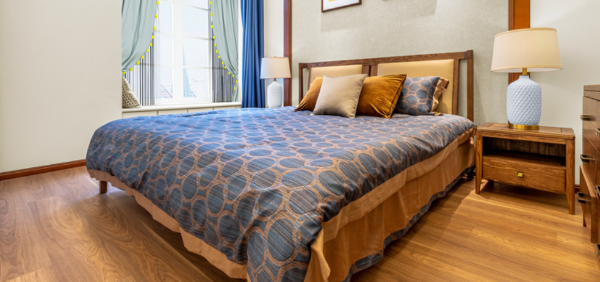 (fully enclosed model room – Begonia – bedroom)
The design of the bedroom is the same, with enough activity space, simple and beautiful decoration items, and the overall lighting and ventilation problems are also considered, so as to maximize the living comfort.
Third, the function tends to be "simple and convenient"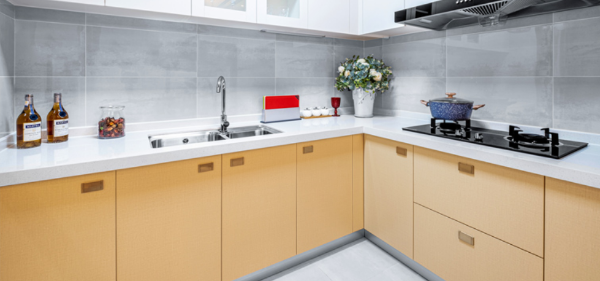 (all round model room – Begonia – kitchen)
The partition is reasonable, the height is suitable, these essential factors need to consider in the kitchen, the toilet. It can be adjusted according to the needs of parents. For example, can also be installed in the bathroom handrails, floors, tiles using more anti-skid design, and so on, in safety is to be fully considered. Good decoration really helps to keep parents happy, and happy mood will naturally promote health, right?
Thanksgiving mother, now do you think, for my mother to create a suitable home decoration, is really a kind of special thoughtful thing? Yizhifeng group's brand of ultra-low altitude flight is full package. On the arrival of mother's day, it will launch a limited special 999 yuan / m2 one-stop full package home decoration service to help you realize this wish. At the same time, white oak, ash wood, golden sandalwood and other imported solid wood furniture as well as luxury electrical appliances and smart appliances are free of charge, and more preferential policies are available for home decoration in Beijing.

0