For users who often need to back up and transfer data between multiple devices, the U disk is limited by its size and heat dissipation, and its performance is generally weak, and the price per unit capacity is not cheap; Although the capacity price ratio of mobile mechanical hard disk is high, its volume is too large, and the mechanical structure is not resistant to falling. If it is often used outside, the risk of external force damage is not small. A well-known storage manufacturer, Yingchi, recently launched a mobile SSD. Let's see how it will perform.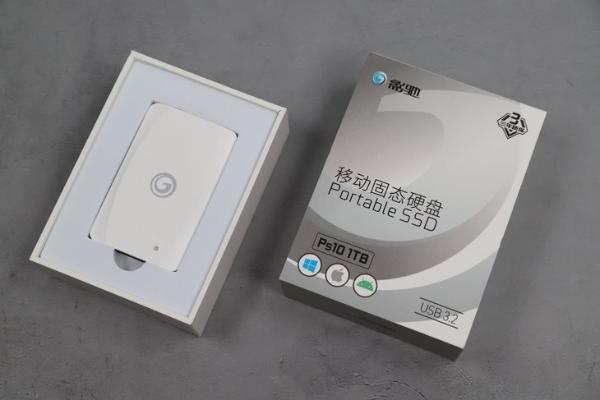 The front of the package indicates that the model of the mobile SSD is PS10, with a capacity of 1TB. It is compatible with windows, Mac OS and Android (win7, Mac OS 10.9 or Android 6 or above), supports USB 3.2 speed, and provides a three-year warranty.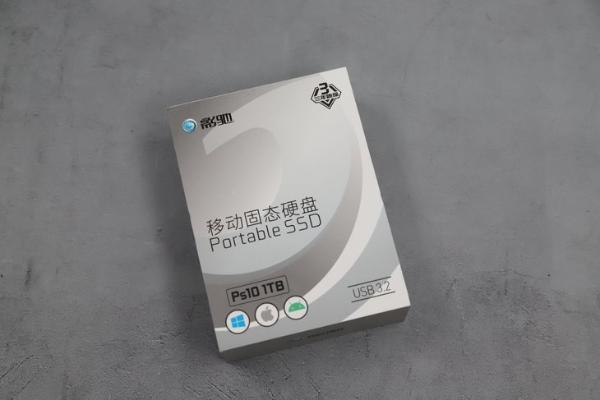 The front and back of the hard disk are very simple white, with simple cutting arc design, and the side is black cross texture, with delicate and simple appearance.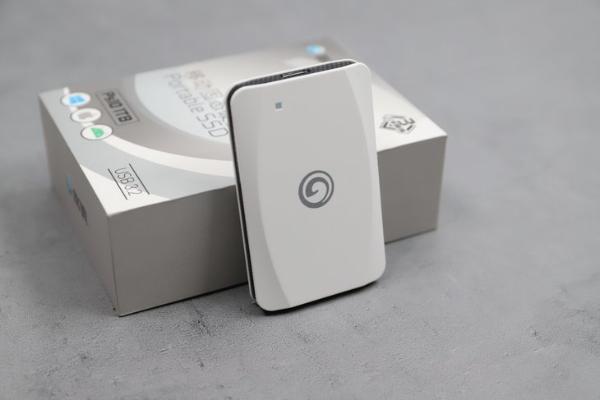 The size of the hard disk is 71×43.8×10.6mm, which is less than a bank card, and its thickness is about the same as the diameter of a ballpoint pen.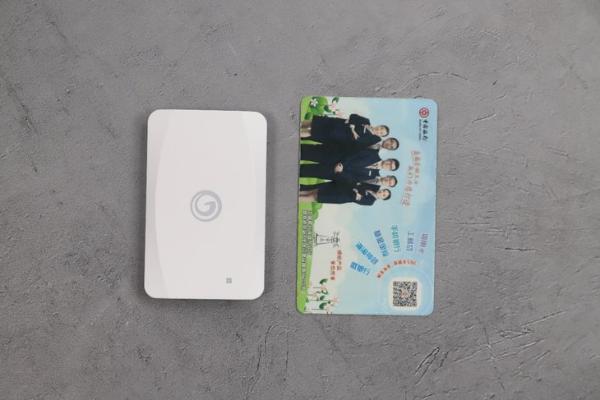 The measured weight is about 22G, which is only equivalent to 3-4 one yuan coins. There is no pressure when you put them in your pocket.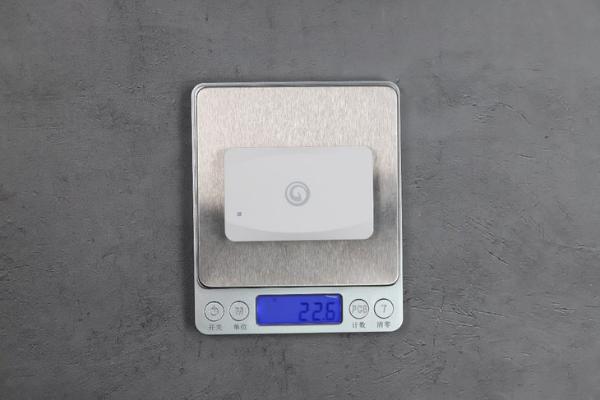 There is a blue working status indicator under the hard disk. It will be on for a long time when it is just inserted or idle. The indicator will flash when it is read-write. It will not be on when the hard disk is safely removed or the computer is dormant. A USB data cable with C to a / C dual-purpose interface supporting usb3.2 Gen2 speed is attached to the hard disk.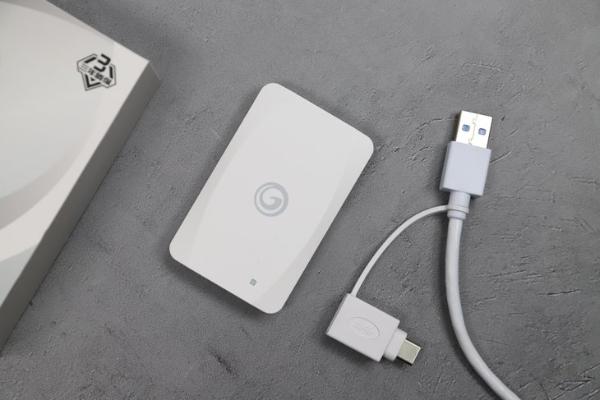 With this dual-purpose data cable, we can easily transfer data at high speed between Android devices such as mobile phones and tablets. However, it should be noted that at present, except for the flagship mobile phones of Huawei, oppo, one plus and Samsung, most other mobile phone interface speeds are only USB 2.0 (up to 60MB / s), which is not enough to support SSD full speed.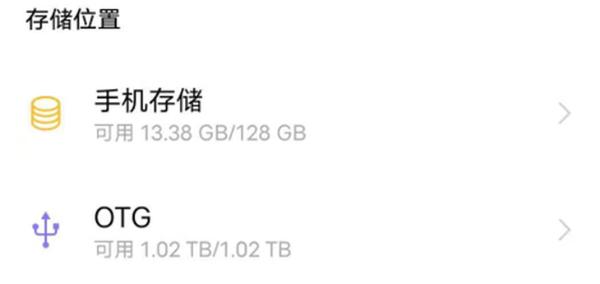 1. Basic information
Crystal disk info shows that imager PS10 mobile SSD uses SATA transport protocol and supports common SSD features such as smart, NCQ sorting and trim quick deletion.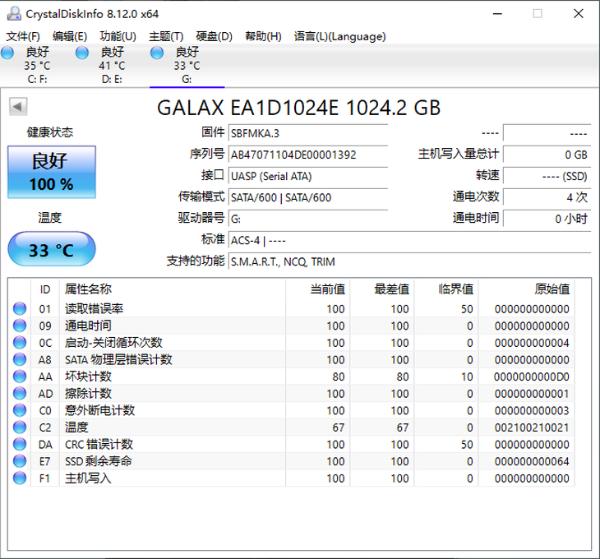 Using flash ID tool, it is detected that Yingchi PS10 adopts group ps3111 series main controller, Intel 64 layer 3D QLC flash granule, eight dual channel designs, and a single capacity of 128GB.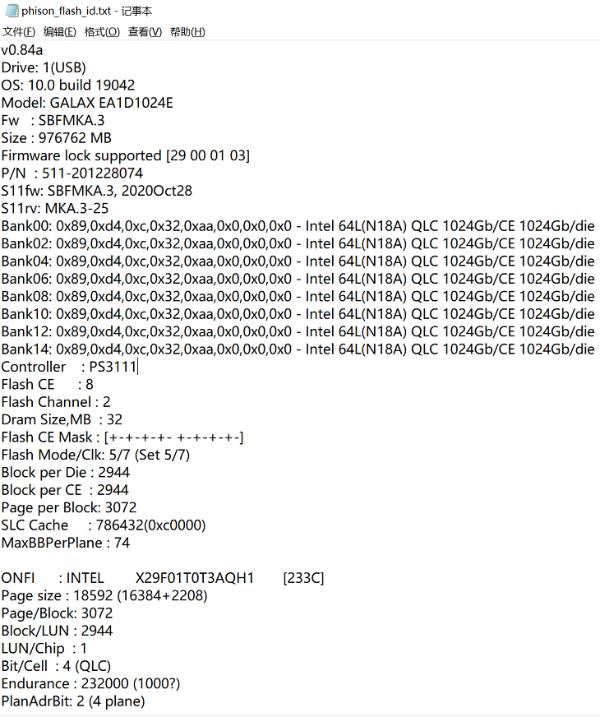 2. Read write performance test
Because Windows does not start the write cache function for hot swap devices by default, the data will be written directly to the flash memory. Therefore, in the default state, the test write speed using crystal disk mark 6.0.2 is only 73MB / s.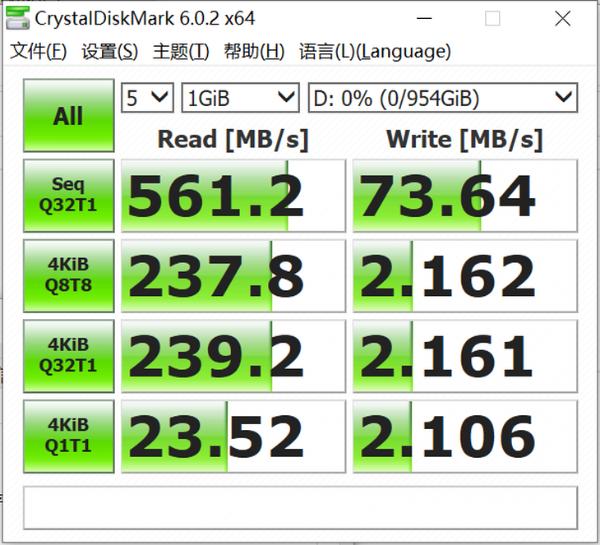 At this time, the writing speed of the actual copy file is less than 200Mbps.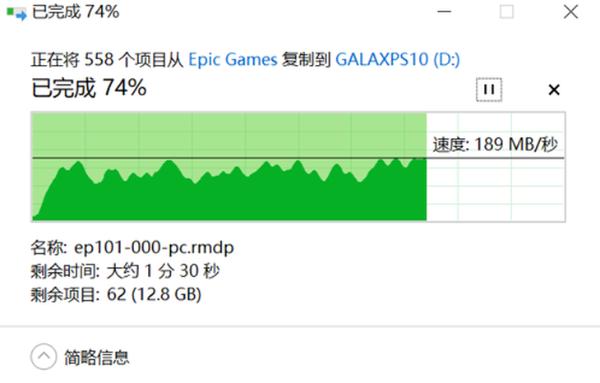 Press the following figure to set (setting path: this computer – right click to select the mobile hard disk – properties – hardware – select the mobile hard disk – properties – Policy). After the write cache is turned on, the hard disk can "run in full blood". Once set for each device, it will take effect all the time. However, after the hard disk is turned on, you must remember to click safe to pop up the hardware before unplugging it, so as to ensure the complete transmission of data.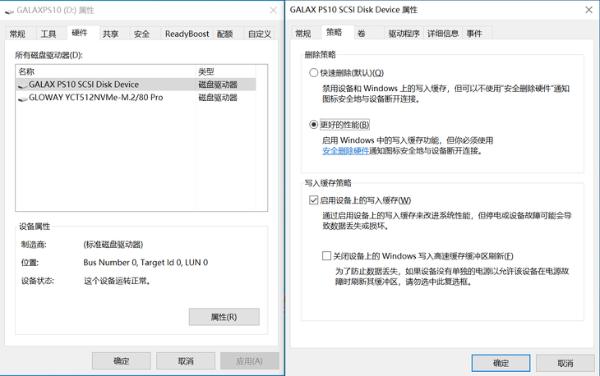 After the read-write test again, the continuous read-write speed reaches 561 / 498 Mbps, which is slightly higher than the official nominal value. It can be seen that the speed of mobile SSD is significantly better than 20 ~ 30mbps of ordinary USB flash disk and 100 ~ 200MB / PS of high-performance USB flash disk.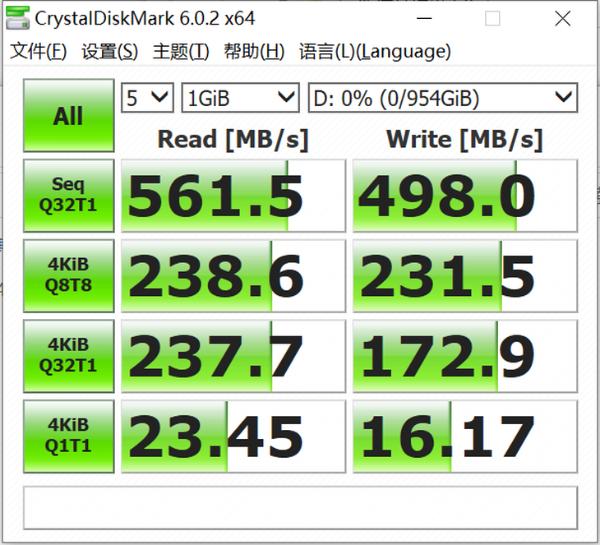 The results of retest with txbench are close to each other.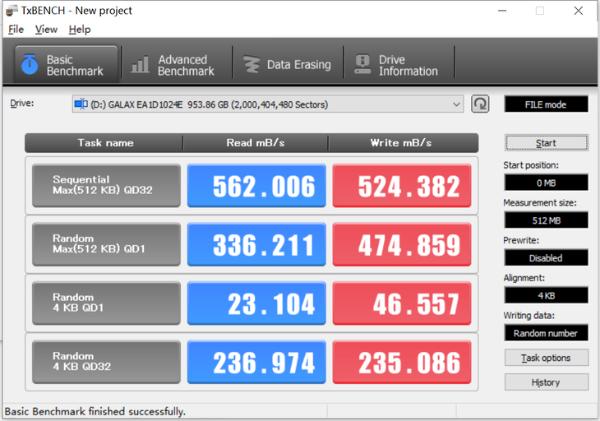 In the Atto test, the disk can read and write several tens of KB level small files, only hundreds of MB per second, while most ordinary U disk 4K can write less than 1MB / s. therefore, mobile SSD can solve the problem of slow transmission of multiple small files in traditional U disk.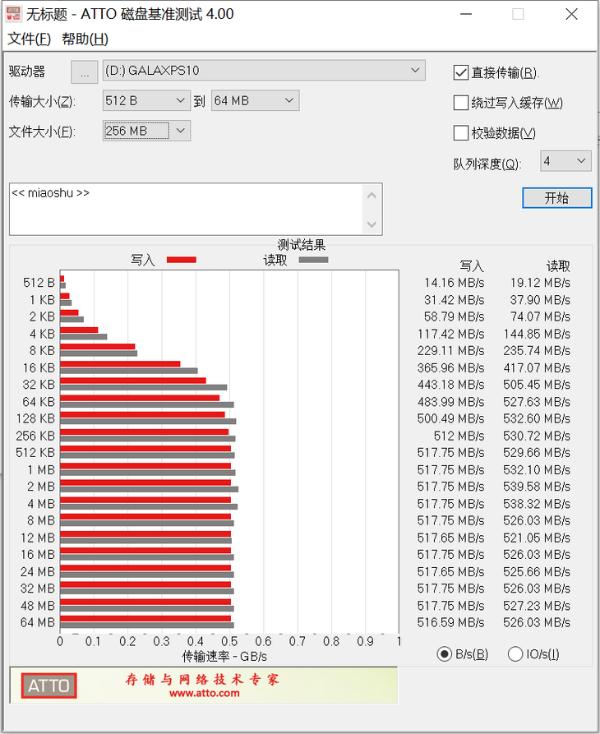 The 67gb copy of "cyberpunk 2077" is tested again. The writing speed is stable at 450 ~ 500mbps, and the completion time is only 2 minutes and 36 seconds. The surface temperature of the hard disk is 47.3 ℃ ° C (room temperature 28 ± one ° C) The fever was good.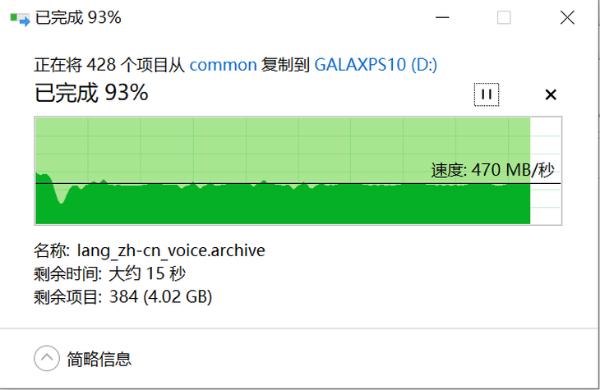 3. Cache test
HD tune Pro is used to test the 200g write file in the empty disk state. It can be seen that the write speed of the hard disk is about 500mbps in the whole process, and there is no speed drop. It is speculated that this should be the role of smartzip mechanism of ps3111 series master control.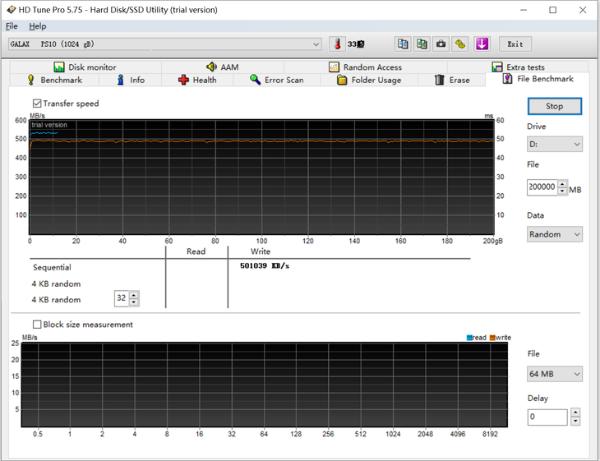 Fill the hard disk to nearly half of the disk and let it stand for dozens of minutes before testing again. At this time, we can see that after the hard disk continues to write 15GB, the slow speed will drop to less than 50MB / s. However, this is a relatively extreme scenario after all. If it is not for heavy users who often store more than tens of gigabytes of files continuously, its transmission performance is quite enough.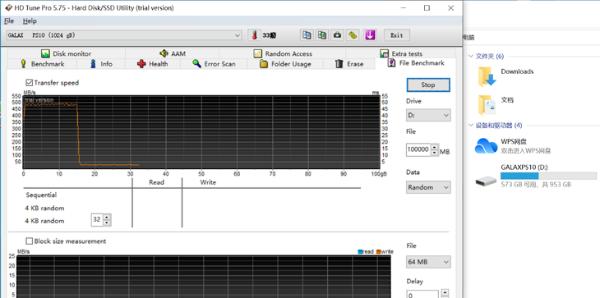 4. Summary
The size of PS10 SSD is only slightly larger than that of USB flash disk. It achieves SSD level high-speed transmission several times larger than that of USB flash disk. Moreover, it has good multi device compatibility. It is an ideal choice for performance, portability, security and capacity price ratio. After deeply experiencing this product, you may even feel: why is your next USB flash drive a USB flash drive.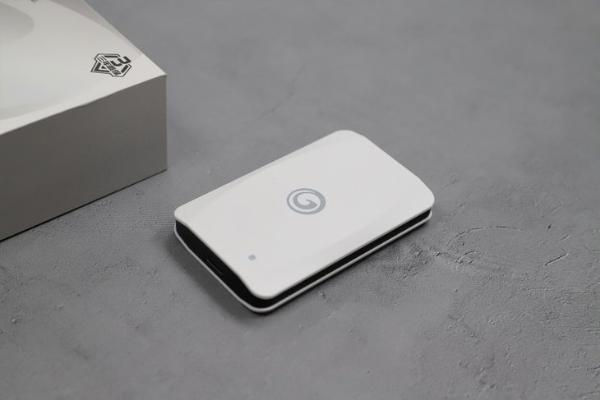 0