On May 8, Huaqing environment (872430) recently released its 2020 annual report. During the reporting period, the company achieved an operating revenue of 88126572.35 yuan, up 1.01% year on year; The net profit attributable to the shareholders of the listed company was 7740165.37 yuan, a year-on-year decrease of 59.03%.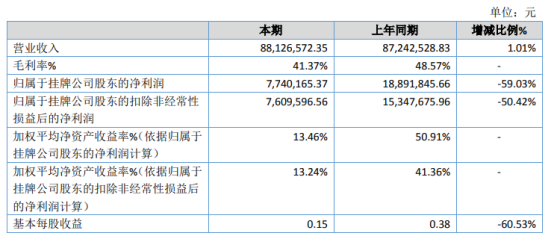 During the reporting period, the net cash flow from operating activities was 5684825.13 yuan, and the net assets belonging to shareholders of listed companies were 63644676.25 yuan by the end of 2020.
During the reporting period, the operating cost increased by 15.15% compared with that in 2019. The reason for the increase is the increase in operating costs such as the increase in technical personnel, depreciation and so on; The management cost increased by 19.02%, mainly due to the increase of 1.1383 million yuan in the salary of management personnel; Depreciation cost increased by 263800 yuan; Business entertainment expenses increased by 138900 yuan. The rent increased by 768900 yuan.
According to the data of digbei.com, Huaqing environment is a service provider in the environmental protection detection industry. As a third-party environmental inspection and detection technology service organization, the company has been engaged in environmental monitoring, occupational health detection and evaluation, public places and central air conditioning detection, soil solid waste detection, water basin detection and treatment, radiation detection, instrument development and sales, etc, Accept the client's entrustment, according to the client's testing needs, use advanced testing equipment and professional technology to test and analyze the entrusted testing project, and issue the corresponding test and analysis report to the client.
0