On May 8, qunxingming (872085) recently released its 2020 annual report. During the reporting period, the company achieved an operating income of 870878207.97 yuan, a year-on-year decrease of 10.24%; Net profit attributable to shareholders of listed companies was 10762762.84 yuan, down 29.37% year on year.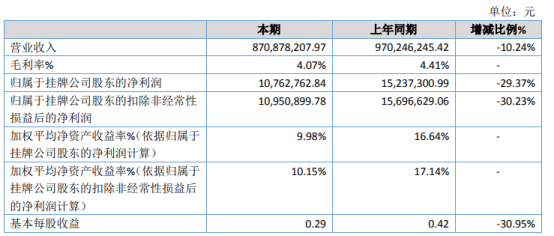 During the reporting period, the net cash flow from operating activities was 16193058.49 yuan, and the net assets belonging to the shareholders of the listed company was 107306038.62 yuan by the end of 2020.
During the reporting period, the financial cost was 4656870.08 yuan, compared with 5897577.26 yuan in the same period of last year. The financial cost was reduced. Due to the epidemic situation, Wuhan was completely unsealed in April, so as to help enterprises recover quickly and support them. The city carried out special fund support policies for some enterprises, and reduced the interest on enterprise loans.
According to digbei.com, qunxingming is mainly engaged in the trade and transportation of liquid ammonia and ammonia water.
0