C114 news on May 12 (Yue Ming) according to the official information from China Mobile, Xinyi information technology nb-iot chip xy1100 series has been purchased from a single source of China Mobile IOT. There are 8 million NB IOT chips in this centralized purchasing framework, and the centralized purchasing mode of single source is adopted.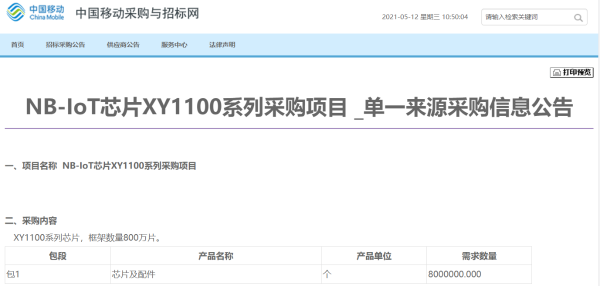 This will undoubtedly give the whole industry a shot in the arm, accelerate the development process of Nb IOT localization, and help thousands of industries bloom everywhere.
NB IOT is becoming the main bearer technology of low speed Internet of things
Since 2017, the Ministry of industry and information technology has repeatedly issued documents to promote the continuous development of the Internet of things industry, including NB IOT and cat. 1.
On May 7, 2020, the Ministry of industry and information technology issued No. 25 "notice on promoting the comprehensive development of mobile Internet of things", which put forward requirements on network coverage, module price and number of Internet of things connections of nb-iot / cat. 1, guided 2G / 3G Internet of things terminals to gradually migrate to nb-iot and cat. 1, and guided the establishment of Nb / 4G / 5G integrated ecosystem of mobile Internet of things.
With the national policy to promote 5g standard into and 2G out of the network, as well as the continuous implementation of business scenarios and the formation of a positive business cycle, Nb IOT has become one of the best choices for cellular Internet of things connection technology. Market demand, policy orientation, industry mining and the advancement of China core technology are driving the penetration of Nb IOT technology into application fields.
In the spatial structure of IOT business market, the medium and low speed IOT industry has huge scale space, and the low speed IOT connection scale in IOT connection distribution accounts for more than 60%, mainly meeting the connection needs of low power consumption and wide coverage. Compared with 2G technology, Nb IOT technology is more suitable for business scenarios with low mobility and delay requirements, small data volume and low power consumption. At the same time, Nb IOT also has the core advantages of low power consumption, massive connection, wide coverage and low cost. This also means that after 2G technology, Nb IOT technology will become the main carrier technology of domestic low-speed Internet of things market business.
China Mobile accelerates industrial migration
According to the guidance of the Ministry of industry and information technology, China Mobile Group headquarters has made it clear that Nb and cat. 1 will undertake the 2G Internet of things business. By the end of 2020, it will stop adding 2G Internet of things users. On the basis of ensuring the use of existing users, it will guide customers to move new business from 2G to Nb / cat. 1.
China Mobile will also accelerate the development and maturity of nb-iot / cat. 1 industry through a series of measures such as reducing the price of nb-iot / cat. 1 module, strengthening network coverage, improving network quality, enhancing the core capabilities of terminals and platforms, and improving customer service support.
Not long ago, at the Nb IOT Localization Technology Development Summit Forum held in Shanghai, Wang Chao, marketing director of CMCC's IOT intelligent module department, mentioned that in the construction of Nb IOT network, China Mobile has achieved the coverage of Nb network in 346 cities and towns in China, and has more than 700000 NB station resources. At present, it has opened more than 350000 stations, This year, 50000 on-demand station resources are planned to add weight to NB IOT.
At the chip and module level, China Mobile is also working hand in hand with the industrial chain to accelerate the promotion. In order to further expand the typical NB IOT application scenarios such as water meter, gas meter, smoke sensor, electric vehicle tracking, shared bicycle, household appliances, door lock, China Mobile organized special teams to cooperate with industry head customers to create more industry benchmark projects such as "Zhengzhou tram terminal" and "Tianjin water and gas meter transformation", which helped the industry to rapidly increase the quantity and further reduce the module price.
[the above content is transferred from "c114 China communication network", which does not represent the view of this website. If you need to reprint it, please obtain the license of c114 China communication network. If there is any infringement, please contact to delete it
0