On May 13, 2021, under the witness of the leaders of Dalian agriculture and rural Bureau, seven leading seafood enterprises in Dalian, including Dalian sea cucumber chamber of Commerce and Jingdong fresh joint Jiunian, held an off-line signing ceremony and jointly issued the Jingdong fresh "Dalian sea cucumber product standard". Through the formulation of the standard, the fishing time and quality grade of sea cucumber were strictly regulated, and the landmark brand of Dalian sea cucumber was built, In order to promote the e-commerce sales promotion of Dalian sea cucumber enterprises, and further promote the revitalization of local industries in Dalian.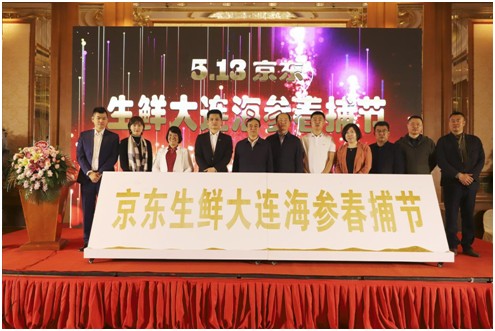 Since its establishment in 2015, Jiunian brand has joined hands with Dalian Bangchui Island seafood Co., Ltd., the drafting unit of the national standard for food safety of sea cucumber and the state key leading enterprise of agricultural industrialization, to lay out 15000 ecological sea areas.
For a long time, sea cucumber has become the "leader" of sea cucumber Market in Dalian and even the whole country with its pure sea area, excellent quality and good reputation. Long time sea cucumber is located in Dalian Jinshitan ten thousand mu pollution-free sea area, with a land area of 62 square kilometers, a sea area of 58 square kilometers, and a coastline of 30 kilometers. The water quality here is pure, pollution-free, warm in winter and cool in summer, and the climate is pleasant. It condenses 300-900 million years of geological wonders. It has the reputation of "northeast xiaojiangnan" and is also recognized as one of the sea cucumber producing areas in the world.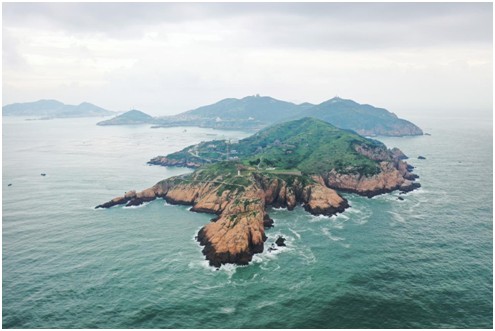 In 2016, sea cucumbers were officially put on sale in the whole network for a long time, and the whole network was detonated as soon as they went online. For a long time, we have been sowing sea cucumber seedlings in the deep sea of our own sea area. Sea cucumber has been growing naturally for more than five years before we can obtain the fishing standard. We have standardized production in our own sea cucumber SC factory. The factory directly supplies them from the source, integrates fishing, processing and sales, and controls the safety from the source to the dining table to ensure that the nutrition of each sea cucumber is intact. It also further reduces the intermediate links to ensure that consumers can buy sea cucumbers with high cost performance.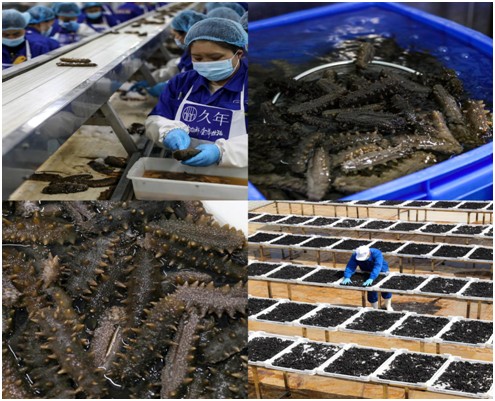 In 2021, Dalian spring ginseng fishing is in full swing. After a cold winter, spring ginseng consumes its own surplus substances, which leads to a higher skin yield and a better taste. Due to the cold water temperature in spring fishing, it also increases the difficulty of artificial fishing. Catching sea cucumber is an extremely time-consuming and labor-consuming experience, which requires professional sea bumpers and 30 jin lead to gain weight and go deep into 20-40 meters underwater for manual fishing, so each sea cucumber is hard won.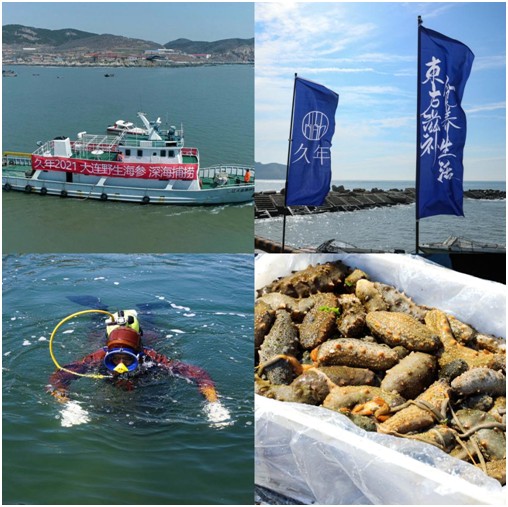 Since its establishment for six years, it has provided high-quality Liaoshen for thousands of family dining tables, and has become the "craftsman" brand in the hearts of thousands of consumers. By 2020, sea cucumber has won the first place in the sales of sea cucumber category for four consecutive years, won the "most potential brand of e-commerce" of tmall table Festival, "annual outstanding contribution award" of fresh tmall, and "annual most popular brand" of tmall food festival; In 2021, it won the honorary titles of "excellent brand of consumer trust" awarded by China food news and "top of new consumption and growth" awarded by Yibang power.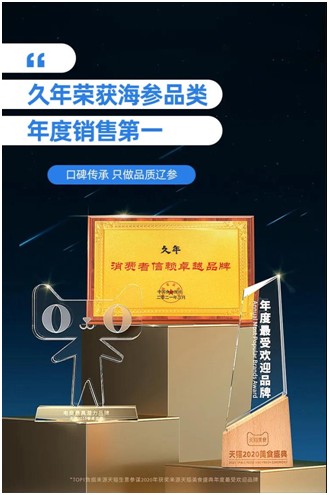 Since 2020, in order to meet the needs of the new generation of health care people, we have continued to improve the quality of sea cucumber and serve the users well for a long time. At the same time, we have also comprehensively upgraded our brand, expanding its product line from sea cucumber to a high-end nourishing and health care brand. Through the creation of new categories, the long-term product series has been involved in the series of natural raw materials with the same origin as medicine and food, the series of young nourishing and convenient instant food, the series of nourishing and nutritious prefabricated dishes, and the series of light nourishing and nutritious meals. In the future, with the support and help of Jingdong fresh food, we will join hands with more industry partners for a long time to continuously promote the rapid development of Dalian sea cucumber industry, so that consumers can benefit from high-quality Dalian sea cucumber products.
0