Jiajiayue, a leading retailer in Shandong Province, has officially entered Beijing. On May 16, a reporter from Beijing business daily visited jiajiayue's stores in Beijing. The business area of more than 3500 square meters covers about 10000 items. Beijing is just a station for jiajiayue to move from Shandong to the whole country. Since 2019, it has successively entered Zhangjiakou, Anhui, Inner Mongolia and other places in Hebei Province through equity transfer, capital increase and acquisition. According to the analysis, if we can get a foothold in Beijing, it means that jiajiayue has taken a shortcut to enhance its brand influence. However, under the impact of e-commerce, the main one-stop shopping mall is in a state of fatigue. At the same time, there are many supermarket chains in Beijing, and the competition is fierce. The new family, Jiayue, the examination of Beijing market has just begun.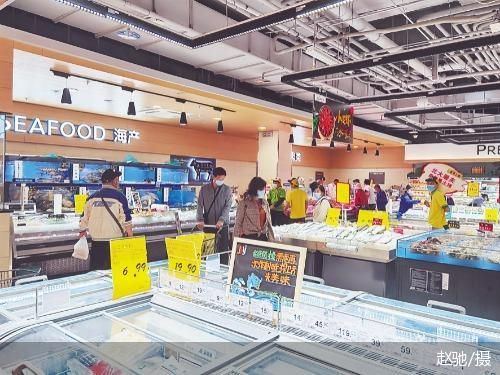 Jiajiayue's Beijing store has a business area of more than 3500 square meters, covering about 10000 items.
Beijing first store opens
At the end of 2020, jiajiayue, which is ready to settle in Beijing, will officially open its first store half a year later. On May 16, a reporter from Beijing business daily visited jiajiayue's first store in Beijing. The store is located on the second floor of Block C, beichenfu V center, building 6, Changying Changhui Road, Chaoyang District, Beijing. With a permanent population of 300000-500000, the area is one of the mature communities in Chaoyang, surrounded by many shopping centers such as Longhu Tianjie and Hualian.
Beijing Business Daily reporter saw at the scene that the store's opening promotion attracted many surrounding consumers to go shopping. The store is divided into 19 categories, including agricultural products, seafood, cooked food, pasta and baking. In the cooked food area, there are seafood and other products produced and sold on site, as well as some products with Shandong characteristics.
According to the manager of jiajiayue Changying store, the business area of jiajiayue Changying store is more than 3500 square meters. At present, there are about 10000 SKUs in stores. In addition to some low-temperature milk and some local brands, most of them are directly from the origin, and the proportion of directly purchased products is more than 80%. On the opening day, the passenger flow was about 10000, and the number of members was close to 50000.
For this entry into the Beijing market, Jiayue said that entering the Beijing market is in line with Jiayue group's development strategy of expanding market scale and improving brand awareness. In the future, jiajiayue group will improve customer service ability and promote in-depth development of national strategy in cross regional mode replication, digital transformation and upgrading, strategic layout of supply chain and fresh food operation.
For the future development plan in Beijing, Beijing Business Daily reporter interviewed jiajiayue, but as of press, the other side did not reply.
According to the data, Shandong jiajiayue Group Co., Ltd., formerly known as Shandong Weihai sugar and wine purchasing and supply station, has developed chain operation since 1995. By the end of March 2021, it has 935 direct chain stores, covering more than 60 cities and counties in Shandong, Hebei, Anhui, Inner Mongolia and Jiangsu Province, and its businesses include hypermarkets, supermarkets, discount stores, etc.

Gold plating of first tier cities
Entering the Beijing market, Jiayue has been preparing for this for several days. Jiajiayue previously held 67% equity of Zhangjiakou fuyuexiang supermarket chain Co., Ltd. through equity transfer and capital increase, which paved the way for jiajiayue to enter the Beijing market.
During the visit, a reporter from Beijing business daily learned that in order to solve the shortage of staff in the opening of the first store in Beijing, a lot of staff were deployed from Zhangjiakou store by jiajiayue.
In addition, the construction of Jiayue Zhangjiakou logistics center will start in May 2019. In October last year, the first phase of jiajiayue Hebei logistics park, which is 200 km away from Beijing, was put into use. The logistics park will also provide support for its expansion in Beijing.
According to Hu Chuncai, a retail expert and general manager of Shanghai Shangyi consulting, jiajiayue's entry into Beijing can enhance its own brand effect" If jiajiayue can find its own living space in the competitive Beijing market, its influence in the whole country will be greatly enhanced. At the same time, it can also attract more capital attention, just like Yonghui in those years. " Hu Chuncai analysis said.
Not limited to the Beijing market, jiajiayue's ambition to go out of Shandong and expand the market in other provinces has already appeared. Since 2019, Hyatt has been expanding outward through M & A and equity.
In February 2019, jiajiayue held 67% of the equity of Zhangjiakou fuyuexiang supermarket chain Co., Ltd. through equity transfer and capital increase, thus taking the first step of national strategic layout. In November of the same year, jiajiayue bought 31 supermarkets in Anhui with 210 million yuan, and officially entered the Anhui market. In November last year, jiajiayue said that it held 70% of the equity of the target company by transferring equity with its own capital of 375 million yuan, which has 33 stores in Inner Mongolia.
Frequent expansion has also benefited jiajiayue. In the first three quarters of 2020, the revenue of jiajiayue was 11.539 billion yuan, a year-on-year increase of 16.95%; The income outside the province rose to 1.11 billion yuan, a year-on-year increase of 321.85%.
From the expansion path of jiajiayue, it is not difficult to find that the layout of jiajiayue is mostly low tier cities, almost not involving the first tier cities such as Beijing, Shanghai, Guangzhou and Shenzhen. Therefore, the operation of entering the highly competitive Beijing market has aroused many concerns.
Challenge all players
For jiajiayue, which is located in Beijing, gaining consumer recognition is only one of many difficulties. The challenges of fresh food e-commerce, community group buying and even hypermarkets can not be ignored.
Supermarket business has been impacted by e-commerce for a long time, plus a lot of money burning subsidies from fresh e-commerce and community group buying, which makes it difficult for supermarkets to walk under external pressure. The performance of major supermarkets has declined to varying degrees, including Yonghui, RT mart and other head brands.
In addition, the competitiveness of hypermarkets, in particular, is not as good as before. Many supermarket enterprises are thinking about more new countermeasures: constantly increase online channels, expand the radiation range of stores, and attract more customers; Develop private brand, create differentiated marketing
Wang Chengrong, President of Beijing Business Economics Association, said in an interview with Beijing Business Daily that hypermarkets are now facing certain challenges. Especially since the outbreak of the epidemic, many e-commerce companies have directly extended their strategies to the community, which also has a great impact on hypermarkets.
Wang Chengrong thinks: "in the past, supermarket stores were good at running whatever they were good at. The function of supermarket stores was relatively single, and there was no real demand to go deep into the community." If hypermarkets want to do a good job, they still have great potential: on the one hand, they should highlight the advantages of traditional shopping through digital empowerment; On the other hand, we should enrich the functions of the community, improve the quality of consumption, and meet the needs of higher-level consumption upgrading. In terms of function, it should be more in line with the needs of community consumption upgrading, such as health, culture and other needs.
"The supermarket industry is actually providing consumers with a diet solution. In the future, physical stores can start with extreme freshness and diversification. " In Hu Chuncai's view, despite the advantages of e-commerce in terms of efficiency, no matter how hard e-commerce impacts, China's physical retail will never be eliminated. Physical retail should avoid competing with e-commerce for standardization, instead, it should try its best to deduce alienation.
Zhao Chi, Beijing Business Daily
[the above content is transferred from "Beijing Business Daily website", which does not represent the view of this website. If you need to reprint it, please get permission from the website of Beijing business daily. If there is any infringement, please contact to delete it
0