May 17 is the 52nd world telecommunication and information society day. With the arrival of 5g era, 5g technology, as a cutting-edge communication technology, is developing at a high speed and constantly changing our lives.
As a front-line technology company, oppo has recently created a monograph full of dry goods to provide technical readers and practitioners with a deeper and clearer understanding of the technical context and standardization process of 5g communication. This monograph full of content is the technical book "5g technology core and enhancement: from R15 to R16" co edited by 5g technology experts of oppo Research Institute and international standardization representatives.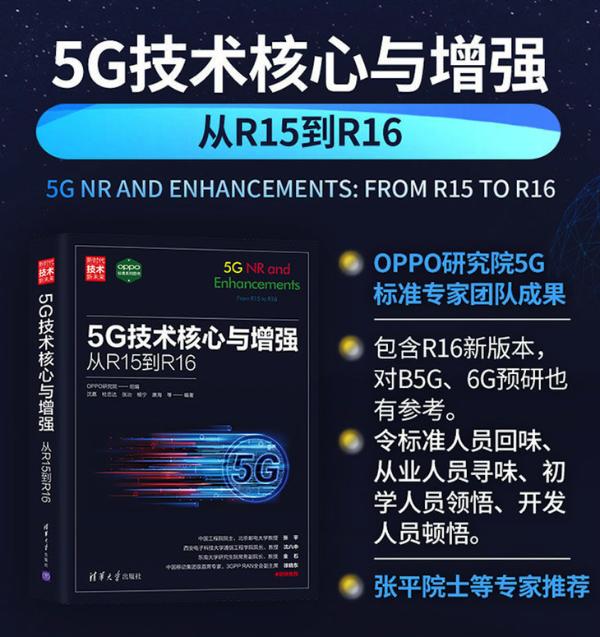 As early as 2015, oppo began to set up 5g standard team. On October 27, 2018, oppo mobile successfully achieved 5g Internet access for the first time; In the same year, oppo successfully opened the world's first 5g mobile wechat video call. In 2018, oppo will also become the only terminal manufacturer designated by the third stage specification of 5g technology R & D test released by imt-2020 (5g) promotion group. In May 2019, oppo launched Reno 5g in Switzerland, becoming the first commercial 5g smartphone product in Europe.
It can be seen that in recent years, oppo has invested heavily in the 5g field, and continuously launched new products based on 5g technology in the market. Based on the deep understanding of 5g technology, oppo Research Institute has compiled the technical book "5g technology core and enhancement: from R15 to R16". In this book, the basic version of 5g NR standard R15 is introduced in simple terms, and the 5g enhanced technical standard R16, including urllc, NR v2x and unlicensed spectrum communication, is also described in detail《 Core and enhancement of 5g Technology: from R15 to R16 can be used not only as a reference book for 5g R & D personnel, but also as a reference book for University and enterprise students and young researchers who will devote themselves to future b5g and 6G research.
Since its publication, the monograph of oppo Research Institute has been recommended by Zhang Ping, academician of Chinese Academy of engineering and professor of Beijing University of Posts and telecommunications, and Shen Bazhong, Dean of School of communication engineering of Xi'an University of Electronic Science and technology, and has achieved good market performance and industry praise.
For 5g technology enthusiasts and 5g communication practitioners who are interested in 5g technology, this systematic book on 5g technology can be purchased on major e-commerce platforms.
Author: Chen Zihong
0