Today, Qualcomm officially released its snapdragon 778g 5g mobile platform. Snapdragon 778g adopts advanced 6nm process, which can provide excellent performance and energy efficiency. The CPU is kryo 670, the performance is 40% higher than that of the previous generation, the GPU is Adreno 642l, and the graphics rendering speed is up to 40% higher than that of the previous generation.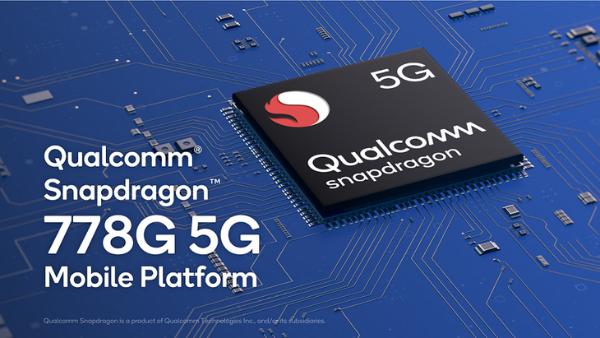 Snapdragon 778g not only brings performance upgrade, but also inherits the game and shooting experience of snapdragon 8 series. Snapdragon 778g introduces many of the latest top technologies and features into high-end smart phones, so that more users can get a better mobile experience.
Professional image shooting ability
In terms of imaging, snapdragon 778g is equipped with three ISPs to take three photos or three videos at the same time, including wide angle, ultra wide angle and zoom. Users can also record video through three shots at the same time, not only can each shot capture the best effect, but also can automatically synthesize three pictures into a professional quality video.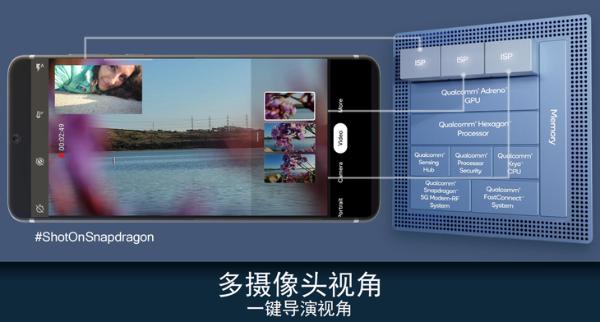 Users can also shoot 4K hdr10 + videos like professional photographers, capturing more than 1 billion colors. Snapdragon 778g also supports a single frame progressive HDR image sensor, so that users can take advantage of the video capture enabled by computing HDR to obtain significant improvements in color, contrast and picture details.
Powerful computing power doubled
Snapdragon 778g supports the new sixth generation of Qualcomm AI engine, including the Qualcomm hexagon 770 processor, which can bring up to 12tops of computing power. Compared with the previous generation platform, snapdragon 778g's performance can be doubled, and the per watt characteristics can be improved.
The application of AI technology in mobile phone includes real-time virtual background in video; Dynamic volume adjustment based on the surrounding environment; AI noise suppression can reduce the environmental noise and let the caller hear the real voice of the other party.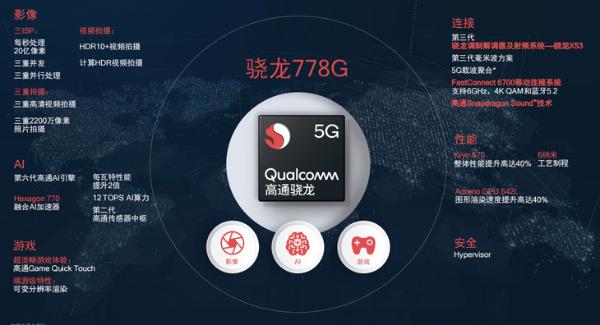 Smooth game, more power saving
Snapdragon 778g supports some of the features of Qualcomm snapdragon elite game, including VRS and game quick touch, which have been implemented in snapdragon 7-series platform.
VRS allows developers to specify and group the colored pixels in different game scenes to reduce the workload of GPU, so as to maintain the highest visual fidelity and reduce power consumption. Qualcomm game quick touch improves touch response speed by 20%, reduces touch delay and brings professional game experience.
Low latency leading connection performance
Snapdragon 778g integrates snapdragon x53 5g modem and RF system to bring millimeter wave and sub-6ghz 5g connectivity to more users around the world. Through the Qualcomm fastconnect 6700 mobile connection system, snapdragon 778g supports Gigabit bit rate Wi Fi 6 speed (up to 2.9gbps) and 4K QAM, and 160MHz channel in 5GHz and 6GHz band.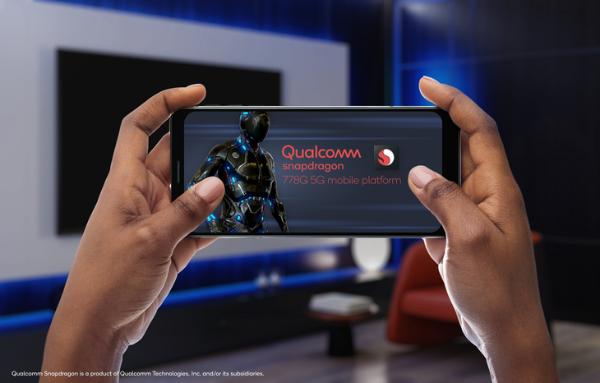 With Bluetooth 5.2, fast Wi Fi 6 / 6e and 5g connections, snapdragon 778g can bring low latency performance for games, sharing and video calls. In addition, with advanced audio features and system level optimization, the Qualcomm snapdragon sound technology suite enables a new end-to-end listening experience.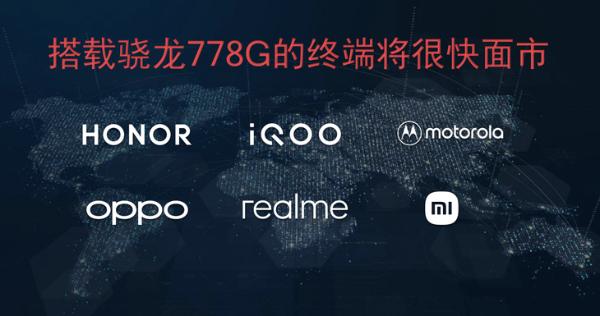 The commercial terminal carrying snapdragon 778g is expected to be available in the second quarter of 2021. Glory, Xiaomi, iqoo, Motorola, oppo and other mobile phone brands will take the lead in carrying snapdragon 778g 5g platform. Fang Fei, President of glory product line, said that the snapdragon 778g 5g mobile platform has powerful 5g performance, and has achieved breakthroughs and innovations in the fields of imaging, AI, etc. the new glory 50 series to be released by glory will carry the snapdragon 778g mobile platform.
Author: Li Jungong
two hundred and fifty-two