The vitality of night business in Beijing is releasing day by day. On May 19, a reporter from Beijing business daily visited a number of shopping malls and found that the late night canteens of most shopping malls have been opened. In addition to extending business hours, many international elements, theme activities and band performances have been added. The night economy of Beijing market is no longer the primary version when it was just put forward. Catering and Meichen alone are not attractive to consumers. Therefore, shopping malls should increase artistic performances, interactive experience and IP activities to upgrade the night economy. At present, the real business wants to promote the overall performance through the night economy, which can not be limited to the provision of space. How to innovate has become a new competition for major businesses in this summer's night economy.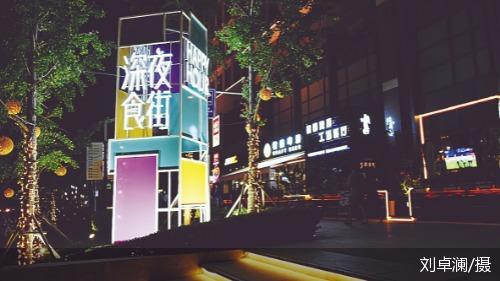 Theme Food Street
Summer releases all the latent consumption energy. A reporter from Beijing business daily visited the shopping malls and found that under the night, the flow of people in large shopping malls did not drop significantly, and there was even a queuing phenomenon in front of tea, catering and other shops. At the same time, in the face of surging consumer desire, the major businesses speed up the corresponding activities, relying on different kinds of gimmicks to open the competition for passenger flow.
"Late night canteen" has become the standard configuration of major projects, but the thematic food street can attract consumers to stop. Beijing Business Daily reporter in Chaoyang heshenghui saw that the mall has launched this year's late night canteen. This session of "late night canteen" takes "Global Food Carnival" as the theme, gathering more than 200 merchants such as Japanese food, Korean food, Western food and local food, and extending the business hours to 24 o'clock every Friday and Saturday evening. According to the relevant person in charge of Hesheng business, the passenger flow on the day of opening the street exceeded 120000, and there was a certain increase in the core data such as the passenger flow and customer unit price.
Similarly, the late night food street of Xiangyun Town has also been opened this year, and related theme blocks and theme activities have also been launched. Beijing Business Daily reporter learned that this year, Xiangyun Town launched the "strange food, wonderful enjoyment, universal primary food street", covering many of the world's popular street snacks. Xiangyun Town relevant person in charge said that in addition to meeting the needs of consumers for dinner, the snack format can also well meet the needs of eating while shopping, enhancing the sense of experience of consumers on the spot.
It is reported that the late night food street in Xiangyun Town will last until October 31. Most of the catering brands in the shopping mall will continue to operate until 24 o'clock, and brands such as Haidilao and German brewery can delay their operation until 3 o'clock in the morning.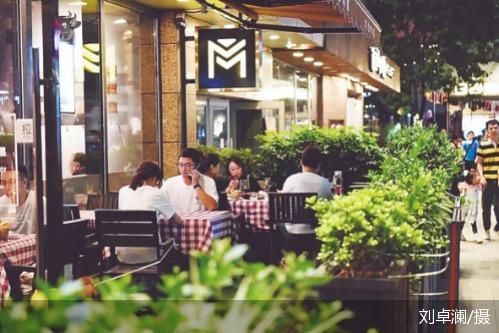 Xiangyun Town launched a late night food street, covering many of the world's popular street snacks, to meet the needs of consumers while eating.
Minority elements attract more attention
It's not enough to name a theme only by a block. The important thing is whether the theme activities are enough to attract consumers. According to the relevant person in charge of Xiangyun Town, from June 30, Xiangyun Town will also hold the summer IP theme activity "companion Summer Music Season" along with the late night food street. By creating a large night open-air music field, it will enrich consumers' experience in street music culture, so as to inject more vitality into the night economy of the business district.
This measure is also reflected in Chaoyang heshenghui. During the visit, a reporter from Beijing business daily saw that there were many consumers in the block of heshenghui District 21 who were wearing second-order clothes, and some fashionable and trendy people were taking Street Photos in the mall.
In a random interview with Beijing business daily, a consumer surnamed Gao said that he is a lover of Lolita clothes and likes to wear such distinctive clothes when traveling with friends. In the circle of friends found Chaoyang heshenghui recent activities have related elements, so in leisure time will choose to come here.
Heshenghui's "late night dining hall" focuses on the three key words of "food", "skateboard" and "second dimension", attracting many second dimension fans.
The content of night consumption is more and more abundant, which cannot be separated from the guidance of the government. Sponsored by Beijing Municipal Bureau of Commerce, a series of activities of Beijing consumption season night capital started on April 28, with the joint participation of landmark, business circle, life circle, more than 1000 brands, nearly 10000 merchants, new Internet consumption and other enterprises, focusing on the four themes of new night shopping, new night movement, new night charm and new night entertainment, A series of activities including "night capital light and shadow Festival", "night capital running through the city", "Beijing Bar Culture Festival", "night travel map life market", "music sleepless night tour" and "late night canteen Festival" were carried out.
Strengthen innovation ability
In 2019, Beijing will take the lead in introducing policies to promote night economy and consumption, and encourage key blocks, shopping malls, supermarkets and convenience stores to extend their business hours appropriately. After two years of trying, shopping malls are no longer the competition of business hours and catering.
Xiangyun Town related person in charge said frankly that night economy, as the focus of the business circle for many years, has constantly put forward new requirements for the operation of shopping malls. Conventional food and beverage consumption, cultural consumption experience and night beauty show are not attractive to consumers; The market is also full of a large number of homogeneous night economic activities, and business innovation is particularly important.
In this regard, the person in charge disclosed that in the future, COFCO · Xiangyun Town will launch theme night economic activities, such as parent-child interaction, adult night show, scientific exploration and natural ecological experience, on the basis of in-depth study of consumer behavior and consumption psychology, to form attraction for subdivided customers with different interests and achieve accurate touch.
Lai Yang, executive vice president of Beijing Business Economics Association, believes that commercial projects want to be popular in night consumption, which is essentially their own transformation. Commercial projects should speed up the adjustment and introduce more immersive experience projects; Strengthen the cultural and leisure, entertainment and art businesses; More interactive art exhibitions and performances will be held. So that this type of business can continue to drive the influence of night consumption at night" However, in fact, many commercial projects still have deficiencies in the above aspects, and the only thing that can win is the catering industry, which will naturally lead to the hot situation of catering only. " Lai Yang said frankly.
Beijing Business Daily reporter Zhao zhuolan / photo by Wen Bingbing
[the above content is transferred from "Beijing Business Daily website", which does not represent the view of this website. If you need to reprint it, please get permission from the website of Beijing business daily. If there is any infringement, please contact to delete it
0