On May 20, 2021, Chongqing Xiaoming held a new product launch with the theme of "play while you are young". The new projection brand "Xiaoming" officially appeared, and released its first household projection product – Xiaoming Q1 mini projector. Xiaoming brand is committed to becoming a pioneer in the field of projection. It has always worked with the younger generation to create a new way of audio-visual entertainment in the future, so that every player can unlock the immersive experience anytime and anywhere, and easily enjoy the purest happiness of projection.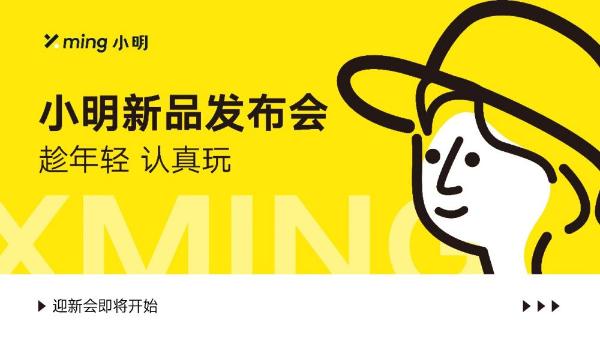 "Using projection to create immersive audio-visual entertainment experience for young people is the direction of Xiaoming projection." Jiang Qi, product manager of Xiaoming projection, said, "Xiaoming Q1 mini projector, as the first household projection product launched by Xiaoming, takes into account the clear picture, excellent performance, fashionable and compact shape, as well as the ultra-high cost performance of the strongest one thousand yuan, so as to truly create an audio-visual product that young people want to use, easy to use and love to use."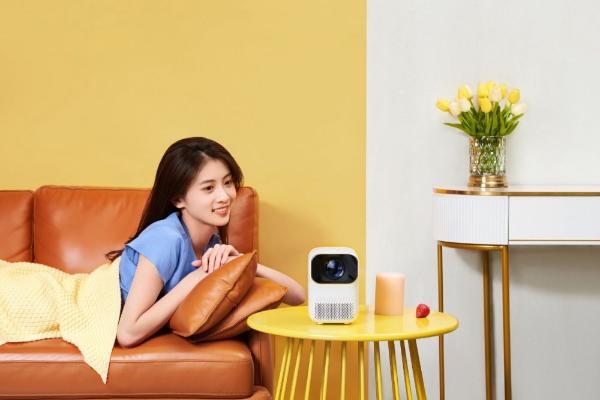 In every inch of the world
Whether it's gathering in the dormitory, slumping on the sofa, or simply lying on the bed, open a video, discover the new world, and start a relaxing time of the day. Movies and TV series, variety shows, live broadcast, short videos… Xiaoming Q1 mini projector shows you the world. Small size, easy to lift with one hand. Xiaoming Q1 is also equipped with a built-in battery. It can also be connected to power bank 1 through the type-C interface. The power bank output specification should reach 65W (20V 3.25a output)
Convenient charging, from every corner of the room to the outdoor gathering of friends, anytime and anywhere to give you a happy light and shadow feast. Compared with the fixed size of the TV, the size of the projection image can also be changed with the placement distance, from 40 to 120 inches. The size of the world is up to you.
Xiaoming Q1 also takes into account the appearance design of cute and cool, bringing personality experience to young people. The whole body has 0 sharp angles, round hands, collocation with white and orange red, and fashion can all match, and the projector can also be salt and sweet.
"The intelligent large screen business has been developed for many years. The user's habit of watching video on the large screen has been formed, and the viewing demand and duration are growing rapidly." Mr. Zhang hang, vice president of iqiyi, said at the press conference, "iqiyi will provide massive content resources and high-quality content services for users of Xiaoming projector. In the future, through the joint exploration of both sides, we will create a better large screen entertainment experience for users. "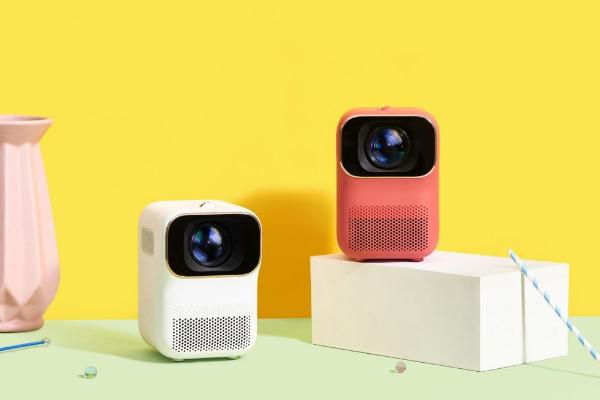 A panoramic view of the details
Although the video software members are in hand, the projector directly reduces the image quality from 1080p to 480p. Xiaoming Q1 mini projector protects members' noble visual experience. At present, the mainstream 1080p true HD projection price is more than 2000 yuan, Xiaoming Q1 less than 1000 yuan price, give you a higher level of clear image quality. With the endorsement of professional certification report, Xiaoming Q1 can provide 1080p high-definition physical output resolution, which is not misleading or false. Compared with DLP products, which realize 1080p by "dithering", Xiaoming Q1, as an LCD product, is clearer and more stable, so that you can have a panoramic view of every frame and every tiny place. At the same time, the compact design of Xiaoming Q1 focusing roller helps users to adjust the set top with one finger, which is clear and accessible.
Xiaoming Q1 has also obtained the low blue light eye protection certification of German Rhine organization, which gives you the best value for money. T Ü Mr. Yang Jiajie, vice president of electronic and electrical services of V Rhine Greater China, said at the press conference: "Rhine t Ü V for all kinds of display products can provide low Blu ray and other standards and certification services. The Xiaoming Q1 projector product won the Rhine t Ü V low Blu ray certification fully reflects the importance it attaches to consumer health and safety, and the image quality is evaluated based on practicality. Rhine t Ü V low Blu ray certification is the best proof of Xiaoming brand's continuous polishing technology to provide consumers with the world's leading use experience. "
"Thousands of Yuan" and "wisdom" are inevitable
Can't you have both performance and price? Xiaoming Q1 mini projector all want! 1099 yuan, convenient and intelligent. Xiaoming Q1 is equipped with fengos, a mature intelligent large screen system developed by fengmi. It has no power on advertisement. It can enter the system 6 seconds after pressing the power button. It has various humanized projection functions, such as content preview, attention to film and television dynamics, one touch touch, etc., to give you a smooth entertainment experience.
Different from the mainstream infrared signal remote controller of Qianyuan machine, Xiaoming Q1 remote controller is connected with Bluetooth signal, so it doesn't need to aim at the projector when operating, and it can be easily controlled by pressing it at will; Through the Bluetooth remote control, you can also talk with the built-in voice assistant of Xiaoai, which not only makes it more convenient to search, control and play, but also can access the app of Mijia, realizing the cross device control of Mijia's smart home environment, making the smart life more than the experience of watching movies. In addition, Xiaoming Q1 also adopts the 2G + 8g large memory solution, with the LCD TV of more than 3000 yuan on the market, and the same AMLOGIC t972 chip, so that the mature large screen system can run smoothly.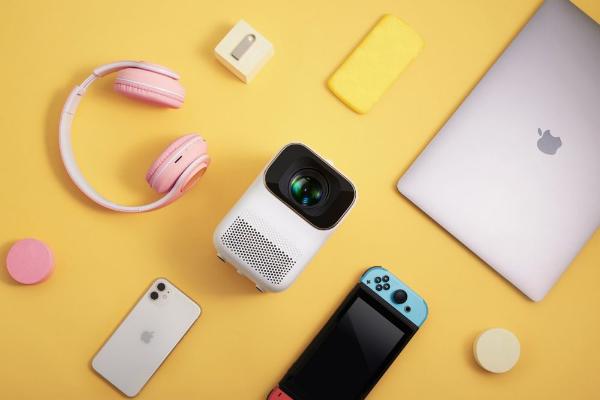 Panoramic sound effect
If you want an immersive viewing experience, it's not enough to see clearly. Xiaoming Q1 mini projector adopts Chinese panoramic sound wanos ® The virtual sound field (AVE) technology of Xiaoming Q1 has been applied by more than 400 cinemas in China. While broadening the sound field performance of Xiaoming Q1, with the customized 2 * 3W speaker, you can feel the rich spatial details and separation beyond imagination, from "sound" to "body", giving you a truly pleasant audio-visual feast.
"Sound is an extremely important part of the enjoyment of video and audio. The cooperation between Xiaoming and wanos also marks the development of wanos panoramic sound technology from professional cinema to home cinema and consumer electronics. Through wanos panoramic sound technology, Xiaoming Q1 mini projector brings the three-dimensional stereo experience in the cinema into the home, so that consumers can enjoy the immersive hearing feast with the projector. Xiaoming's first support for China's 3D sound standard also confirms Xiaoming's determination to promote China's intelligent manufacturing Pan Xingde, founder and CEO of panoramic sound technology, has certain expectations for the future development of Xiaoming.
Xiaoming brand will continue to be a pioneer in the field of projection. As the first household projection product launched by the brand, Xiaoming Q1 hopes to create a truly suitable audio-visual entertainment product for young people from the aspects of performance, appearance and cost performance. In the future, Xiaoming will also keep a young playful heart, explore new ways of audio-visual entertainment with young people, and give each player the purest enjoyment of projection.
0