The concept of scientific pet keeping has been popularized rapidly with the growth of pet keeping population. Feeding leftovers to pets has long been a thing of the past. Now the pet as a child's pet, people's research level of pet food is comparable to milk powder. Since 2020, pet food has grown at an annual growth rate of 10 billion yuan, reaching a consumption scale of nearly 100 billion yuan. The huge market scale has attracted international giants such as Mars and NHL, as well as domestic enterprises such as deardeal mengpet and Youyu to join. New and old pet food brands are in a new contest, but who can grab the cake remains to be tested.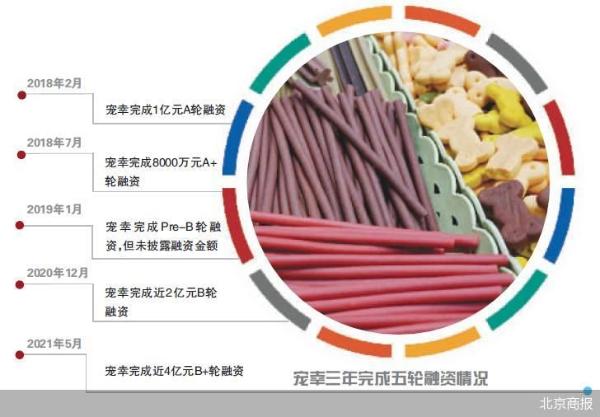 Three years and five rounds of financing
On May 25, Shanghai Chongxing Pet Products Co., Ltd. (hereinafter referred to as "Chongxing") announced that it had recently completed nearly 400 million yuan of B + round financing. This round is jointly led by Tencent investment and Kaihui fund, followed by round B old shareholders Huaying capital, Hony venture capital and Xiangfeng investment, and round a old shareholder Honghui capital continues to make additional investment. This round of financing will focus on the construction and investment of the above-mentioned directional business, the informatization construction of pet upstream and downstream industry chain, and open up the whole business link from production, R & D, sales to data.
It is worth mentioning that this is the fifth round of financing that has been completed in the past three years. According to tianyancha, in February 2018, Chongxing completed the round a financing of RMB 100 million, with Honghui capital, Jinbang capital and muda venture capital as the investors. In July 2018, Chongxing completed RMB 80 million a + round financing, with Ruisheng investment and Guangzhou Shuimu assets as investors. At that time, pet's plan was to use the financing for the company's new product development, brand promotion, production base construction, etc.
In January 2019, Chongxing completed the pre-B round of financing, but did not disclose the amount of financing. In December 2020, Chongxing announced the completion of round B financing of nearly 200 million yuan. This round was led by Cathay Pacific Wealth Fund, followed by Xiangfeng investment, Hony venture capital and Huaying capital, with Taihe capital as the exclusive financial consultant. This round of financing will be used for product development, supply chain system optimization and brand building.
It is understood that pet luck was founded in Shanghai in 2004, and its main sub brand "Weishi" is a Chinese head pet health and nutrition brand. Weishi initially started from pet nutrition products, aiming at China's pet breeding environment and health problems, launched exclusive nutrition products covering the whole life cycle of dogs and cats, and launched a series of diet balanced staple food for dogs and cats in May 2020.
Cathay Pacific Wealth Fund, the leading investor in round B, once said: "in view of the mature market, with the change of pet raising awareness in the future, healthy pet raising consumption scenarios will become the mainstream. Weishi is chosen because Weishi, as a leading brand of pet nutrition, has been able to maintain high growth rate and compound growth in recent three years, and continuously enrich its product line and launch healthy pet food. I believe the team can seize the opportunity to lead Weishi to become the preferred brand in the pet industry. "
The data shows that the annual sales of Weishi will increase by more than 60% from 2018 to 2020. During the "double 11" period in 2020, Weishi once again won the first place in the sales volume of Taoxi / Jingdong pet nutrition products. During this period, the sales volume of the newly launched diet balanced series of cat food products increased about 48 times compared with the "6.18 promotion" in 2020.
It is reported that in 2021, Weishi's revenue target will double that of last year, that is, the overall annual sales will hit 1 billion yuan. In addition to nutrition, the contribution of staple food to Weishi's revenue is gradually improving. After the sales of staple food products exceeded 50 million yuan in the second half of last year, the sales of this year is expected to reach 400 million yuan.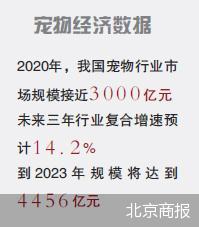 Competition between new and old brands
Behind the rise of the pet market is the outbreak of domestic demand. In recent years, the rise of pet industry and e-commerce channels complement each other.
According to the white paper on China's pet consumption trend in 2021 recently released by iResearch, the market scale of China's pet industry in 2020 will be close to 300 billion yuan. Driven by policy, economic, social and technological factors, as well as more potential pet owners and emotional consumption brought by the epidemic situation, the industry will continue to maintain stable growth in the next three years, with a compound growth rate of 14.2%, By 2023, the scale will reach 445.6 billion yuan.
With the rapid development of pet economy, many enterprises have participated in the share. Among them, PET staple food accounted for nearly 95 billion yuan, ranking first in pet consumption. According to some data, Mars is currently the leader in the main grain market. By taking advantage of capital and earlier time to enter the track, Mars almost monopolized the offline market before 2010, accounting for 11.4% of the Chinese market.
According to Zhu danpeng, an analyst of China's food industry, China's pet food market has been growing steadily since 2019. Nestle, Mars and more and more brands in the domestic layout of the pet market, pet layout pet nutrition and care products strategy is no doubt.
According to the data, in terms of capital, there are nearly 30000 pet related companies nationwide in 2019, of which nearly 20000 were established after 2017. The capital market has changed from a wait-and-see state before 2017 to a positive influx in recent years. With the help of capital, the pet industry has been growing.
In addition, recently, the group has also planned a blueprint for its pet business. By the end of 2020, a subsidiary of Jianhe group will acquire 100% equity of solid gold, an American pet food brand, with us $163 million. In March 2021, the company announced that the pet food business was re installed in the Chinese market. Li Fengting, CEO of Jianhe group in China, said recently that in the pet food business, Su Ligao will become the top three brand in the pet nutrition market and the first brand of cat staple food.
"From the perspective of the whole industry, consumption and channel, China's pet market will grow at a high speed in the next decade, with an annual growth rate of more than 30%. If enterprises want to break through in pet food, they must provide one-stop service in product quality, feeding convenience, shopping, consulting and after-sales to match the core needs and demands of consumers. " Zhu said.
According to other data, pet owners pay attention to the multiple functions of staple food, and focus on strengthening immunity, gastrointestinal conditioning, calcium supplement and skin care. The diversification of functional requirements for staple food indicates that pet owners' pet keeping needs are quite different, and the fine pet keeping characteristics begin to appear. Pet owners pay attention to the brand / place of origin, the brand of products and the origin attribute of imported or domestic products; Also concerned about the quality and safety, care about the quality of products, whether authentic, safe and reliable; At the same time, we should pay attention to whether the cost performance is cost-effective and affordable, and the rationalization of pet giving more opportunities to domestic brands and e-commerce platforms with high cost performance.
As for Chongxing's future development plan, a reporter from Beijing business daily contacted and interviewed Chongxing, but as of press release, the other side did not reply.
Beijing Business Daily reporter Qian Yu Baiyang
[the above content is transferred from "Beijing Business Daily website", which does not represent the view of this website. If you need to reprint it, please get permission from the website of Beijing business daily. If there is any infringement, please contact to delete it
0