Since March, with the promotion of domestic vaccine popularization, the epidemic prevention and control work has become normalized. As an important part of the prevention and control work, the cleaning and killing work of enterprises has also become stable and normalized.
In 2020, the epidemic prevention and control has promoted the attention of all walks of life to the clean elimination work. In the process of anti epidemic, the comprehensive implementation of enterprise elimination work has created the necessary conditions for the protection of national safety and health. During the two sessions, Shi Xiaoming, member of the National Committee of the Chinese people's Political Consultative Conference and director of the Institute of environment and health related product safety of the Chinese Center for Disease Control and prevention, pointed out that disinfection is an effective means for the prevention and control of infectious diseases and the emergency disposal of sudden natural disasters, and is a strong guarantee to ensure "no major epidemic after a major disaster". It is necessary to further strengthen the construction of the national disinfection system to make up for the shortcomings of disinfection work.
Through the catalysis of the epidemic situation, the demand for cleaning and killing of enterprises has also been continuously stimulated. Since returning to work on February 18 this year, the sales volume of disinfectant, alcohol, wet paper towel and other cleaning and killing products has risen rapidly, and continued to maintain a "high fever", according to Jingdong enterprise purchasing data. Since the Spring Festival, killing and cleaning have been regarded as "compulsory courses" in many parts of the country. It is understood that in a chemical industry park in Shijiazhuang, Hebei Province, many industrial enterprises clean up the public area and staff dormitory twice a day. A number of office enterprises in Beijing, Guangzhou, Chengdu and other places also take daily cleaning measures by providing a large number of paper towels, hand sanitizer, 84 disinfectant and other materials.
In this process, the online trend of cleaning, killing and purchasing of enterprises has become increasingly prominent. Industry insiders said that at the beginning of last year's epidemic, a large number of offline stores were closed, and online channels became the only channel for a large number of enterprises to purchase disinfection and cleaning materials, which was widely promoted. After one year's experience, enterprises have also realized the advantages of online procurement: not only the supply of goods is more sufficient, the range of options is wider, but also the procurement management is more flexible, convenient and transparent. Nowadays, more and more enterprises are more inclined to purchase cleaning products through app and small program. Affected by this, a large number of clean brand manufacturers are willing to transfer their products and services to the online market, and pay more attention to developing the enterprise market.
In order to better meet the online demand of enterprise cleaning procurement and serve more small and medium-sized enterprises, during the critical period of enterprise start-up, Jingdong enterprise purchase, together with many famous brands, launched "Jingdong super category day of cleaning enterprise purchase". While continuously improving the supply chain, it built a stop around several scenes, such as public cleaning, office area, toilet, conference room, etc Innovative cleaning solutions.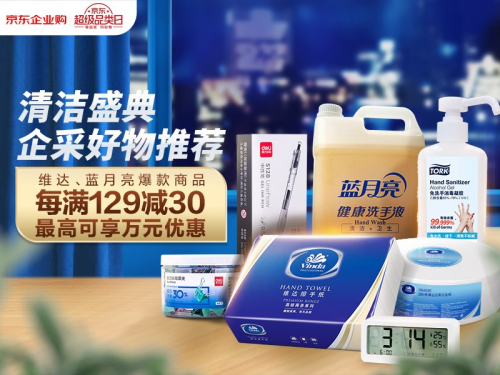 Starting from the actual needs of enterprises, Jingdong enterprises purchase foreign exchange to gather VIP, blue moon, lebemay, dinzhixuan, tangnian and other famous suppliers to provide commercial hygiene cleaning solutions for enterprise toilets, tea rooms, office areas, workplaces and other places, as well as hotels, restaurants, shopping malls and other fields. At the same time, roll paper, toilet paper and hand sanitizer for toilet, paper extraction, mask and disinfectant for office area, detergent, sterilization and other products specially used in catering field also gathered in Jingdong enterprise super purchase day to greatly reduce the centralized purchase cost of enterprises through full reduction, direct reduction and preferential delivery.
Not only that, Jingdong enterprise purchase also cooperates with the brand to provide enterprise users with all-round guarantee covering pre-sale, in-sale and after-sale, with professional customer service for one-to-one service before sale; tracking logistics in the whole process of sale, enterprises can query logistics information in real time after placing an order, so the purchase is convenient and relaxed; in the aspect of after-sale service, there are also customer service for personal service, which saves effort and worry.
The relevant person in charge of Jingdong enterprise purchasing said that at present, the domestic epidemic situation has been effectively controlled, but the disinfection and cleaning work still can not be ignored. In the future, Jingdong enterprise will also pay attention to the scene of enterprise killing and cleaning for a long time, integrate more brand manufacturers' resources, and provide richer goods and services for enterprises.