Nokia, the "arcade" in those years, gradually disappeared on the beach with the arrival of the wave of smart phones. However, Nokia did not give up. After missing out on the era of smart phones, it began to make 5g, unwilling to miss the next wave. However, in today's increasingly fierce market competition, the former mobile phone overlord wants to make a comeback, I'm afraid it's a long way off.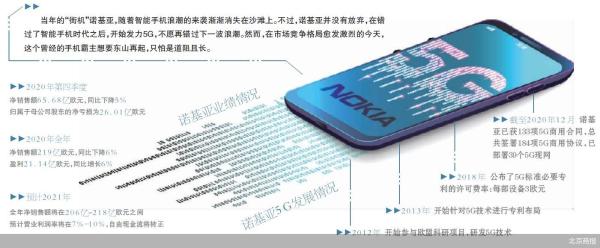 Ten thousand people laid off
On March 16 local time, Nokia announced that it would start cost cutting work to better strengthen its investment in future R & D capabilities, including 5g, cloud and digital infrastructure, as well as other areas that can bring long-term benefits.
Nokia said in a statement that the restructuring measures include a reduction of 5000-10000 employees in one and a half to two years, but the specific number will depend on the market development in the next two years. After the layoffs, Nokia will have 80000-85000 employees in the future.
According to Nokia's plan, the total cost of restructuring is about 600 million to 700 million euros, which is expected to cost 50% in 2021, 15% in 2022 and 35% in 2023. By the end of 2023, the restructuring could save about 600 million euros to offset R & D investment and inflation related pay growth.
In fact, this is not Nokia's first big move in terms of layoffs. According to the official data released by Nokia, the company lost nearly 5000 jobs in 2019. In 2020, Nokia will still reduce more than 6000 jobs, although the performance of its communication business has recovered.
It can be seen that in the past two years, the total number of Nokia head office layoffs reached 11044, accounting for 10% of the total number of Nokia.
Xiang Ligang, a communications expert, said in an interview with Beijing Business Daily that Nokia will have to lay off staff substantially in a period of time, which is obviously due to the company's efficiency problems. Although Nokia said that the sharp layoff is to turn to 5g business R & D investment, but the company's performance decline is also the reason that people can not ignore.
According to the 2020 annual performance report released by Nokia in February this year, in the whole year of 2020, although Nokia has gained more than 100 5g business cooperation orders, its net loss is as high as 2.431 billion euros, and its revenue has declined to varying degrees.
For the layoff plan and subsequent arrangements, Beijing Business Daily reporter contacted Nokia, but as of press has not received a reply.
However, the statement showed that Nokia's business unit will provide details on its future strategy and financial outlook at the capital markets day on March 18.
The years of disappearance
In fact, most people are familiar with Nokia, especially in the mobile phone industry. Nokia's original "can't break, but also block bullets" function machine is a generation's memory.
But with the advent of the era of smart phones, Nokia's mobile phone products and Symbian operating system can not meet people's needs. In 2011, Nokia announced a strategic partnership with Microsoft, abandoning Symbian and adopting Microsoft's windows phone system, and will participate in the research and development of the system.
However, in the face of the rise of smart phones with new operating systems, Nokia's position as the world's number one mobile phone sales was surpassed by Samsung in the first quarter of 2012, ending its 14 year market dominance.
In 2014, Nokia completed the mobile phone business transaction with Microsoft, sold the device and service business to Microsoft, and chose to withdraw from the mobile phone market. In the following years, Microsoft took over Nokia, and from time to time released new phones, hoping to save some of the market, but people have gradually lost interest in this brand.
However, when Nokia is forgotten by the mobile phone market, it has another top business, which is communication technology. Xiang Ligang said that the well-known Nokia mobile phone is still different from the whole company of Nokia. Mobile phone is a part of its business, and other aspects include technical performance, system equipment, etc.
In fact, Nokia has a strong strength in the communication industry. In the era of 2G, 3G and 4G, Nokia has always been one of the leaders in leading the technical standards of the communication industry.
Not only that, Nokia even threatened to bring 4G network to the moon to support extraterrestrial network connection, so that future astronauts exploring and living on the moon can use 4G network to access the Internet.
And that wish came true last year. In November 2020, Nokia announced that it was selected by NASA to build the first wireless 4G network base station on the moon. It plans to prepare for the establishment and long-term stay of human beings on the moon around 2030.
Against the wind?
In the 5g era, Nokia still acts frequently. In 2013-2018, there were 2133 global patent applications for Nokia 5g technology, and the number of telecom network equipment suppliers ranked second with about 10.5% patent applications.
In October last year, Pekka lundmark, the then CEO of Nokia, announced that the company would adjust its structure when he released his first quarterly report. According to the strategy, Nokia will have four business units, namely mobile network, IP and fixed network, cloud and network services and Nokia technology.
At the same time, lundmark also said that Nokia will withdraw from its original plan to provide a series of products and focus on 5g business to become a leader in this field.
In fact, Nokia has been gaining on 5g orders. As of December 2020, Nokia has won 133 5g commercial contracts and signed 184 5g commercial agreements including paid trial. Meanwhile, Nokia has deployed 39 existing 5g networks.
Just from the beginning of this year, Nokia cooperated with Google cloud division of Google's alphabet in January to establish a 5g core network based Samsung electronic infrastructure, and allow enterprise customers to provide services such as intelligent retail and automated manufacturing. Meanwhile, it is also reported that M1, the Singapore mobile network operator, has signed a 5g partnership agreement with Nokia to deploy Nokia's cloud native 5g core network.
Although the order volume is relatively considerable, Nokia is also facing competition in the 5g field. Recently, Ericsson announced the number of 5g orders in the world. The number of 5g orders of this century old communication giant has increased to 131. Compared with Nokia, the number of 5g orders in the world is 101.
As an old giant of communication equipment, Ericsson's strength is beyond doubt. Ericsson, founded in Stockholm, Sweden in 1876, has developed rapidly in communication network. Its 2G, 3G and 4G networks are widely used by major operators all over the world. It is also one of the few suppliers in the world who master 5g network technology. In addition, other latecomers also made Nokia feel threatened.
Last year, Nokia lost to South Korea in the 5g competition of Verizon, the US telecom giant. This is the largest export order of communication equipment in Samsung's history, accounting for about 3.43% of Samsung's total revenue in 2019, which is full of gold. Verizon was Nokia's biggest customer before, according to JPMorgan.
According to the analysis of the Wall Street Journal, Nokia's current challenge comes from misjudging the timing of global 5g development. Wireless operators began to buy 5g devices earlier than Nokia expected. Nokia could not get enough cheap and efficient chips in time, which led to the price loss of Nokia's products.
In Xiang Ligang's view, 5g technology is the key to the development of communication enterprises. If the number of 5g technologies held is small, it is difficult for the company to be noticed. Nokia is such a case.
However, bu Rixin, a partner of chuangdao investment consulting, believes that the 5g technology market should be invested globally and developed together. With the development of the whole market, technology can be effectively updated. If we can't develop it, then Nokia will also suffer.
Beijing Business Daily reporter Tao Feng intern reporter Zhao Tianshu
[the above content is transferred from "Beijing Business Daily website", which does not represent the view of this website. If you need to reprint it, please get permission from the website of Beijing business daily. If there is any infringement, please contact to delete it. 】
0