On March 19, Maocheng Co., Ltd. (834500) recently released its 2020 annual report. During the reporting period, the company achieved an operating income of 460430320.75 yuan, a year-on-year increase of 0.52%; the net profit attributable to shareholders of listed companies was 4417654.35 yuan, a year-on-year increase of 314.36%.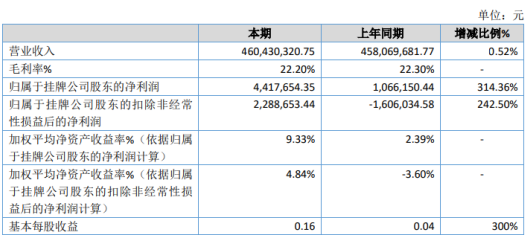 During the reporting period, the net cash flow from operating activities was 19332571.03 yuan, and by the end of 2020, the net assets belonging to the shareholders of the listed company were 49534370.60 yuan.
The operating capacity of the company has been continuously enhanced, and the operating revenue in the reporting period has increased by 2360638.98 yuan compared with the same period last year; the proportion of high value-added business such as operation in the same period has gradually increased, and the technical service revenue has reached 12927517.19 yuan, an increase of 38.56% compared with the same period last year.
According to the requirements of the new revenue standard, the packaging expenses are collected from the sales expenses to the operating costs in this year. If they are restored to the same caliber of last year, the gross profit rate of commodities in the reporting period is 23.85%, which is higher than the previous 22.30%.
The operating profit increased by 2839326.10 yuan, which was negative compared with that of the previous year. The main reason was that the operating revenue increased by 0.52% and various expenses decreased by 0.90%.
Compared with the previous year, the net profit increased by RMB 44314.35%. This is closely related to the increase in the proportion of technical services and the overall improvement of management efficiency.
During the period, the financial expenses were 1438599.55 yuan, a year-on-year decrease of 4.77%. During the period, the investment income was 6748.64 yuan, compared with 3590.41 yuan in the same period of last year, an increase of 87.96%.
According to digbei.com, Maocheng has been focusing on the operation of leisure food e-commerce for 11 years. It is committed to using professional operation means to help enterprises expand e-commerce channels, open up new retail outlets, gain market increment and brand exposure, and achieve a win-win situation among consumers, suppliers and Maocheng.
0