On March 22, China Electronic Information Industry Development Research Institute released the report of China's home appliance market in 2020. According to the data, in 2020, the retail sales of China's household appliances market will reach 833.3 billion yuan, showing strong resilience under the impact of the epidemic. High end products and household appliances will grow significantly, effectively promoting consumption upgrading and industrial transformation.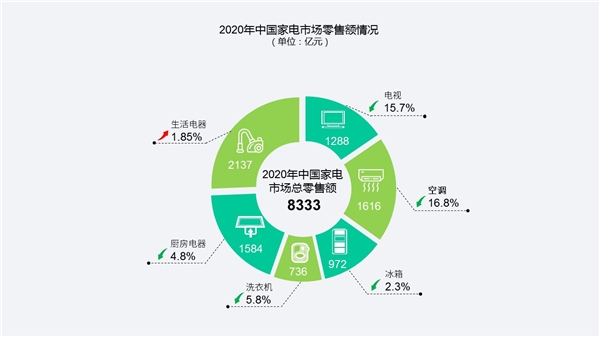 The epidemic has disrupted everyone's pace of life. In the past year, many changes have taken place in people's life philosophy and consumption habits. More and more people choose to use smart home appliances to help them improve their home environment and "rejuvenate" and "add color" to their beautiful life. On the one hand, it is to build a more clean and healthy home, on the other hand, it is also to undertake the burden of housework, free your hands, release more time to accompany your family and do more meaningful things.
First of all, what kind of home appliances are worth buying? The epidemic has changed people's life philosophy and way, and also produced new consumer demand: one is good for health, the other is to enhance family happiness, and the products that can meet these two needs are undoubtedly our new goal. As the data in the report shows, 4K / 8K smart TV featuring large screen, ultra high definition and artificial intelligence, intelligent, comfortable and healthy high-end air conditioner, high-end refrigerator featuring large volume, health disinfection and scientific storage, high-end washing machine featuring large capacity, health care and drying, dishwasher, hand-held vacuum cleaner, hairdressing and beauty instrument, wall breaker and air conditioner Air frying pan and other new strange life small household electrical appliances have been in hot sale in different degrees in 2020, strengthening the role of household electrical appliances in improving people's happiness.
And where to buy it? In order to prevent the epidemic, people have reduced the frequency of going out, and online has once become a key channel for people to buy home appliances. According to the report, in 2020, the proportion of online retail sales in the total retail sales of household appliances market will increase from 41.17% in 2019 to 50.4%, which is the first time that the annual penetration rate of online retail sales will exceed 50%. Obviously, a safe and reliable retail platform is very important for consumers, and JD is trusted because it is widely recognized by consumers in terms of commodity quality, service level and delivery efficiency. In the most severe period of the epidemic situation, Jingdong household appliances launched a special indoor disinfection and sterilization session, which is "sterilization of household appliances, home health", to provide consumers with health household appliances certified by state-level authoritative testing institutions and with disinfection and sterilization function. When other channel providers issued the stop notice, Jingdong household appliances always maintained delivery by virtue of its own logistics and warehousing advantages Timeliness, to solve the problem for many users who are anxious in the epidemic environment. (including me)
From the change of consumers' life concept, consumption habits and shopping scenes in 2020, all of them reflect consumers' enthusiasm for intelligent, healthy, high-end and personalized products. And for these new industry trends and market trends, Jingdong home appliances is also early insight. At the beginning of 2021, JD home appliances put forward a new brand concept of "rejuvenate your life". It aims to make use of its big data advantages, constantly explore the product trend function points and the demand points of consumers' new scenes, and jointly launch more new products and services that meet the personalized needs of consumers, so as to help consumers rejuvenate their quality of life. At the opening of awe, the largest home appliance and consumer electronics exhibition in China, Jingdong will show the audience the theme of "refreshing your life" with the booth built by "time and space shuttle house" and different life scenes. All exhibitors will see the brand image of high-tech, intelligent and high-end of Jingdong home appliance under the new concept.
It is believed that after this wonderful appearance, the home appliance industry will usher in a new stage in which Jingdong home appliance, together with many home appliance brands at home and abroad, will continue to promote the structural upgrading of the industry and lead the home appliance industry to develop in the direction of science and technology, fashion, wisdom and health.
0