On March 23, China home appliances and consumer electronics Expo (AWE), a science and technology event suspended for one year due to the epidemic situation, finally kicked off again. Awe2021, which integrates the essence of the industry and focuses on the latest trend of the industry, has once again become a feast of high-end new products and innovation technology iteration.
As a promoter of the upgrading and transformation of China's home appliance industry, Jingdong has made a new appearance with the theme of "renewing your life". On the opening day, Jingdong held the new product launch of Wanhe awe together with Wanhe. Ye Bo, general manager of kitchen and bathroom Business Department of Jingdong home appliance business department, fan min, head of kitchen and bathroom water heater business department of Jingdong, Hu Wenguang, general manager of Wanhe online marketing center, Peng Wenyan and Li Zhenxi, product managers of Wanhe, were invited to attend. During this period, Jingdong and Wanhe jointly customized a new black technology product, small magic cube bath control class I energy-efficient zero cold water ls6d water heater, which was launched heavily. It should follow the trend of smart consumption and stand on a new height of smart green residential consumption.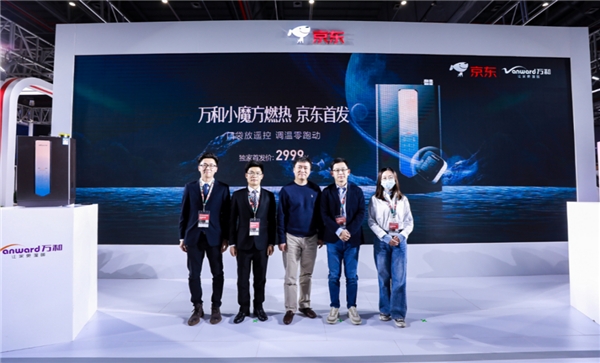 Ye Bo (second from right), general manager of kitchen and bathroom Business Department of Jingdong home appliance business department, fan min (first from right), general manager of Wanhe online marketing center, Hu Wenguang (third from left), product manager of Wanhe, Peng Wenyan (second from left) and Li Zhenxi (first from left) jointly launched new products
A new product launch full of "wisdom"
In order to let more audiences stay at home "cloud show", the new product launch jointly created by jd.com and Wanhe opened real-time live broadcast, and experienced new products online and offline simultaneously. At the beginning of the press conference, Peng Wenyan and Li Zhenxi, product managers of Wanhe, unveiled the mysterious veil of the strategic new products jointly built with Jingdong.
According to two product managers of Wanhe, ls6d water heater has unique advantages such as zero cold water, first-class energy efficiency, and small cube bath controller. Wanhe class I energy-saving zero cooling water is the drafter of the industry standard, which truly achieves the visualization of zero cooling water heating. In addition, Wanhe's patented wireless bath control Rubik's cube is the first in the industry. It integrates all the functions of the water heater. The Rubik's cube can be used at any time with a wide range of applicable scenarios, such as old people's use, forgetting things in the bathroom, accidentally falling down, and inconvenient temperature adjustment due to the remote installation of the water heater. The Rubik's cube can quickly solve the problems. The release and live demonstration of this product opens up a new way for smart home appliances to create smart home life, and brings infinite possibilities for smart green living.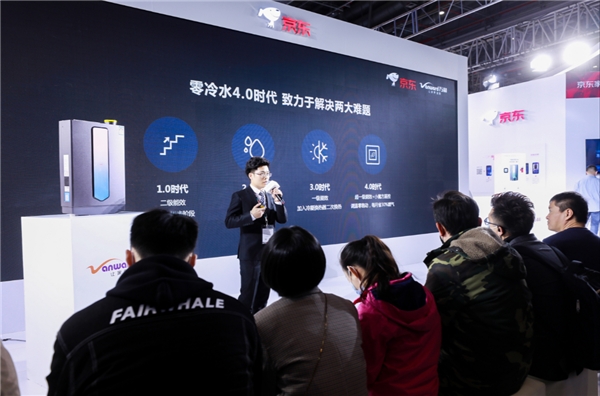 Peng Wenyan, product manager of Wanhe, explains ls6d water heater to the audience
"This water heater is really convenient to use. I want to buy one right away and go home." After the new product launch and experience, the audience interaction is also very lively. The host invited a number of audience to experience the first-class energy-efficient zero cold water ls6d water heater controlled by magic cube bath, guided the audience to operate magic cube, and experienced the functions of "adjusting water temperature", "calling" and so on. Seven audience members asked questions about the new product's energy efficiency, service conditions and energy saving degree, which not only made the audience have a deeper understanding of ls6d water heater, but also fully mobilized the enthusiasm of the audience in the live broadcast room. The whole conference was full of "wisdom", whether it was the new product of black technology or the release process.
A high end dialogue on smart green living
Next, the new product launch entered the "face-to-face" link. Ye Bo and Hu Wenguang deeply analyzed and fully discussed the current consumption trend of water heaters.
Ye Bo said that in recent years, the life concept of low-carbon and environmental protection has been accepted by more and more consumers. At the same time, driven by the influence of IOT technology and the wave of consumption upgrading, consumers put forward higher requirements for product innovation and intelligent level. A smart + energy-saving living environment has increasingly become the life experience consumers yearn for. Wisdom and energy saving have become the main consumption trend in the whole household appliance industry, including water heaters.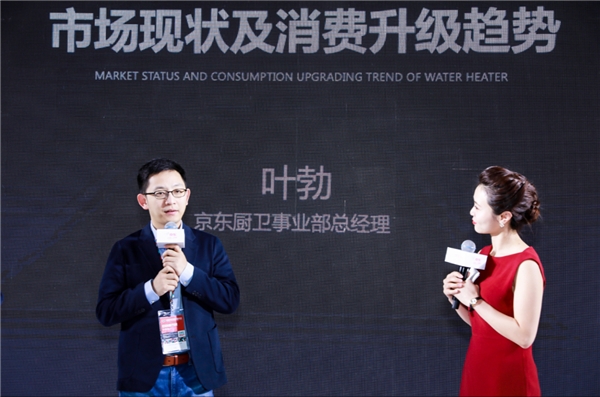 Ye Bo gives a wonderful speech
As the No.1 gas appliance market share in 16 consecutive years, Wanhe also has a very strong voice in the field of smart green human settlements. Hu Wenguang said that as a strategic partner in the aerospace industry, Wanhe has a mature grasp of energy-saving combustion technology. In terms of intelligence, from touch control to intelligent WiFi access, Wanhe has grasped the trend as a pioneer. At present, Rubik's company is committed to the development of a more practical and convenient product series, which is not connected with the smart home.
More importantly, the two sides will conduct all-round cooperation in smart home, green home and other aspects in this new product launch. Ye Bo said that with consumers as the core, Jingdong will help the water heater industry become intelligent and energy-saving, and give full play to the power of the platform to help Wanhe intelligent ecological development.
Finally, the new product launch ceremony was solemnly held in the presence of the audience, and Jingdong's ultra-low welfare price was publicly offered to the audience. Taking awe2021 as a new starting point, Jingdong and Wanhe work together to create "smart green residence" and open a bright future for home furnishings.
0