On March 23, the China home appliance and consumer electronics Expo (AWE) opened in Shanghai. The world's top event in the consumer electronics and home appliance industry fully applied network technology and launched the "cloud Exhibition" mode for the first time, allowing viewers to watch the exhibition online without leaving home.
On the opening day, Jingdong appliance and LG held a new product launch of LG awe at Jingdong booth, and simultaneously started the online live broadcast. Xie fan, vice president of Jingdong group and President of appliance division, and Li Dongshan, President of LG Electronics China, appeared in the live studio to talk about "healthy life home". Taking the new product launch as an opportunity, Jingdong appliance and LG "bigwig" also jointly released a comprehensive cooperation strategy, and invited the person with goods to evaluate the health intelligent products on site, opening a new door to the health of household appliances, and setting off a new trend of healthy life.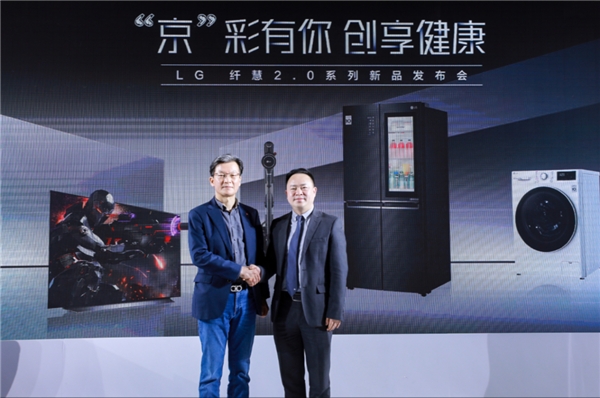 Li Dongshan, President of LG Electronics China, and Xie fan, vice president of Jingdong group and President of home appliance division, jointly launched the new product launch
Join hands with Jingdong LG to create a "healthy life home"
Each era has its own unique consumer demand. From the perspective of home appliance industry, the epidemic situation in 2020 has not only changed people's consumption habits and lifestyle, but also pushed the concept of "healthy life" to an unprecedented height. Health has become a new consumption direction of home appliance industry. Moreover, according to the latest data of Jingdong big data, the current user's purchase of household appliances also tends to be "healthy".
As a leader in the industry, Jingdong household appliances continues to make efforts in the process of creating a healthy life for consumers, opening up a green channel for health products of various household appliances brands, and quickly exposing consumers across the country to new health products through online and offline channels. At the same time, according to the most concerned health demands of consumers, such as purification and sterilization, efficient cleaning, comfortable wind, etc., JD has set up a multi-dimensional health evaluation system to audit all products sold on the platform, so that consumers can buy health appliances with confidence.
In fact, it's not only jd.com that has explored healthy life. LG, which has been working in the Chinese market for 27 years, has long been in the direction of health home. Before the epidemic, products with steam sterilization function have been launched. At present, it is focusing on health for the whole category and developing a series of health black technologies to create a healthy lifestyle for consumers.
In order to build a new future of "healthy life home", at the new product launch, JD and LG announced that they will continue to carry out in-depth cooperation in the aspects of healthy home in 2021. Not only LG's healthy home products can be placed with one click and experienced instantly on the JD platform, but also JD will have deeper cooperation with LG in the aspects of intelligent supply chain integration, c2m reverse customization, and building "whole house healthy home appliances" . Li Dongshan and Xie fan had an in-depth discussion on how to build a "healthy home" for consumers during the "big names talk" session of the press conference, and they reached a high consensus on health strategy.
New product launch, lively Live Room
It is worth mentioning that many consumers are looking forward to the heavy new products on schedule. At the press conference, with the help of the rotating stage, Li Dongshan and Xie fan slowly displayed their new products – LG Electronics Xianhui 2.0 series steam washing machine, dual frequency heat pump dryer, knock on refrigerator, C1 series OLED TV, ultrasonic cleanser, tone free real wireless Bluetooth headset, a9k pet vacuum cleaner, etc. in front of the public. The whole process was very ceremonial. At the same time, the two CEOs incarnated themselves as "chief welfare officers" online, revealing the new product's welfare price, especially the interactive lottery, which caused a "commotion" in the live broadcast room.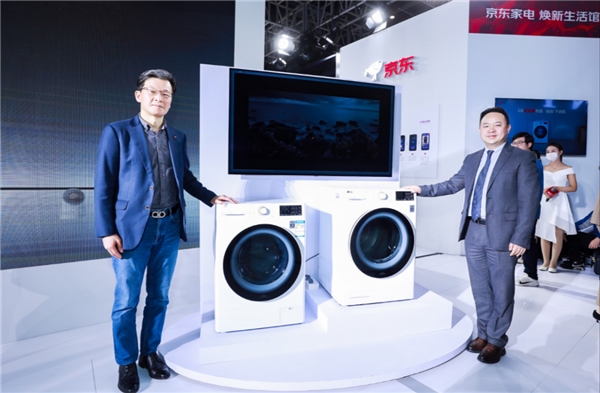 Li Dongshan and Xie fan show the audience the new products of LG Xianhui washing machine
The new product launch jointly held by Jingdong and LG has received a warm response at awe2021, highlighting that the concept of "health home" is highly concerned by consumers at present. The in-depth cooperation strategy reached by the two sides has laid a solid foundation for jointly creating a "quality" and "healthy" better life, and also shows a better imagination for consumers' healthy and quality life in the future.
0