On March 24, the State Council Information Office held a press conference on the first China International Consumer Goods Expo, announcing that the first China International Consumer Goods Expo will be held in Haikou City, Hainan Province from May 7 to 10, 2021. "The largest scale in the Asia Pacific region", "new business forms and new models of e-commerce" and "planning a global consumer goods center" A series of new highlights mean that the consumer Expo will not only bring new scenes for boosting domestic consumption, but also create more momentum for Hainan's local tourism and duty-free shop economy.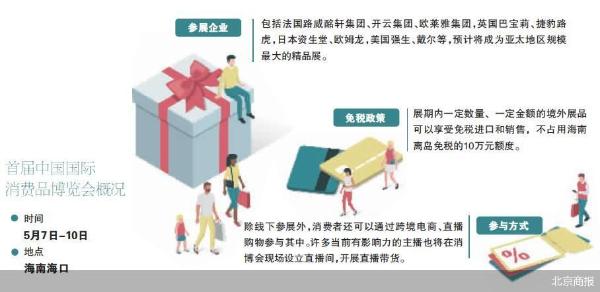 Tax exemption and Tourism
At the press conference, Shen Danyang, member of the Standing Committee of the CPC Hainan Provincial Committee and executive vice governor of the Hainan Provincial People's government, introduced that the first consumer goods fair focused on "high, new, excellent and special". At present, the recruitment work has been completed, with a total exhibition area of 80000 square meters.
In addition to the opening ceremony, the theme forum – global consumption innovation and tax exemption and tourism retail conference will focus on the theme of "new consumption, new platform and new opportunities", to explore how to use Hainan free trade port and consumer Expo platform to create new opportunities for global consumption innovation, tax exemption and Tourism retail industry development, and promote overseas consumption return and domestic consumption upgrading.
Feng Huakui, founder of mischievous e-commerce, believes that in addition to the exhibition, we should also see relevant supporting policies. In 2018, China began to implement the pilot of cross-border e-commerce retail import. On March 18, this year, the Ministry of Commerce and other six departments jointly issued a notice to expand the pilot scope of cross-border e-commerce retail import to all cities such as pilot free trade zones, cross-border e-commerce comprehensive test zones and comprehensive bonded zones.
According to Han Shengjian, director of Hainan International Economic Development Bureau, the relevant state departments are formulating a duty-free policy for the exhibits of the Expo. During the exhibition period, a certain number and amount of overseas exhibits can enjoy duty-free import and sales.
"The tax-free policy of the consumer Expo is different from the tax-free policy of Hainan outlying islands, which does not take up 100000 yuan of tax-free amount of outlying islands. That is to say, in addition to buying domestic products and duty-free foreign exhibits in the exhibition hall, visitors outside the island can also buy products with a quota of 100000 yuan at duty-free shops in Haikou and Sanya islands. At that time, all duty-free shops will carry out a variety of discount promotion activities. " Han Shengjian said.
Research by relevant institutions shows that the average comprehensive pulling coefficient of exhibition industry to economic growth is 1:9. The Expo will not only promote the convergence of supply and demand, but also promote the development of catering, accommodation, transportation, tourism and other related industries, resulting in consumption spillover effect and multiplier effect, effectively driving and expanding the consumption demand of related industries.
In an interview with Beijing business daily, Feng Huakui said: "duty free consumption and tourism are the two biggest focuses of the Expo, which are also conducive to the stimulation of domestic consumption. E-commerce enterprises will also participate in the procurement in this exhibition, establish direct connection with the brand side, and reduce the communication and publicity costs of the platform. In addition, it is also conducive to the output of domestic e-commerce platform technology. "
New consumption, new platform
At present, the exhibition of the first consumer Trade Fair is very hot. The exhibition is divided into comprehensive exhibition area and professional exhibition area. The comprehensive exhibition area includes the exhibition area of all provinces, autonomous regions, municipalities directly under the central government, cities under separate planning and Xinjiang production and Construction Corps. It mainly displays local advantageous industries, consumer goods, time-honored brands, etc.
Professional exhibition areas include fashion life exhibition area (famous consumer goods brand), jewelry and diamond exhibition area, sojourn life exhibition area, high-end food and health products exhibition area and comprehensive service exhibition area. Up to now, 1165 international brands have decided to participate in the exhibition, and more than 1000 domestic brands have signed up to participate in the exhibition. International famous brands include LVMH group, Kaiyun group and L'Oreal Group of France, burberry and Jaguar Land Rover of Britain, Shiseido and OMRON of Japan, Johnson & Johnson and Dell of America, etc., which are expected to become the largest boutique exhibition in the Asia Pacific region.
During the exhibition, it is estimated that there will be more than 10000 professional purchasers and merchants from all provinces, and more than 200000 visitors.
Zhu Xiaoliang, director of the market operation and Consumption Promotion Department of the Ministry of Commerce, believes that the consumer goods Fair will give full play to the attraction of China's super large market and attract high-quality consumption resources from all over the world, which will further expand the import scale of consumer goods.
"Never ending consumer Expo"
In addition to driving the local tourism consumption in Hainan, it is also one of the core contents of this exhibition to organically combine the success of the consumer Expo with the exploration of domestic consumption potential. From this point of view, the exhibition industry is an important platform to promote the high-quality development of the consumer economy, and the holding of the consumer Expo has created a new scene to boost consumption.
It is understood that the Ministry of commerce is speeding up the construction of an exhibition industry system with reasonable layout, distinctive features and clear levels. Among them, the Canton Fair focuses on the export of goods, the import fair focuses on the import of goods and some services, the service trade fair focuses on the expansion of service industry, and the Consumer Fair is positioned as a global exhibition and trading platform for international consumer goods.
Cao Heping, Professor of the Department of industrial economics, School of economics, Peking University, told Beijing Business Daily: "Shanghai's entry into the Expo is mainly about the import of industrial products and bulk commodities, but at the same time, we also need the import of consumer goods, including service consumer goods, so we need such a functional meeting. Hainan consumer Expo came into being and filled the gap. "
The one belt, one road of the world, is also a free trade zone and a free port. Hainan is also a southern hub of "one belt and one road". In the face of centralized policy orientation, all aspects of Hainan are actively responding to the new momentum brought by the new scene. In terms of local planning, Sanya business district, one of the 11 key parks in the construction of Hainan free trade port, is striving to build an international tourism consumption center leading area in addition to the development of central business district cluster area.
"It's a natural thing to hold a consumer goods fair in Hainan. Now Hainan's taxation, customs and financial services are all approaching Hong Kong." Cao Heping told reporters that "the holding of the consumer trade fair in Hainan has the significance of upgrading the national economic system, the geographical location of local development and the function of national economic conference."
Cao Heping also said that after three years of construction of the free trade zone, tax, currency exchange, payment and settlement, international enterprises' investment in China and other issues have been solved. After facilitating trade, finance and consumption, Hainan will usher in the institutional benefits of facilitating tourism and trade.
Wang Bingnan believes that as an innovative consumption platform, the consumer Expo will increase the supply of high-quality goods, so that people can buy high-quality consumer goods at home and enjoy better services. As a public service platform, consumer Expo can effectively spread consumption information, update consumption concept and enlarge consumption promotion effect. In terms of consumption upgrading, the distance between domestic and foreign markets will further lead the upstream supply side structural reform, promote the industry to adapt to the demand of the consumer market, and achieve more quality development.
It is worth noting that in recent years, online shopping, cross-border e-commerce, live delivery and other new formats and new models have developed rapidly, playing a positive role in promoting the return of overseas consumption and the upgrading of domestic consumption. Live delivery and cross-border e-commerce have also become the highlights of this exhibition.
Zhu Xiaoliang revealed that some domestic well-known e-commerce platforms will participate as professional purchasers to help overseas brands better develop the Chinese market; some international e-commerce platforms will connect with domestic consumer goods to help them speed up the development of overseas markets; there are many influential anchors who will set up live broadcasting rooms at the Expo to carry out live broadcasting and delivery.
And enterprises have made preparations for the e-commerce channels mentioned in the Expo. Chen Ziyu, founder of haidiantang, who will participate in the Expo, said in an interview with Beijing Business Daily: "going out still depends on e-commerce. For example, including cross-border e-commerce and online live broadcasting, these platforms are a very good trend, so our enterprises will extend to this aspect. "
Although the consumer Expo is over, Hainan is also striving to build a consumer Expo that will never end. The person in charge of Haikou comprehensive bonded zone also told Beijing Business Daily: "the consumer trade fair may be held once a year, once a few days. Other time, we will make use of the advantages of bonded storage to build a never ending consumer goods Expo in this area. In this way, both tourists and residents can purchase, and other enterprises can display their products through this platform. "
Beijing Business Daily reporter Tao Feng intern reporter Ruan Hangda
[the above content is transferred from "Beijing Business Daily website", which does not represent the view of this website. If you need to reprint it, please get permission from the website of Beijing business daily. If there is any infringement, please contact to delete it. 】
0