Since the beginning of this year, all walks of life in the "acceleration" in a strong start, whether it is a new office environment or the expansion of the office area, perfect office fixed capital is to ensure the smooth start of the enterprise, comfortable office life is a sharp weapon to improve everyone's work efficiency.
When it comes to working environment, today's office workers not only have requirements for basic office equipment such as computers, digital devices and printers, but also attach great importance to all kinds of home appliances that can make daily work more comfortable, healthy and enjoyable. Therefore, home appliance purchasing has become an inevitable choice for enterprises. In order to enable all enterprises, especially small and medium-sized enterprises with relatively tight cash flow, to operate efficiently, Jingdong enterprise purchase special cooperates with major power brands to establish "home appliance alliance" to provide benefits for enterprise users to purchase high-quality office power with preferential policies such as 50% discount for enterprise purchase.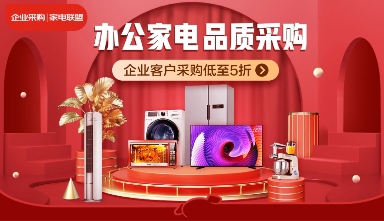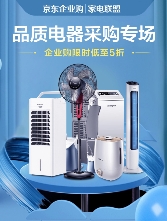 Long time indoor office, healthy and fresh air can not be less. At the beginning of March, the north is dusty and the south is cold and humid, and many enterprises have just finished the office decoration and maintenance. At this time, air purifier, air conditioner and electric heater are the necessary appliances to ensure the appropriate temperature and humidity and air health of the office. However, in late March, the temperature is rising rapidly all over the country. In some southern cities, the high temperature of 35 ℃ has appeared, and the "steamer mode" has been turned on in the office environment. As a result, air conditioning fans, fans and dehumidifiers have become hot products for enterprises.
In the Jingdong enterprise purchase platform, products such as Midea variable frequency air conditioning, a.o. Smith formaldehyde removal air purifier, Emmett White Swan air circulation fan, Deye silent dehumidifier, etc. are all popular products that enterprises scramble to purchase. There are also air conditioning, air purifier, fan and other cooling household appliances of Gree, aux, Hisense, Philips and other major brands, which provide enterprises with super value exclusive prices Promotional activities.
Only by combining work with rest can we work more efficiently. Lunch and tea break are the places that can best reflect the enterprise's care for employees. Many people are used to taking food to work, and the refrigerator and microwave oven have become the "two-piece set of dry food" for those who take food. Some new women become "breast carrying mothers". Considerate enterprises not only prepare mother and baby rooms, but also have special refrigerators for storing breast milk, so that breast milk can be safely stored even in summer. The coffee machine, soybean milk machine, small oven and bread machine make the employees feel sleepy and hungry during the rest time.
The decoration of the office area and the meeting room reflects the professionalism of the enterprise, and the clean environment and scientific and technological equipment can also add points for the enterprise. Use super large screen intelligent TV to hold meetings with customers, use super filter intelligent water dispenser to prepare tea for customers, automatic temperature control air conditioner to let people feel healthy wind, avoid the discomfort of alternating cold and hot, wireless vacuum cleaner and self-cleaning sweeper to solve the ground problems at any time. If there is an emergency need to wash clothes, the washing and drying machine for washing and wearing, the clothing care machine for flexible materials, and the steam hanging ironing machine for convenient storage can also help employees or guests solve the embarrassment in time, which makes people feel very intimate.
There are also our favorite holiday gifts, which are also the most important part of enterprise procurement. Business gifts include wine cabinet and beauty instrument; employee benefits include high-value personal protective appliances and wanghong kitchen appliances, which are convenient and practical. In particular, it is worth mentioning that Jingdong enterprises also purchase personalized customized products, which support attribute customization, graphic customization, volume customization and other forms, so that gifts can be given to everyone with the exclusive "temperature" of the enterprise.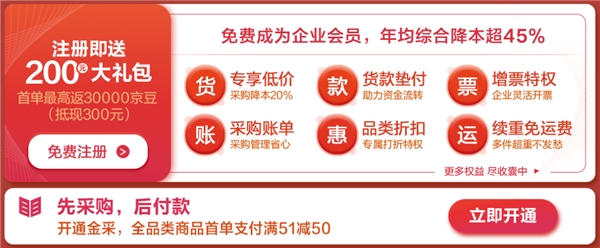 At present, the benefits of "home appliance alliance" for Jingdong enterprises are continuously being distributed, with more enterprise customers purchasing as low as 50% discount, enterprise members enjoying exclusive low price, payment in advance, ticket increase privilege, purchase bill, category discount, weight renewal free freight and other rights and interests. At the same time, enterprise members can enjoy exclusive account period service "Enterprise Jincai" is an account period product provided for high-quality enterprise customers when purchasing in Jingdong. It provides enterprise customers with a convenient payment experience of "purchasing first and then repaying". It can enjoy the exclusive rights of interest free for up to 21 days and the maximum amount of 500000. It helps small and medium-sized enterprises to save money, worry and time in purchasing household appliances, and create high-quality and comfortable environment for enterprises in March Office life.
0