Although TSMC and Samsung have become the "twin stars of chip manufacturing", Intel is obviously not willing to be left behind all the time. Its investment in new factories is an example. However, the direction of OEM wafers is still surprising to the outside world. After all, Intel is also a leader in the chip field. However, in terms of Intel's current development, OEM may be a smart choice. After all, the advanced manufacturing process with slow R & D progress has become a burden for Intel. The current lack of "core" in the global manufacturing industry means that the OEM market has a bright future.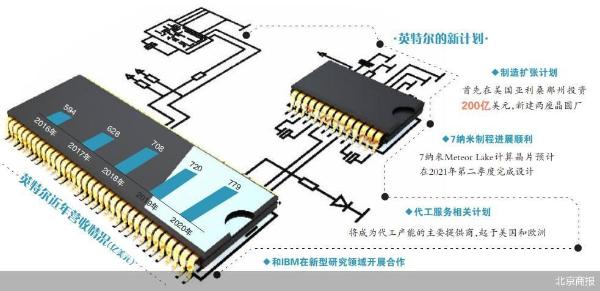 $20 billion
Shortly after taking office, pat Gelsinger, Intel's new CEO, has attracted worldwide attention. On Tuesday local time, Kissinger delivered an hour long speech and released the "IDM 2.0" strategic plan. Among them, the most noteworthy is that it has spent as much as 20 billion US dollars to build two wafer factories in Arizona in order to regain its leading position in the chip manufacturing industry.
As an important part of chip production, the wafer is the carrier of the chip. After making full use of the wafer and cutting a certain number, it becomes a chip.
At present, Intel has four Fabs in the United States, with the infrastructure to support the construction of new plants, which is expected to speed up the construction of new plants. It is understood that the new factory will be able to produce chips with more than 7Nm process, which is expected to be put into production in 2024. At the same time, Intel also plans to open more factories in the United States, Europe and other regions, and Kissinger promised that most of the company's chips will be made in-house.
It is worth noting that Intel's factory is not only producing its own chips. Intel intends to set up a new branch, Intel foundry services, to provide chip OEM and packaging services for external semiconductor design companies, so as to meet the huge demand for semiconductor production in the world.
"Intel will continue to be a leading developer of process technology and a major manufacturer of semiconductors, and hopes to become a major supplier of local wafer foundry capacity in the United States and Europe, establishing a world-class wafer foundry business." Kissinger set a goal in his speech.
After the news was announced, Intel's U.S. stocks rose nearly 6% before trading. For Intel to establish a factory and follow-up arrangements, Beijing Business Daily reporter contacted Intel, but as of press did not receive a reply.
In an interview with Beijing business daily, bu Rixin, partner of chuangdao investment consulting, said, "in fact, it's not the first time that Intel has proposed the wafer foundry market.". It is understood that in 2013, Intel said at the investor conference that it would open OEM services to all chip companies, but it had to come to a gloomy end because of cost and competition.
Bu Rixin further pointed out that now Intel announced to enter the OEM field again, not only because its own inherent problems still exist, but also the current Intel manufacturing technology is no longer the top in the industry. However, in the long run, it will also help to be optimistic about the future market and promote the development of the industry.
Catch up with the opponent
In the field of semiconductor chips, Intel has dominated the industry for decades, but in recent years, due to the continuous delay of new technology research and development, Intel has gradually lost its advantage in the field of chip manufacturing.
Today's chip manufacturing industry has been a forest of strong rivals, and Intel's factories are now far behind the "twin stars" – TSMC and Samsung Electronics. With its unique business model and leading technology, TSMC holds most orders from apple, AMD, NVIDIA, Qualcomm and MediaTek, with a market share of over 50%; Samsung Electronics ranks second with a market share of nearly 20%.
Taking the most important process technology in the chip field as an example, Intel has fallen behind. In contrast, TSMC and Samsung Electronics have already completed the research and development of 7Nm chips and started to move towards smaller and more powerful processors such as 5nm and 3nm, while Intel is still eating the "old capital" of 10nm.
However, Kissinger disclosed this time that Intel's current 7Nm process development is progressing smoothly, and the first 7Nm chip meteor lake will be designed in the second quarter of 2021.
R & D stall may be the reason why Intel began to develop OEM business. According to bu Rixin's analysis, at present, chip manufacturing is still the focus of Intel. Although it seems that Intel is one step behind in the process, in its existing field, the process of other companies can't be compared with it.
No matter what the original intention is, Intel announced that it will build its own wafer foundry business to produce chips for other companies, which will undoubtedly compete directly with TSMC, Samsung Electronics and other enterprises. In this regard, Kissinger did not hide, and said frankly that he would strive for customers like apple for Intel's OEM business.
Kissinger also said the new plant will focus on cutting-edge computing chip manufacturing, unlike the older or specialized chip production that some manufacturers specialize in. In addition, Intel has found customers for the new plant, but they cannot be identified.
According to Intel, Amazon, Google, Microsoft and Qualcomm are all likely to be customers of its wafer foundry business. At the speech, Microsoft CEO Satya NADELLA also connected with Kissinger to show support for Intel.
But bu Rixin also stressed that in the long run, how the Intel OEM division can dispel customers' worries about competition, move customers with more advantageous costs, and get big orders from TSMC and Samsung Electronics depends on how the new leader operates.
Lack of core
Competition is inevitable, but for Intel, it is not without opportunities.
Since the second half of last year, due to the significant increase of 5g mobile phone chip consumption and the substantial stock of key manufacturers, chip supply has obviously exceeded demand. This year, driven by the recovery of automobile and other industries, some downstream companies are still pursuing orders, which further aggravates the shortage of supply and demand, and some enterprises even temporarily shut down due to chip shortage.
Today, the wave of "core shortage" is still going on, while accidents happen again and again on the supply side. On March 19, a fire broke out in the nako factory of Japanese semiconductor giant Renesas electronics in Ibaraki Prefecture, causing serious damage to some equipment. Affected by this, the 300 mm wafer production line of the factory has entered the stage of shutdown, and the supply of microcontrollers for controlling vehicle driving has also been greatly affected.
Data show that Renesas electronics occupies about 30% of the global automotive microcontroller chip market, and the impact of the fire is likely to spread to European and American automobile manufacturers.
At a time when the world is short of "core", will Intel enter the OEM field and usher in the tide of capacity expansion? In this regard, Feng Huakui, the founder of naughty e-commerce, told Beijing Business Daily that the establishment of the factory may take several years from the plan to implementation. Therefore, this wave of new factories may not have an immediate effect on the current core shortage situation.
But it's not just Intel that's focused on the chip foundry cake. Market research institutions predict that the global wafer foundry market will reach US $73.3 billion in 2021, an increase of 8.4% over last year. In response to the growing market demand, the major Fabs have also released investment plans to expand production. Japan is also investing in chip R & D. It is reported that Japan's Ministry of economy, industry and Technology (METI) will spend 42 billion yen to provide financial support for chip R & D in the country.
According to the data released by the International Semiconductor Association (semi), in 2020, the chip manufacturing of us semiconductor enterprises will only account for 12% of the market share, and most of the chip production will depend on Asian chip manufacturers. It can be said that in the case of global chip supply tightening, it is "imminent" for the United States to improve chip manufacturing capacity.
Kissinger also said that the scale of the wafer foundry market may reach 100 billion US dollars by 2025, and Intel will compete in this market to carry out wafer foundry for some fabless semiconductor companies, with a wide range of types, including chips based on ARM technology. It is understood that ARM chip is mainly used for smart phones and other mobile devices, and has been competing with Intel's x86 technology.
But in addition to OEM, Intel also said that it will expand cooperation with third-party foundry, that is, it will still find someone to OEM. It includes advanced process products and plans to produce core computing products for Intel's client and data center departments from 2023.
Kissinger said the move will optimize Intel's Roadmap in terms of cost, performance, schedule and supply, bring higher flexibility and larger capacity scale, and create a unique competitive advantage for Intel.
Beijing Business Daily reporter Tao Feng Zhao Tianshu
[the above content is transferred from "Beijing Business Daily website", which does not represent the view of this website. If you need to reprint it, please get permission from the website of Beijing business daily. If there is any infringement, please contact to delete it. 】
0