In the past few decades, China's information and innovation industry often had to "parasitize" in the ecosystem created by foreign enterprises, using foreign operating systems, CPUs, servers, software However, when "neck sticking" became the norm, we finally realized that national science and technology must be independent.
As the core of connecting computer software and hardware, the operating system has been occupied more than 95% of the domestic market share by Microsoft, apple and Google for many years. Domestic enterprises, such as Huawei and Tongxin, are charging against giants like Microsoft, apple and Google on the track of operating system.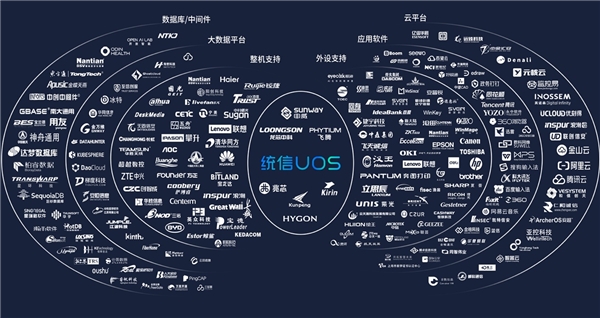 Recently, Huawei officially announced that the next system of Huawei's intelligent devices is "Hongmeng". The launch of Hongmeng is actually Huawei's "sword" to Apple's IOS and Google's Android in the mobile operating system track.
The key to the battle of operating system is the battle of ecology. After more than a year's efforts, Huawei's app Gallery store installed 384 billion applications, with more than 530 million active users per month. App Gallery has 2.3 million app developers worldwide. In terms of the ecosystem of mobile operating system, Huawei already has the strength and strength to shine the sword.
Tongxin software, another giant of domestic operating system, recently launched the first self-developed email client that can be used in national CPU and machine. Ni Guangnan, an academician of the Chinese Academy of engineering, said after the trial that the ease of use of the software is highly commendable.
Not only self-developed e-mail client, but also the most critical ecological development of the operating system. In 2020, the UOS ecological website of Tongxin has registered more than 120000 ecological users, and has completed more than 30000 software and hardware products matching with more than 2000 ecological partners, covering office, social networking, audio-visual entertainment, development tools, image processing and other categories. The common popular applications have basically reached full coverage. In addition, international well-known peripheral manufacturers actively support the ecological construction of UOS, and most popular mainstream models of well-known brands are adapted. On the other hand, through cooperation with chip manufacturers such as Loongson, Feiteng, Shenwei, Kunpeng, Hisilicon Qilin, megachip and haiguang, the UOS of Tongxin has been fully compatible with mainstream processor architectures. Up to now, Tongxin software has the most active Linux open source community in China, with more than 1 million real users in the world, more than 150 related open source projects, and has released 40 versions in total, ranking first in terms of international attention among domestic open source operating systems.
Although it can not replace foreign operating systems in the short term, Huawei and Tongxin have built their own benign ecosystem. With the further integration of domestic resources, Huawei and Tongxin have taken the lead in sounding the clarion call of counterattack in this campaign of national science and technology self-reliance.
0