On March 27, 2021, "15 years of happiness +" — the 15th anniversary of the founding of Ketianxia and the second Ketianxia happiness day was solemnly opened in Meizhou Ketianxia 4A scenic spot.

Picture: poster of Meizhou Hakka world
Since its establishment in 2006, Ketianxia has been working hard and won high recognition from all walks of life. It has gradually formed a brand concept with the goal of building a "city of lifelong happiness". In the past 15 years, Ketianxia has continuously improved its facilities, enriched the health care and elderly care industry, created a large city residential system integrating health, ecology and wisdom, and created products that bring a sense of identity, belonging and happiness with the spirit of pursuing high quality.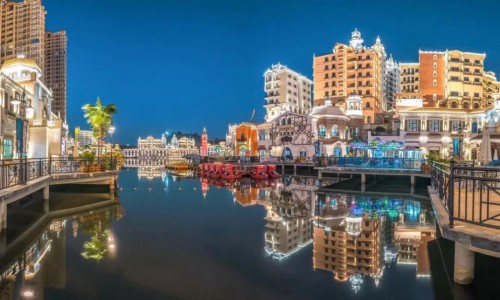 Picture: Meizhou Ketianxia Venice water city
In 2020, with the brand-new identity of "happy special zone", Ketianxia will open the first year of "happy operation", and set March 29, when the project was completed, as "happy day". He initiated the concept of "happy special zone" and called out to the world that "living in happy special zone is very happy!" It's a slogan. Ketianxia is committed to building harmonious neighborhoods, making the community and neighborhoods interact harmoniously, and using the happy community environment to reproduce the warm and harmonious scene of Weilongwu in the past. Pay close attention to the society and the community, and do not forget every family and everyone. All people are encouraged to participate in the construction of happy special zone and become builders of their own happy life.
Up to now, the exploration and practice of Hakka world in the new journey of happy living have made great achievements, created countless beautiful environments for happy life, and fulfilled its mission of bringing happiness.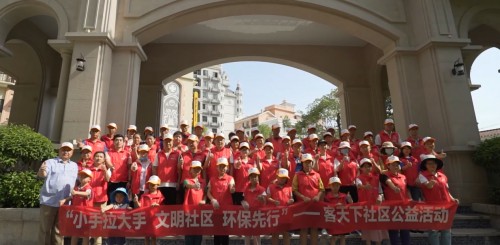 Picture: Happy neighborhood in Meizhou
March 29, 2021, coincides with the 15th anniversary of Ketianxia. A grand event starts in Meizhou Ketianxia. This activity, which aims at inheriting Hakka cultural exchange and delivering the concept of happy life, will run through 2021, with seasonal themes of "joy" in spring, "sharing" in summer, "blooming" in autumn and "joy" in winter. The whole annual celebration starts with the novel "invite Hakkas from all over the world to go home". In Meizhou, known as the "Hakka capital of the world", it welcomes guests from all over the world to "go home" as hosts.
It is reported that the celebration has various forms, covering all aspects of tourism experience. Through more modern presentation of the scenes in the daily picture of the Hakka fair, the scene of prosperity fair depicted in the daily picture of the Hakka fair, the "banquet for thousands of people" gathering Hakka flavor food, Hakka style performance, ten brand-new happiness plans of Hakka owners, and the theme activities of Hakka people home from all over the world, it is also reported There will be a series of mysterious activities going out of the scenic area and into the whole Meizhou, so that more people can participate in them.
The theme of this celebration echoed the original intention of Hakka world, "let Hakka people all over the world find the feeling of falling leaves to their roots." Hakka world has always been committed to the protection of Hakka family culture, and takes the mission of giving Hakka children a sense of belonging within the four seas as its own responsibility. On the occasion of the 15th anniversary, Hakka people all over the world are looking forward to "going home" and participating in this happy event.
It is understood that at present, Ketianxia has been deeply cultivated in Meizhou, based in Guangdong, and has gradually become a trend of radiating to the whole country. Ketianxia has been built into Meizhou Ketianxia, Heyuan Ketianxia, Guangzhou Ketianxia, Xingning Ketianxia, Pingyuan Ketianxia. It is developing and constructing Wuhua Ketianxia, Dongguan Ketianxia, Chongyi Ketianxia, Yiyang Ketianxia, Nanning Ketianxia, Fangchenggang Ketianxia, and is about to develop Tai'an Ketianxia There are many projects such as xiaketianxia, Linxia Ketianxia, Mianyang Ketianxia, Maoming Ketianxia, Sanya Ketianxia, Jiande Ketianxia, Nanchang Ketianxia, Qingyuan Ketianxia, Huizhou Ketianxia and Foshan Ketianxia.
Although it has many honors such as "top 15 cultural and tourism enterprises in China, leading comprehensive development and operation main body of Characteristic Towns in China", "top 30 brand index of Chinese Characteristic Towns in 2019", "top 8 best cultural and tourism real estate project in China in 2019", Ketianxia still has not forgotten its original intention of creating a happy life. Under the guidance of the positioning of "happy life operator", Ketianxia continues to make efforts to create new opportunities for the industry and the industry Social recognition.
0