Driving China's news on March 25, 2021, iqoo held a new product launch and officially launched its "performance pioneer" – iqoo Z3.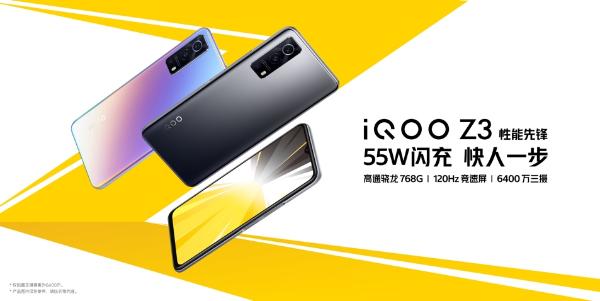 Iqoo Z3 released
Iqoo Z3 has three core performance features: racing performance, 55W flash charging and 120Hz racing screen, fully revealing the consistent "performance pioneer" positioning of iqoo Z series products, so that the public can enjoy the fast leapfrog performance experience. These three performance features will also refresh the entry standard of the new generation of thousand yuan performance machine in 2021. At the same time, iqoo Z3 is optimized in all aspects of vision, hearing and touch. Combined with multi turbo 5.0, it brings the game experience of event level. At present, it has adapted 14 high frame rate games to let users enjoy the game.
5g performance pioneer is indispensable
"Strong performance" is the gene of iqoo series products. Iqoo Z3 products have excellent performance and excellent heat dissipation performance.
Iqoo Z3 is equipped with Qualcomm snapdragon 768g processor, and the performance of CPU and GPU is better than that of the previous generation 1-finger Qualcomm snapdragon 765G mobile platform
Both of them are increased by 15%, which can bring users a happy experience in the game and daily operation; UFS 2.2 flash memory is equipped, which is relative to iqoo ZLX, memory sequential write up to 127%, random read-write up to 30%, file storage, APP installation and open speed become faster; more "memory fusion", through algorithm optimization, part of the ROM is expanded to ram, effectively improving the multi task ability and app hot start rate.
Inheriting the flash charging advantages of iqoo series mobile phones, iqoo Z3 brings 55W flash charging of five-star quality, charging 4400mAh large battery to 100% power in 52 minutes at the latest, and building eleven intelligent charging protection system with intelligent dual core and six temperature sensors, which makes charging fast and safe.

Iqoo Z3 uses 55W flash charging technology to charge 100% in 52 minutes
Iqoo Z3 is equipped with 120Hz racing screen to improve the problem of tailing or dynamic blur in high-speed mobile game scenes; it supports dci-p3 wide gamut and hdr10, with excellent color performance; it has 180hz touch sampling rate, which is sensitive for both daily use and game scenes.

Iqoo Z3 with 120Hz refresh rate racing screen
For the strong strength escort, iQOO Z3 has the "super liquid cooling heat pipe + multi-layer graphite heat sink + high heat conduction copper foil + thermal conductive gel +6 temperature sensor" composed of the five heavy liquid cooling system, compared with the product without liquid cooling heat pipe, the core temperature drops 10 degrees, so that the performance is more enjoyable.
Changshuang game experience competition level game optimization strength
Iqoo Z3 gives full play to the advantages of excellent performance and high swipe screen, and adapts up to 14 high frame rate games, making it more enjoyable to play high frame rate games.
For a more immersive game experience, iqoo Z3 optimizes vision, hearing and touch in an all-round way. Visually, Z3 has eagle eye display enhancement 2.0, optimizes the screen display, improves the contrast, brightness and other effects of the game screen, and carries game eye protection 2.0 to ensure the visual effect and eye protection at the same time. In terms of hearing, Z3 brings game changing sound, game companion and game surround sound, realizing a more immersive game experience with a sense of substitution. Tactile, Z3 has 4D game vibration, which can match the corresponding vibration according to the specific scene to enhance the sense of reality.

Iqoo Z3 optimizes vision, hearing and touch
Iqoo Z3 has the function of game magic box. In addition to the new interface design with more energy sense, it also has the function of magic box breathing with innovative message notification mode, new small window mode, and live assistant that can protect privacy and enhance communication.
64 million full scene three clear images without fear of day and night
Not only the performance is excellent, iqoo Z3 image function is also strong, regardless of the day and night scenes can take a good film.
Iqoo Z3's 64 million ultra clear full scene three shots bring rich experience in ultra clear photos, 4K / 60fps video shooting and multi scene shooting, as well as user-defined watermark, old photo repair and coloring, portrait multi style and other play methods, meeting the needs of users to take clear and fun.

Iqoo Z3 has 64 million ultra clear full scene three shots
The new super night scene 2.0 improves the night scene capture ability of iqoo Z3, which can take brighter and transparent photos, restore the bright night scene of the city, and have super wide-angle night scene, multi style night scene and super night scene selfie 2.0 and other playing methods.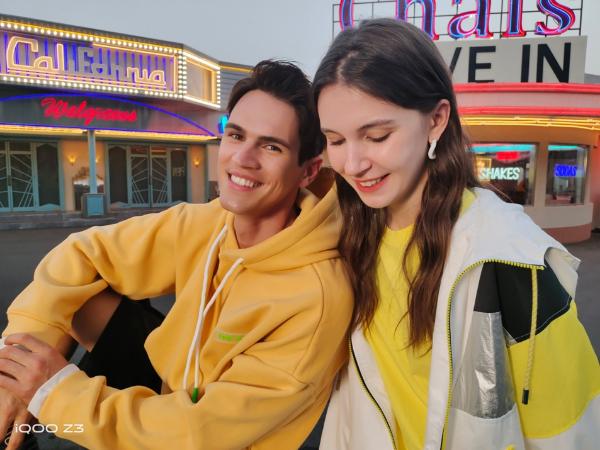 Iqoo Z3 shooting sample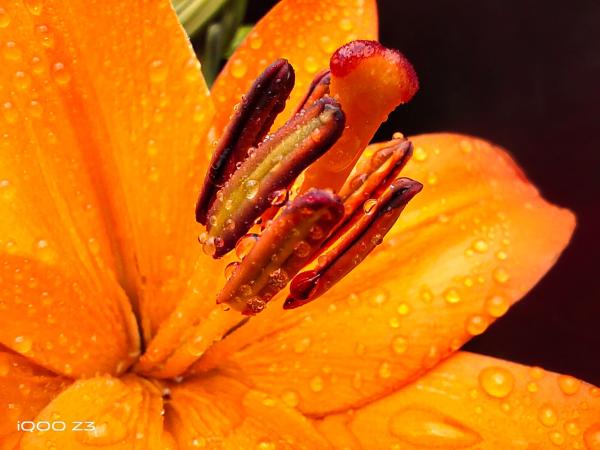 Iqoo Z3 shooting sample
Iqoo Z3 video shooting ability has also been improved, supporting 1080p video super anti shake, intelligent motion focus, big movie mode and one click vlog.
Lightweight appearance, new system, high appearance from inside to outside
Iqoo Z3 back cover adopts silver ion coating process, with mysterious and changeable "nebula" and vast and profound "deep space" two color matching, bright and moving color, full of vitality and not out of style.
Iqoo Z3 also brings a light and good feel. The 3D back cover of the mobile phone can closely fit the user's palm, and the 2.75mm ultra narrow middle frame brings the waistline reflecting speed and performance. Z3 fuselage thickness is 8.5mm, weight is 185.5g, holding in the hand comfortable without pressure.

Iqoo Z3 has two colors: nebula and deep space
In terms of system, iqoo Z3 is equipped with a new originos for iqoo. It has an originos home screen that can be switched between originos innovative desktop and traditional style desktop at will. It also has the unique behavior wallpaper and exclusive console, super card package and atomic Walkman of iqoo mobile phone, bringing a brand new use and visual experience.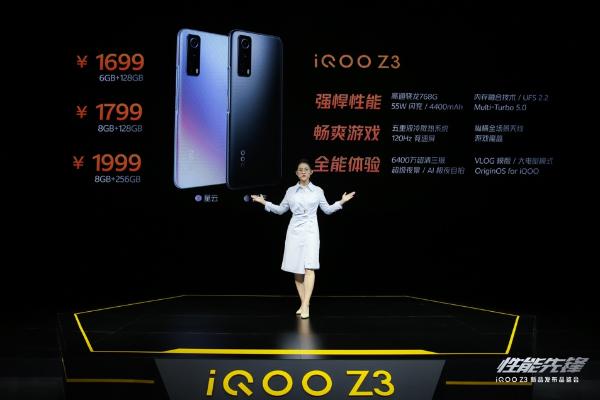 Iqoo Z3 price
"Performance pioneer" iqoo Z3 is another sincere work with excellent performance brought by iqoo brand. Iqoo Z3 is available in three versions. The 6GB + 128GB version costs 1699 yuan, the 8GB + 128GB version costs 1799 yuan, and the 8GB + 256gb version costs 1999 yuan. Iqoo Z3 will be officially put on sale at the official flagship stores of vivo, Jingdong, tmall and Suning at 10:00 on April 1, and all major authorized offline stores and vivo experience stores will be on sale simultaneously.
two hundred and fifty-two