Digbei.com on March 26, Sanhua Zhikong (002050) recently released the performance forecast for the first quarter of 2021, and its performance is expected to rise in the same direction. During the reporting period, the net profit attributable to the shareholders of the listed company was 317039500 yuan – 380447400 yuan, an increase of 50% – 80% over the same period of last year; the basic earnings per share was 0.09 yuan / share – 0.11 yuan / share.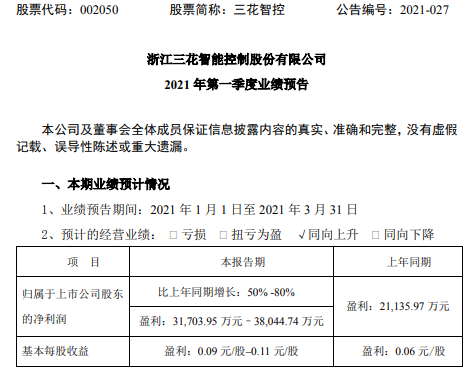 In the first quarter of 2021, the company's two major industries of refrigeration and air conditioning electrical parts and auto parts were both booming in supply and demand. As a leading enterprise in the industry, each business sector had a substantial growth. At the same time, the first quarter of last year was affected by COVID-19 and its performance base was slightly lower.
According to the data of digbei.com, Sanhua intelligent control focuses on the development of environmental thermal management solutions for heat and cold conversion and temperature intelligent control, and is committed to the professional operation in the fields of building HVAC, electrical equipment and automobile thermal management.
0