On March 26, Zhihu was officially listed on the New York Stock Exchange. The opening price of $8.11 was 14.6% lower than the issue price. It closed at $8.44, but it was still below the offering price of $9.50. Considering that the stock price of China capital stock in the United States has plummeted and the company has not yet made a profit, Zhihu's breakup seems justifiable. However, from the perspective of user payment scale, payment rate and other indicators, Zhihu's performance reflects the embarrassment of the knowledge payment industry, such as small market space and low user repurchase rate.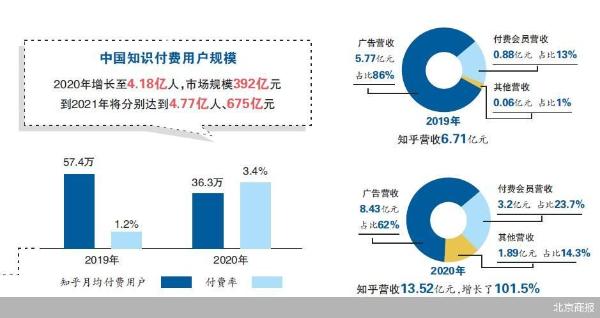 The opening price fell
Wrapped in the news of the second listing of Baidu and station B, Zhihu's attention to listing in the United States is much lower than expected. On March 26, Zhihu broke the market. People in the industry are not surprised by the performance of Zhihu's share price, because many US internet companies have recently seen their share prices fall. Last week, Jingdong's share price dropped from $326 to $313, Baidu's from more than $250 to $214, and Netease's from $168 to $159.
"This may be related to the tightening of US capital market regulation," Li Jinqing, an analyst at Bida consulting, told Beijing business daily. His so-called regulation refers to the fact that on March 24, the securities and Exchange Commission of the United States passed a temporary final amendment to implement the requirements of the foreign company accountability act on information disclosure of listed companies, which is required by the United States Congress.
When it comes to Zhihu, after Zhihu entered the keyword "Zhihu break", the first question and answer "how to view Zhihu listed on March 26, 2021" recommended by the platform also has the same view. The user "pure sun and moon" said, "Zhihu's listing time is obviously not good. Now, the U.S. stocks are killing valuations very hard, especially some unprofitable Internet companies. Zhihu's first day of listing broke sharply, with the deepest decline of 28%".
However, Zhihu CEO Zhou Yuan did not take a stand on the decline of stock price. In his speech on listing, he emphasized the growth and future track of Zhihu, "Zhihu started from Q & A. In the Internet era, Zhihu has opened up a new scene for Q & A and created new value. Zhihu has gone beyond Q & A. We focus on user needs, constantly upgrade product functions and enrich media forms.
Revenue space in doubt
In fact, according to the data of the prospectus, Zhihu's performance is not bad. In 2020, its revenue was 1.352 billion yuan, an increase of 101.5% compared with 671 million yuan in 2019. The revenue structure has also changed from relying on advertising to becoming more diversified.
In 2019 and 2020, Zhihu's revenue comes from four parts: advertising, paid members, others and commercial content solutions. In 2019, Zhihu's advertising business contributed RMB 577 million, accounting for 86%, and its paid members contributed RMB 87.997 million, accounting for 13%. These two sectors are the main revenue sources of Zhihu.
In 2020, Zhihu's advertising revenue will decrease from 86% to 62%, with a revenue of 843 million yuan. The revenue of paid members is 320 million yuan, accounting for 23.7% in 2020, up from 13% in 2019.
Compared with myself, Zhihu also has a lot of brilliant operation data. Such as the average monthly payment users and payment rate. In 2020, Zhihu's monthly paid users will increase from 574000 in 2019 to 2363000, and the payment rate will increase from 1.2% to 3.4%. However, arppu decreased from 12.77 yuan / person / month to 11.3 yuan / person / month. For the decline of arppu, the relevant people of station B did not give a direct explanation to Beijing business daily.
As there is no platform in China that can directly compare with Zhihu, the logic thinking of listing on GEM is to disclose revenue according to online knowledge service business, offline knowledge service business, e-commerce business and others. Litchi, which is considered to be an audio knowledge payment platform, disclosed its revenue according to audio entertainment, podcasting, advertising and other categories. Therefore, we can not directly compare the operation data of knowledge payment platforms.
In terms of revenue scale, in 2020, Zhihu's revenue of 1.352 billion yuan is lower than that of litchi's 1.5 billion yuan. In 2020, Zhihu's adjusted net loss is 337 million yuan under non US GAAP. The net loss of litchi was 31.4 million yuan. From the perspective of commercialization ability, both of them are not profitable, but Zhihu's net loss is higher.
However, compared with other platforms such as online video, Zhihu's performance is higher and lower. In the fourth quarter of 2020, the average monthly payment users of station B were 17.9 million, with a year-on-year growth of 103%. The overall payment rate increased from 6.8% in the fourth quarter of 2019 to 8.9% in the fourth quarter of 2020.
Let's look at Zhihu's biggest revenue source advertising. According to the research report released by GF Securities, the main driving force for the growth of Zhihu's advertising revenue is the growth of user scale. From 2019 to 2020, the average Mau of Zhihu will increase from 48 million to 68.5 million, and the advertising revenue per Mau will increase from 12 yuan to 12.3 yuan.
However, the above report points out that in addition to restricting B stations advertising, Kwai's single user advertising value is significantly lower than that of micro-blog and micro-blog. In the first quarter to the three quarter of 2020, it knew that every MAU generated 7.93 yuan advertising revenue, while micro-blog generated 13.32 yuan advertising revenue per MAU, and the fast hand generated 27.63 yuan advertising revenue per Kwai.
The Kwai Chung has two attitudes towards this point. One view is that this shows that the B station's revenue ceiling for membership and advertising business is still very high. Some people think that the gap between know and fast, B station and other data means that the revenue of paying for knowledge online is not large.
Wang Chao, the founder of Wenyuan think tank, told Beijing Business Daily: "Zhihu's liquidity is very low. On the one hand, its content is not good enough and its scale effect is not good enough. On the other hand, its operation ability is low and its advertisements can not be sold."
Lack of stamina in knowledge payment
In fact, people in the industry often collide with each other on the issue of what kind of platform they know. Zhihu is defined as "China's largest Q & a online community", but third-party organizations such as AI media consulting generally classify Zhihu as a comprehensive platform for knowledge payment.
According to AI media consulting data, the number of Chinese knowledge payment users will grow to 418 million in 2020, with a market size of 39.2 billion yuan. By 2021, the above data will reach 477 million people and 67.5 billion yuan respectively. Since knowledge payment was studied by the third-party organization, the user scale and market scale have been growing steadily, but compared with online video, webcast and other markets, the gap is obvious.
"It's not just Zhihu, it's not easy for other knowledge payment platforms to cash in. First, users begin to establish the consumption habit of knowledge payment. Second, users are more willing to pay for entertainment products than knowledge," Zhicha big data analyst Liu Dawei told Beijing business daily.
AI media consulting analyst Li Songlin also pointed out that in recent years, the rapid development of the knowledge payment industry and its brutal growth have led to many problems, among which the homogenization of content and the lack of authenticity of publicity are particularly prominent, which makes it less attractive to users for a long time, reduces users' favor for the knowledge payment platform, and eventually leads to the low repurchase rate of knowledge payment products and services .
For the future, AI media consulting statistics show that 6.6% of users are very optimistic about the development prospect of China's knowledge payment industry, and 43.5% of users are relatively optimistic. As for the development trend of knowledge payment platform, Li Songlin mentioned several points, including the downward penetration of user market and the improvement of the role of waist and tail creators.
In terms of supporting creators, Zhou Yuan made it clear when Zhihu went public that "Zhihu will anchor the dot of" service creators "to optimize services inward and break out outward. I'm going to share some of my equity with some excellent creators who accompany Zhihu's growth.
In fact, supporting creators is a common practice of other content-based platforms. In the relationship between knowing and creator, there are user suggestions: "knowing what to solve is not to let your platform become a scenario of large V absorbing official account to precipitate private territory traffic, but to keep the big V in the nest where knowledge nests and achieve stable economic returns."
Beijing Business Daily reporter Wei Wei
[the above content is transferred from "Beijing Business Daily website", which does not represent the view of this website. If you need to reprint it, please get permission from the website of Beijing business daily. If there is any infringement, please contact to delete it. 】
0