On the 27th of 2023, longfu Town, Zhejiang Province, held the finals of Longjing tea making skills competition.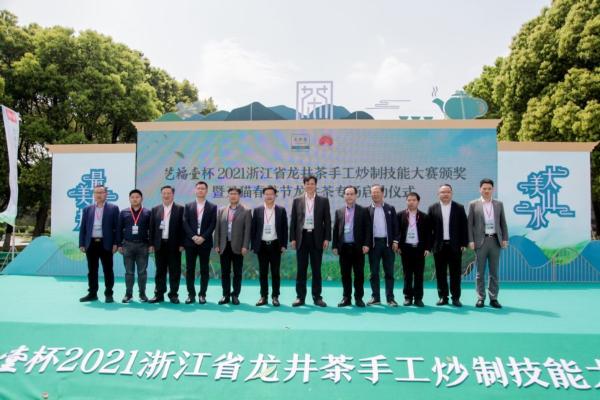 The competition was sponsored by Zhejiang Provincial Department of agriculture and rural areas, organized by Zhejiang Agricultural Technology Promotion Center, Zhejiang agricultural and rural publicity Center, Tonglu County People's government and Zhejiang tmall Technology Co., Ltd., and implemented by Tonglu County Tea Industry Association and Zhejiang yifutang Tea Industry Co., Ltd.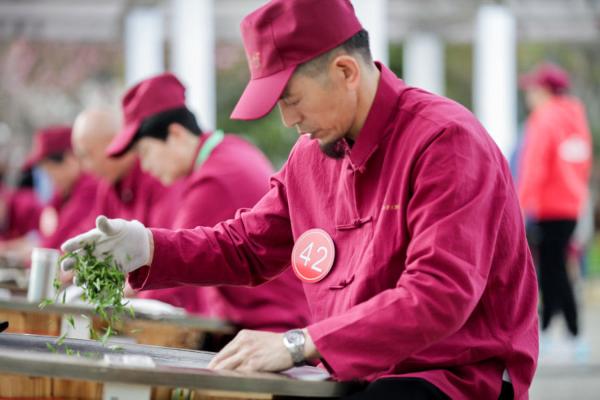 Longjing tea is famous for its green color, beautiful shape, fragrant and mellow taste. Its unique charm of "light and far" and "fragrant and clear" is unique among many teas, ranking first among the top ten famous teas in China. The inheritance of Longjing tea culture is inseparable from the persistence of manual tea frying technology. The tea stir frying competition is held not only to enhance the brand reputation of Longjing tea, but also to promote the inheritance and development of Longjing culture with a thousand year old charm.
[top ten competition born]
A total of 50 contestants from 18 Longjing tea producing counties (cities and districts) participated in the competition. Before that, the contestants had already gone through a round of preliminary competition among the major Longjing tea producing areas, and they were all top tea roasters. Through today's competition, they will compete for the title of "2021 top ten Longjing tea roasters in Zhejiang Province". Each winner will receive the award certificate issued by the Department of agriculture and rural areas of Zhejiang Province and a cash reward of 10000 yuan!
Lu Debiao, director of Longjing tea brand management office of Zhejiang Agricultural Technology Promotion Center, said at the scene: "the Longjing tea manual frying competition is held every year, but there are many highlights this time. For example, the competition clearly requires that at least 20% of the contestants are under 40 years old. The inheritance of Longjing tea needs the team of young people.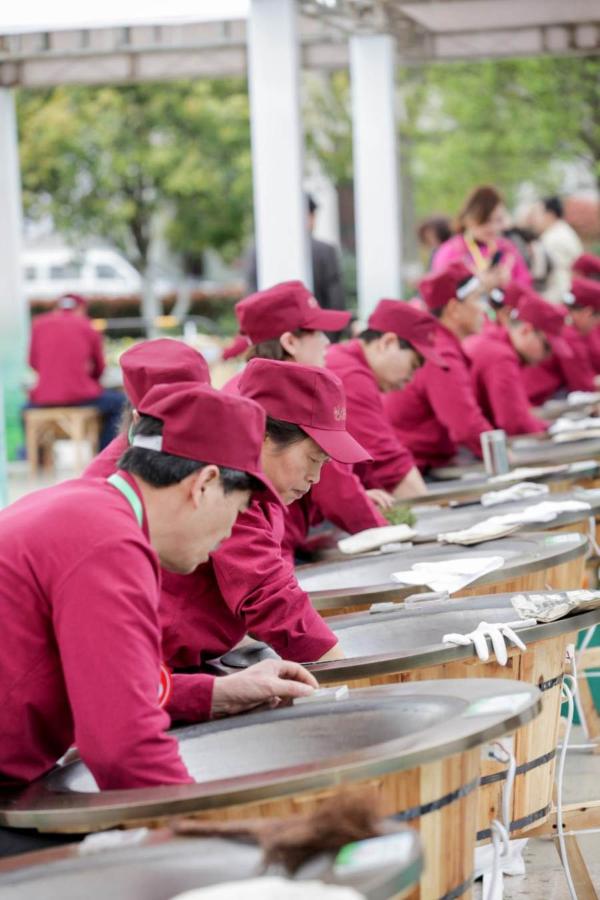 We not only regard fried tea as a competition, but also as a brand promotion activity of Longjing tea. Before the competition, we launched a website to publicize the story mining of previous players, Longjing tea game, product customization of fried experts, etc., and regard this competition as a platform for Longjing tea publicity. We also cooperate with the government platform and tmall platform, which is undertaken by yifutang, a tea brand. This will certainly play a greater role in promoting the inheritance of Longjing tea. "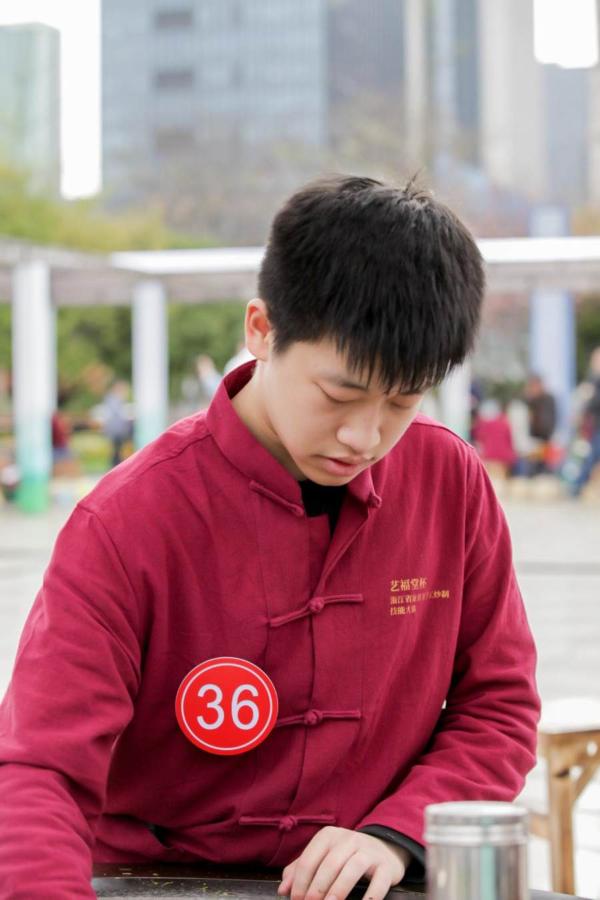 A group of young new faces have emerged in this competition. Jiang Longji, a 18-year-old contestant from Qiantang production area, is the youngest contestant in this competition, but his skill of frying tea is very mature.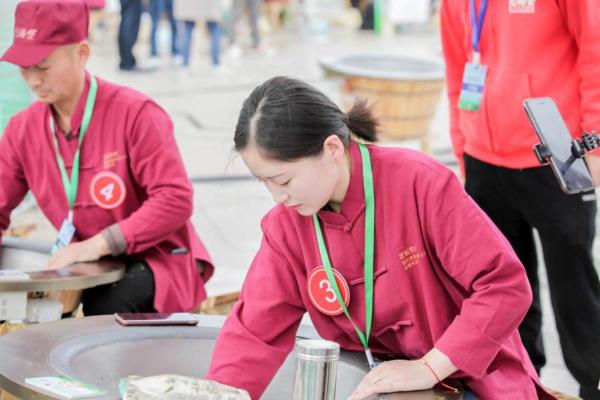 Zhu Yingying, from the West Lake scenic spot, took part in the competition for the first time this year, but she was not stage fright at all. In the face of the tourists' appreciation, she just laughed shyly, calmly, and devoted herself to the pot of tea in front of her. She began to learn how to stir fry tea in June last year. The reason for her doing this business is her love for tea. "I'm a native tea farmer's child. I think this stir frying technology has to be passed on and it's also a responsibility. "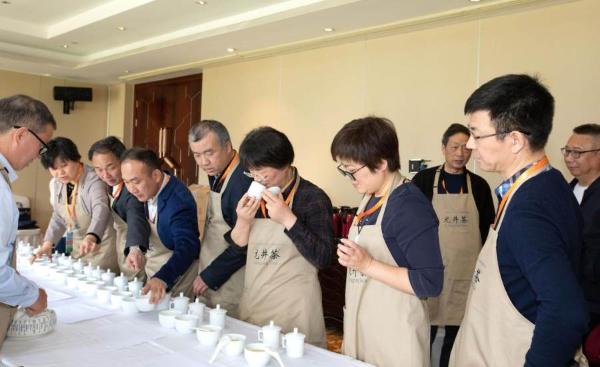 Professor Gong Shuying, a national first-class tea evaluator and senior evaluator of Zhejiang University, introduced the evaluation criteria of the Longjing tea manual stir frying competition: "the evaluation criteria of Longjing tea stir frying is based on the sensory evaluation method of GB / T 23776, which includes five factors: appearance, soup color, aroma, taste and leaf bottom. Because this is the Longjing tea hand fried competition, so we will pay more attention to the shape, and look at the quality
As for the continuous holding of Longjing tea hand frying competition, Professor Gong said, "although there are machines to replace it now, we have to understand the principle of hand processing Longjing tea if we want to make good tea and operate machines. For a long time, we hold the stir frying competition of hand-made Longjing tea every year, so that our Longjing tea can be better combined in terms of inheritance and protection. Let more people know how to make tea by hand and operate the machine well. "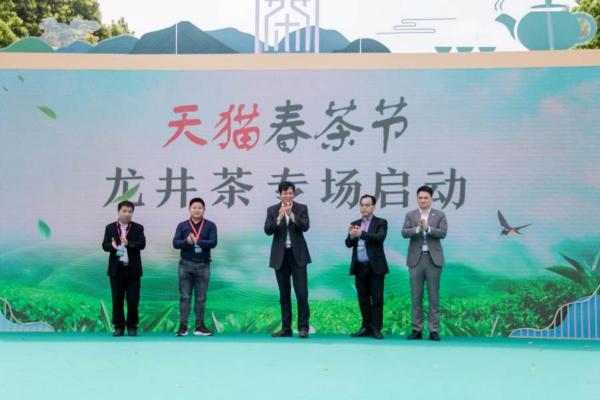 With the exploration of e-commerce by more and more Longjing tea enterprises, Longjing tea has become a hot selling tea on major e-commerce platforms. Among them, tmall, as the head platform of e-commerce, has officially opened a subdivision category of Longjing tea, which has gathered nearly 100 brand businesses in the three major Longjing tea producing areas to provide authentic, original and fresh high-quality Longjing tea for netizens across the country.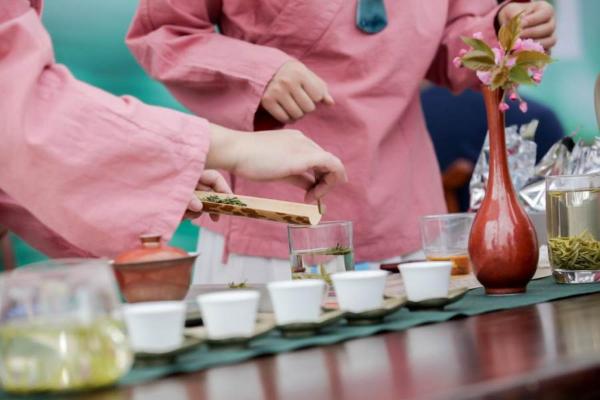 Today, the Longjing tea special session of tmall Spring Tea Festival is officially launched. With the opportunity of the award ceremony of yifutang cup 2021 Zhejiang Longjing tea manual frying competition, we will witness and open the Longjing tea special session of tmall Spring Tea Festival!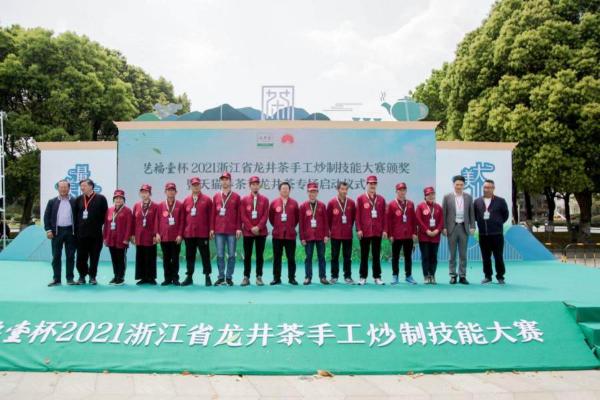 Finally, the top ten Longjing tea roasters of Zhejiang Province in 2021 yifutang cup were Li aiming, Cai rongmu, Ying Zhongnan, Jiang narong, Chen Shenggang, Xie Kangguo, Dong Guoxing, Sheng Huanyao, Li Shuixin and Liang Mengfeng (ranking from high to low).
Among them, yifutang Tea Co., Ltd. and other leading tea enterprises have also signed contracts with outstanding representatives of Longjing tea's top ten roasters, further expanding the influence of Longjing tea and making Longjing culture bloom with new brilliance.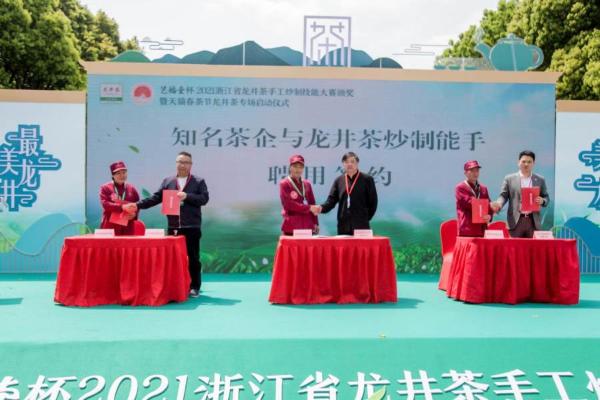 [limited sale of customized tea gifts]
It is reported that yifutang tea industry will also customize and develop Longjing tea gift boxes for frying experts, with a limited number of 100 sets, which will be sold in yifutang's online flagship store. The gift box contains Mingqian Longjing new tea made by the top ten tea roasters and the award-winning certificate issued by the agriculture and rural Department of Zhejiang Province, which ensures that the old tea customers can enjoy the most convenient and safe spring feast without leaving home.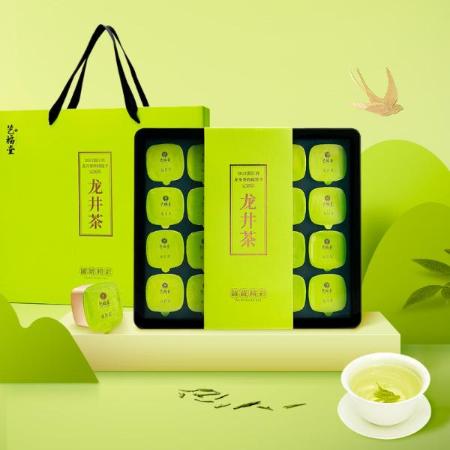 On the spot of the competition, Jing Tian, general manager of yifutang tea industry, introduced to us: "yifutang controls the quality of tea from the selection of raw material base; we cooperate with relevant scientific research institutes and experts in the process of tea processing, and through the evaluation of big data, we set the shape of the products according to the preferences of consumers Third, control the links of service, including logistics and after-sales services. "
[multiple surprises hit the audience]
The yifutang cup Longjing tea provincial competition has produced many eye-catching "highlights". In the central square of Tonglu County, a new tea market has attracted a large number of people's attention. Here, visitors can not only taste the freshest Longjing tea, enjoy the tea performance, but also participate in the happy tea game, unlock the surprise gifts!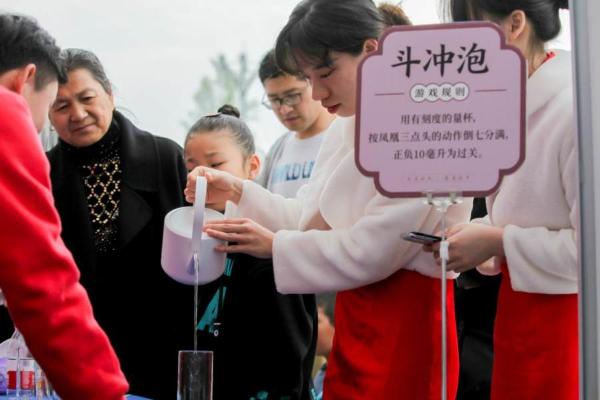 When the visitors were interviewed, they happily said: "this year's tea stir frying competition is held in Tonglu. It can be said that it should be held at the right time, in the right place and win the hearts of the people. Tianshi, now this season is just a cup of Longjing tea, leisurely time between heaven and earth. Tonglu is located on the Bank of Qiantang River. Tonglu is also a place with eight mountains, one water and one farmland. It is suitable for Longjing tea. Tonglu tea is beautiful. So this competition can be said to be a collection of 100 strong points, to make a good cup of tea, the time, the place and the people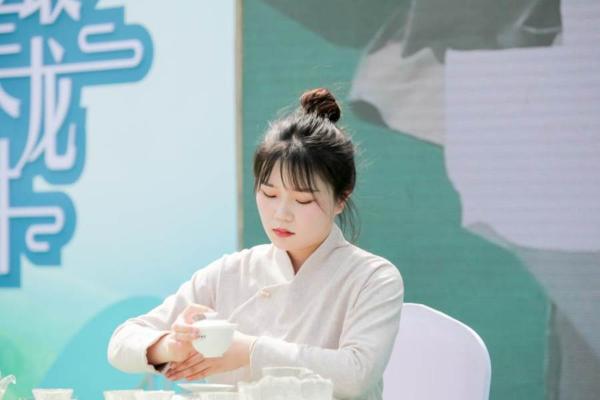 On the afternoon of March 27, the tour line of Longjing tea was opened for a limited time. Tourists who signed up in advance can visit the tea mountain for free and punch in the beautiful scenery of the spring tea garden. You can also explore the Longjing smart factory, visit the production and production process of Longjing tea, and experience the "external beauty" and "connotation beauty" of Longjing in one stop.
[Longjing live broadcast is another way to build momentum]
With the help of e-commerce live broadcast, the competition also set up a live activity of Longjing tea, so that the audience who did not arrive at the scene can also feel the warm atmosphere of the live activity. In addition, Professor Gong Shuying of Zhejiang University and Yao Fujun, director of tea mulberry station of Tonglu County Agricultural Technology Extension Center, also visited the live broadcast room to introduce the three Longjing tea producing areas, Tonglu customs, Longjing knowledge popularization, purchasing skills and other contents to the audience. Colorful activities, interesting explanations, and rich prizes, make the live room climax again and again.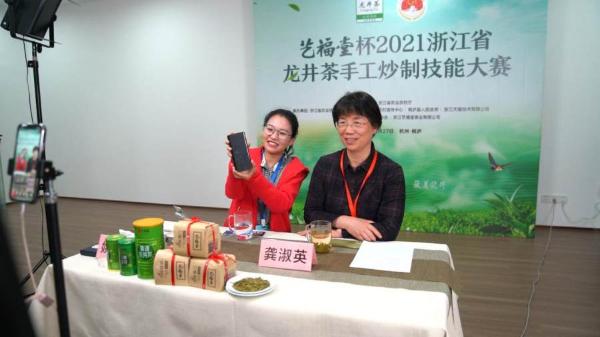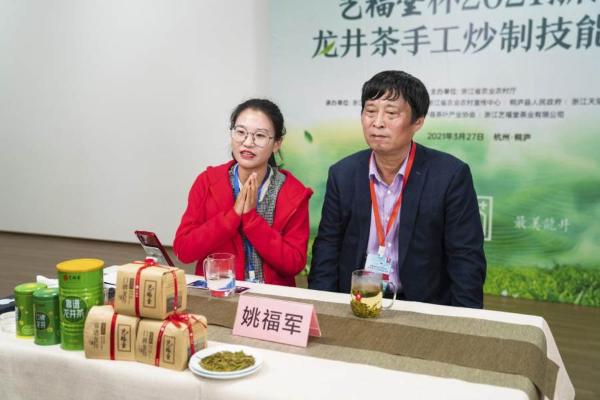 In this year's tea stir frying competition, there are young, old, male and female. For Longjing tea, it needs a lot of people, generations of efforts, people of different ages, to recognize it, to innovate its product technology, to control product quality. Longjing tea is the golden card of Zhejiang Province and a Millennium brand. As a classic product of history, traditional skills are the soul and gene of the brand. To make Longjing tea bigger and stronger, it is indispensable for the traditional inheritance.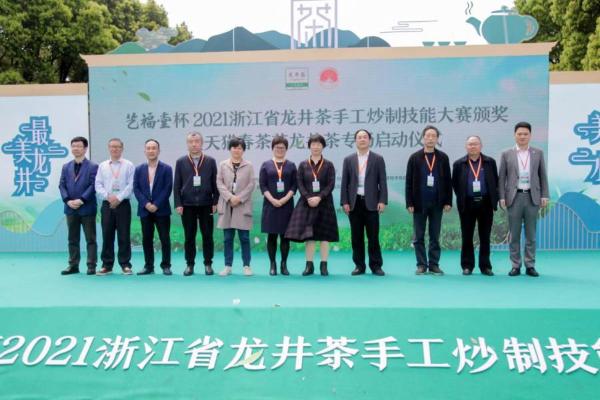 two hundred and fifty-two