"This is the last major entrepreneurial project in my life. I will lead the team myself. I believe Xiaomi will succeed one day." On the evening of March 30, Lei Jun, chairman of Xiaomi group, announced emotionally at the press conference that Xiaomi officially entered the intelligent electric vehicle industry.
In the view of industry insiders, automobile is an important application scenario in the future and the second battlefield of smart home. Like apple and Huawei, it will be sooner or later for Xiaomi to enter the market. As for the initial investment of 10 billion yuan and the long-term investment of 10 billion US dollars, it will take time to test whether Lei Jun's dream of making a car can be realized.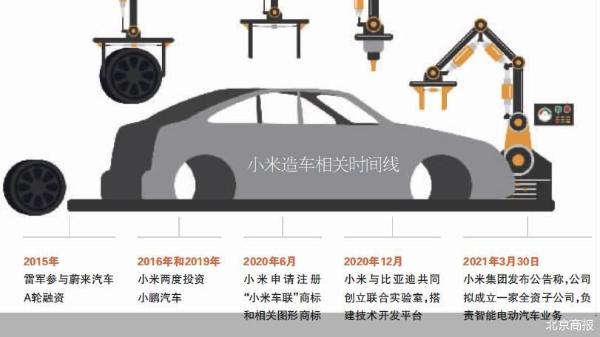 Officially approved
In the afternoon of the same day, Xiaomi group announced that the company plans to set up a wholly-owned subsidiary to be responsible for the intelligent electric vehicle business, with an initial investment of 10 billion yuan and an estimated investment of 10 billion US dollars in the next 10 years. Lei Jun will also be the CEO of the intelligent electric vehicle business.
Lei Jun also announced on his microblog that the board of directors of Xiaomi officially approved the resolution on the same day, and the project of Xiaomi intelligent electric vehicle was officially approved.
At that time, netizens said one after another under Lei Jun's microblog: "the first car of young people is coming!" Some netizens yelled to Lei Jun: "is Mr. Lei Considering Pricing 1999 yuan?"
At the evening's press conference, Lei Jun talked about his ideas on car building with the background of a group photo taken by himself and Tesla founder musk many years ago.
Lei Jun said frankly that he only started to investigate and build cars on January 15, 2021. In the past 75 days, he has conducted 85 industry visits and two formal board meetings.
The official micro blog of Xiaomi company also issued an article that night, saying that in recent years, the issue of car making has been discussed occasionally at the senior management meeting of Xiaomi, but it was not until January 15 of this year, at the request of the board of directors, that it began to seriously study the electric vehicle industry.
"Other people say that the auto industry is prone to billions of investment. If you make a careless move, you will lose a lot of money. Other people spend five or six years preparing for it. Can you?" Lei Jun said with emotion, "when we first entered the smartphone industry, we had nothing. Through ten years of hard work, we have achieved today's miracle and become one of the top 500 enterprises in the world. Today, whether we still have the same courage and determination as ten years ago is the key point for me to think over and over again."
Lei Jun said that today's Xiaomi has accumulated some money. By the end of 2020, the cash balance will reach 108 billion yuan, and there will be more than 10000 R & D teams. This year, it is estimated that 5000 people will be added. "With the top three mobile phone businesses in the world and the best intelligent ecology in the world, we can afford to lose money and fight a war.".
save against a rainy day
The news about Xiaomi's car building has been exposed many times this year, and has been hotly discussed in the past few months. Although Lei Jun said that he only started to investigate car building in January this year, Xiaomi has accumulated experience in this field for many years.
In terms of patents, tianyancha app shows that Xiaomi affiliated companies have applied for a number of automobile related patents, including "rearview mirror adjustment method, device and terminal", "vehicle control method and device", "vehicle control method and device", etc. The patent abstract of "rearview mirror adjustment method, device and terminal" shows that the invention can make the user enter the car without manually adjusting the rearview mirror to find a suitable reflection field of the rearview mirror, which brings convenience to the user and improves the user experience; the patent abstract of "vehicle control method and device" shows that the invention belongs to the field of automatic control technology and can be used in automatic control In the process of controlling vehicle parking, the parking effect is optimized.
In terms of trademarks, since 2012, Xiaomi Technology Co., Ltd. has successively applied for the registration of "Xiaomi", "Xiaomi" and other related trademarks in the international classification of "means of transport", with the trademark status of "trademark registered", of which 2020 is the most In June 2003, the company applied for the registration of "Xiaomi car union" trademark and related graphic trademark. The international classification involves website services, scientific instruments, etc. at present, the trademark status is "trademark application".
In addition, according to Lei Jun, Xiaomi has participated in the investment of 10 electric vehicle companies in the past seven or eight years. Tianyancha app shows that in 2015, Lei Jun participated in Weilai's round a financing through Shunwei capital; in 2016 and 2019, Xiaomi invested in Xiaopeng automobile twice; in December last year, Xiaomi and BYD jointly established a joint laboratory to build a technology development platform.
Xu Yiqiang, an industry observer, believes that there are two reasons why Xiaomi makes cars: first, cars are also hardware, just like mobile phones and home appliances. In the 5g era and the background of Internet of things, once connected with home appliances and mobile phones, new business imagination will be released; second, the Internet of things represented by smart cars is replacing the mobile Internet represented by mobile phones In the era of Internet, more and more life and entertainment styles and space will be created, and it is natural for Chejia Zhilian.
Zhang Xiang, an auto industry analyst, pointed out that Xiaomi, as a technology company and a listed company, must develop new businesses and seek new growth points in order to ensure the growth of share price and market value. In recent years, the new energy sector has been particularly hot, and it is reasonable for Xiaomi to aim at this industry. "And before Apple, Huawei, Baidu and other enterprises set foot in the automotive field, they all gave Xiaomi inspiration."
Ecological layout
According to the Xiaomi announcement, the initial investment of the car building plan is 10 billion yuan, and the investment is expected to be 10 billion US dollars in the next 10 years.
"The investment scale of Xiaomi, that is, the initial investment of 10 billion yuan, and the subsequent continuous investment, can be satisfied for the introduction of electric vehicles. Before, Weilai and Xiaopeng also announced their investment threshold for car building." Zhang Xiang said. It is undeniable that car making is a money burning industry. Li Bin, chairman of Weilai automobile, once said that "20 billion yuan is just a threshold"; he Xiaopeng, chairman of Xiaopeng automobile, also said that before he came into contact with the automobile industry, he thought it would be enough to finance 10 billion yuan, but he found that even if there were 20 billion yuan, it would not be rich enough for the automobile industry.
However, at the press conference that night, Lei Jun did not reveal more about the direction of car building. It is reported that a Xiaomi insider disclosed that the Xiaomi car building team has moved to building a in the industrial park to work together, and several Xiaomi internal teams have joined in. Although Lei Jun is also the CEO of Xiaomi car, Wang Chuan will be responsible for the specific implementation. The heads of several small departments within Xiaomi have been incorporated into the car building team, including a number of managers in the artificial intelligence department. In addition, Xiaomi plans to outsource its auto assembly business to contract manufacturers, and has no plans to choose "old brand" auto manufacturers, according to surging news, citing a report by Bloomberg.
Beijing Business Daily reporter interviewed Xiaomi, the other side said that at present, the announcement information is the standard.
"As an Internet company entering the car manufacturing industry, Xiaomi has advantages over traditional car companies, including brand awareness, user base, supply chain ability, cost control ability, etc." In Zhang Xiang's view, Xiaomi has built a relatively complete software and hardware ecosystem. Software such as some apps can be extended to cars, and intelligent hardware such as rice cookers, speakers, electric lights, etc. can also connect with intelligent cars in the future. This is also the development direction of the Internet of things. Now a few car companies can control some home appliances on the car screen, so it's very important Xiaomi can expand its ecosystem to the automobile industry.
In addition, Zhang Xiang added that Xiaomi's experience in car building is blank, so it can give full play to its advantages, do a good job in software design, human-computer interface design and car styling design, and hand over the chassis power system to partners, so as to speed up the launch of new cars. "If Xiaomi automobile can be launched and delivered in a year or two, it can still occupy a place in the market."
In Xu Yiqiang's view, car building is actually a feast of capital. Xiaomi's strength should not be the strength of capital and platform, but the stickiness and cognition of users. It may be worth looking forward to the first new energy vehicle for young people as a breakthrough. "But at present, it is impossible to judge whether Xiaomi can build a car successfully. The car building track is already very crowded, gathering real estate enterprises, battery enterprises, new energy enterprises, Internet enterprises and so on. The final success mainly depends on the enterprise's strategic determination and investment. If it's just chasing the wind and joining in the fun, it's hard to say. "
Beijing Business Daily reporter Shi Feiyue
[the above content is transferred from "Beijing Business Daily website", which does not represent the view of this website. If you need to reprint it, please get permission from the website of Beijing business daily. If there is any infringement, please contact to delete it. 】
0