In recent years, under the catalysis of 5g, AI, IOT and other high technologies, commercial display devices, as intelligent display terminals, have become the interaction center between people and data and industry, and become the basic important carrier in the process of industry digitization. According to the forecast of China's commercial large screen display market in 2021, the sales volume of China's commercial large screen display market will reach 60.4 billion yuan in 2021, with a year-on-year growth of 22.2%. In the face of the rapid growth of the market demand for business display, in order to provide more high-quality and diversified products and services to all walks of life, on March 30, JD and Hisense signed a deep strategic cooperation agreement for business display. The two sides will integrate their respective advantages in digitization and product strength, and carry out in-depth cooperation in the co construction of b-end goods, opening up service resources, marketing interaction, and joint expansion of enterprise customers.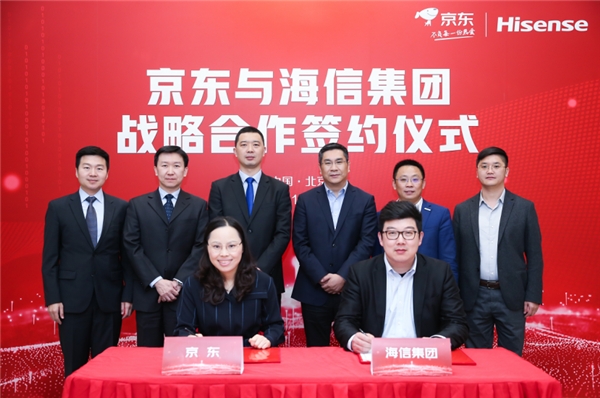 Lu Luqun, general manager of business department of Jingdong household appliance enterprise, signed a contract with Liu Jie, deputy general manager of Hisense commercial display company
Through this cooperation, Hisense's b-end exclusive products and system solutions will be settled in Jingdong for the first time. Based on the presence of existing products, the two sides will, based on the big data advantages of JD platform, jointly explore, discuss, formulate and customize product plans that match the main purchasing price segments of customers, develop differentiated products for b-end special supply according to the needs of enterprise customers, and create the main explosive funds of b-end channels. In terms of marketing promotion and enterprise services, the omni channel resources are integrated, and the use scenarios such as intelligent conference, educational TV and commercial large screen are classified and distributed. At the same time of providing high fit, high value products and whole process services for all walks of life, we will jointly expand the commercial display market.
It is noteworthy that this is not only the first strategic cooperation between JD and Hisense in the b-end business of SDI, but also the first in-depth cooperation between brands and platforms in the whole SDI field. This cooperation has set an industry benchmark for the digital transformation and upgrading of the commercial display market in terms of product innovation, procurement mode reform, supply chain optimization and configuration.
At the signing ceremony, Hu Jianyong, vice president of marketing headquarters of Hisense Group in China and vice president of Hisense video, said that Hisense has strong R & D technology accumulation, strong manufacturing capacity and perfect quality control system, while Jingdong enterprise business has more advantages in b-end market channels and customer demand understanding, and both sides have good complementary advantages. The joint efforts of the two sides can not only provide customized products more in line with the needs of enterprise customers, but also play an important role in promoting the professional and refined development of the entire commercial display industry.
Guo Xiaobo, general manager of 3C household appliances business group of Jingdong retail group, said that "expanding upstream resources" is one of the important driving points of Jingdong business this year. The strategic cooperation with Hisense is a key step for JD to expand upstream resources in the field of commercial display. Both sides are committed to jointly create a high-quality commercial display procurement service ecosystem. In the future, Jingdong business will continue to rely on the advantages of platform big data and group digital intelligent supply chain, cooperate with major brands, and take "building a more efficient business world" as the goal, accelerate the opening up of the upstream, middle and downstream of the industrial chain, and promote a win-win industrial development pattern. We will continue to accelerate the digital development, help the digital transformation of home appliance manufacturing industry with the new advantages of digital economy, accelerate the development towards "quality manufacturing" and "intelligent manufacturing", and make the "digital + real" economy more efficient to assist social development and benefit the people.
0