March 31, 2021 driving China last night and this morning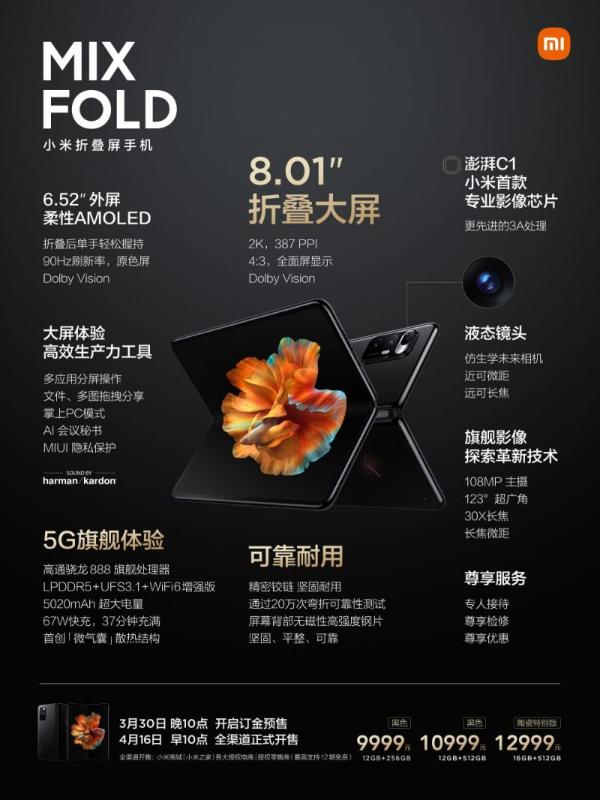 Xiaomi's first folding screen mobile phone mix fold uses surging C1 image processor independently developed
According to our website, last night, Xiaomi held the second half of its spring launch. At the launch, Xiaomi's mix series returned and released its first folding screen high-end flagship mix flod, with a price of 9999 yuan.
Xiaomi mix Fold adopts 8.01-inch wqhd + resolution screen with 6.52-inch external screen. It is equipped with the flagship platform of snapdragon 888, with full blood lpddr5 memory and ufs3.1 flash memory. It supports up to 16GB + 512gb of storage. At the same time, it is equipped with self-developed surging C1 professional image processor, first liquid lens, four speaker 3D panoramic sound system, 5020mah battery and 67W fast charging.
The standard version 12 + 256 is priced at 9999 yuan, the 12 + 512 version 10999 yuan, and the ceramic special version 16 + 512 is priced at 12999 yuan. The products will be sold in full on March 30 and officially on April 16.
In addition to mobile phone products, Mi's sweeping robot pro, Mi's pure intelligent humidifier pro, Xiao Mi's notebook Pro 14 / 15 and Xiao Mi's environmental protection handbag also appeared at the meeting. At the same time, Xiao Mi announced the launch of a new logo designed by yuan Yanya.
Lei Jun announces Xiaomi car making plan
Yesterday evening, Xiaomi Group officially announced the establishment of new energy vehicle project. At the spring press conference later, Lei Jun elaborated on the general plan of car building.
According to sohu.com, Lei Jun said at the meeting that car building is the last important entrepreneurial project in his life and he is willing to press on all his achievements and reputation. According to Lei Jun, on January 15 this year, Xiaomi began to investigate the construction of cars, after visiting musk twice. He also said that he was very aware of the risks of the auto industry, and that it would take three to five years for an investment of 10 billion yuan to be effective. But now Xiaomi has accumulated. By the end of 2020, the company has a cash balance of 108 billion yuan. At the same time, the company has a R & D team of more than 10000 people, the top three mobile phone businesses in the world, and the best intelligent ecology in the world. The company can afford to lose money. All these are important supports for Xiaomi to build cars.
According to media reports, the Xiaomi car building team has moved to building a in the industrial park to work together, and several Xiaomi internal teams have joined in. Lei Jun is also the CEO of Xiaomi, but Wang Chuan will be responsible for the specific implementation. The heads of several small departments within Xiaomi have been incorporated into the car building team, including a number of managers in the artificial intelligence department. These people have also reported to Wang Chuan before, and will continue to report to Wang Chuan after joining the car building team.
ZTE releases new S30 series mobile phones
ZTE's S30 series, including ZTE's S30 pro, ZTE's S30 and ZTE's S30 se, was officially released yesterday, according to fast technology.
In terms of appearance, ZTE S30 pro and ZTE S30 are completely consistent, adopting a three-dimensional 3D stacking design. Finally, the thickness of the whole machine is compressed to 7.8mm, and the weight is only 178g. ZTE S30 series adopts 6.67 inch AMOLED ultra-high definition large screen, supports 144 Hz ultra-high refresh rate and 360 Hz touch sampling rate, and also has 1.07 billion color display, 800 nit peak brightness and triple eye protection functions.
In addition to the 64 megapixel main camera, it is also equipped with 120 ° ultra wide angle lens + macro lens + depth of field lens. At the same time, it also supports video two-way anti shake, intelligent vlog short video, easy shooting and happy sharing.
ZTE S30 Pro is equipped with a 768g processor of Qualcomm snapdragon, with 4200mah battery built in the fuselage, supporting 55W fast charging. ZTE S30 is equipped with Lianfa Tianji 720 eight core processor, which also supports super antenna 3.0 technology, seamless four cut, the fastest red envelope, high-speed rail mode and other functions. The fuselage has built-in 4000mAh battery and supports 30W fast charging. ZTE S30 se is equipped with Lianfa Tianji 700 processor. It also has the strong signal and other functions of 5g super antenna 3.0, 128G large memory and 48 million pixel AI tri camera module.
In terms of system, the series launched a new myos 11 operating system, which brings younger visual effects, more intelligent interaction mode and comprehensive security and privacy protection system.
ZTE S30 Pro 8GB + 256gb version is priced at 2998 yuan, ZTE S30 8GB + 128GB version is priced at 2198 yuan, ZTE S30 se 6GB + 128GB version is priced at 2398 yuan, ZTE S30 se 6GB + 128GB version is priced at 1698 yuan, which will be sold through all channels on April 3.
In addition to mobile phone products, ZTE also launched ZTE watch, which focuses on professional sports and health functions, with a price of 599 yuan and an initial price of 549 yuan.
Alipay's payment code extended for three years free cash withdrawals
According to Sina reports, Alipay official micro-blog announced that its decision: Alipay's cash collection service is now extended for another 3 years without a single cap and a single day limit. I hope small businesses can withdraw cash free of charge.
In addition, the announcement said that since April 1, 2021, the amount of free cash withdrawals received by Alipay has not been set up with a single limit, and the amount of free cash withdrawals received by Alipay has no single day limit.
0