On March 30, at its spring new product launch, Xiaomi officially released a series of new products, such as Mijia new air conditioning exclusive edition, to systematically promote the concept of "whole house intelligence" and provide users with a more complete, more convenient and more meticulous life experience. This innovative release of Mijia new air conditioning exclusive edition is the best interpretation of a better life, which coincides with the concept of "refreshing your life" of Jingdong household appliances. As an important channel for Xiaomi's new product launch, on the night of the press conference on March 30, Jingdong has started the pre-sale of deposit and increased its weight through all channels to help Xiaomi seize the new air outlet of the air conditioning market.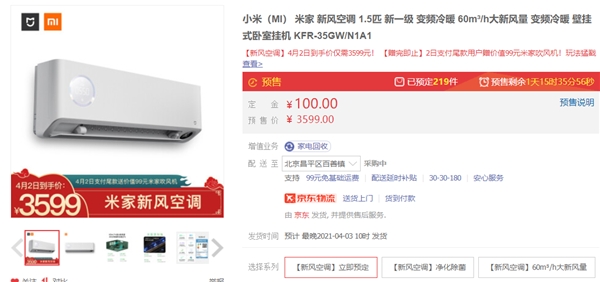 Since 2015, Jingdong household appliances has been working with Xiaomi for six years, and the two sides have promoted and achieved each other in close cooperation. Under the deep strategic partnership, with a large number of high-quality users and a compound annual growth rate of 110% of new users, Jingdong has helped Xiaomi brand achieve rapid growth on Jingdong platform. Since 2018, Xiaomi TV, Xiaomi purifier and other household appliances have constantly refreshed the sales charts of JD 618 and 11.11 household appliances.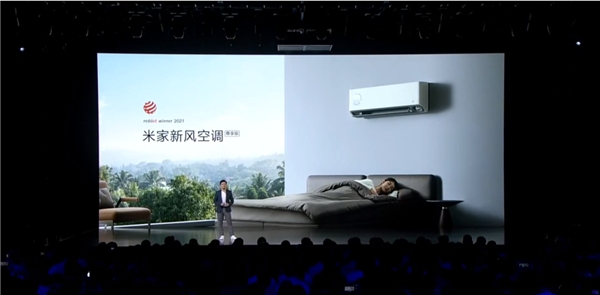 It is reported that the exclusive version of Mijia fresh air conditioner is Xiaomi's first air conditioner with fresh air function. It has a maximum fresh air volume of 60m3 / h in the industry, and can realize 42 minutes of rapid ventilation in the whole house. The first "health screen" can display the indoor air health status in real time. It has a built-in high-precision CO2 sensor, which can intelligently adjust the fresh air volume according to the indoor air condition. The fuselage is equipped with UVC deep UV The sterilization rate was as high as 99.9%. In addition, all DC frequency conversion, a new level of energy efficiency, comfortable wind and other high-end configuration are also available. With the support of innovative technology, the exclusive version of Mijia fresh air air conditioner has transformed the traditional air conditioner from a single product focusing on cooling and heating into a new generation of air conditioner integrating frequency conversion air conditioner, fresh air system and purification and sterilization.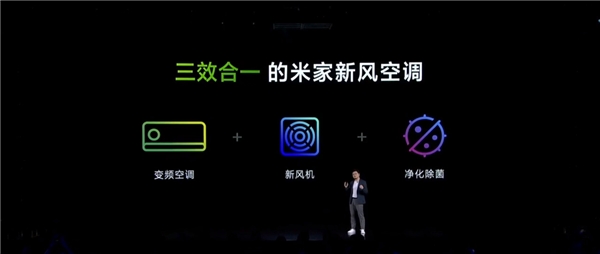 With the saturation of air conditioning, the appearance of Mijia new air conditioning will vigorously promote the upgrading of air conditioning products. At the same time, with the blessing of Jingdong's Omni channel advantages, both sides once again push the "new air popularization storm" to a new height. For Xiaomi, in addition to being recognized by more users, the in-depth cooperation with Jingdong can be combined with the massive big data of Jingdong to realize the in-depth cooperation on c2m reverse customization, upgrading the significance of cooperation from simple purchasing and marketing cooperation to the integration of customized R & D, production, sales, logistics and service.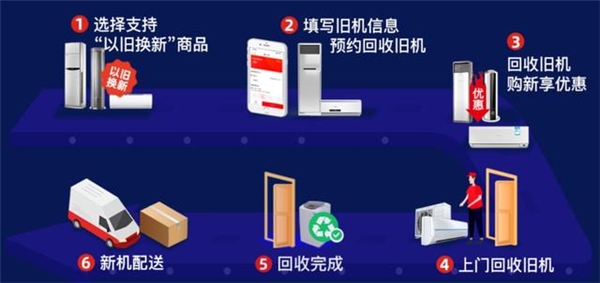 In order to better promote the new upgrading of air conditioning industry and accelerate the popularization of fresh air air conditioning market, JD household appliances has also made innovation and upgrading in the aspect of old for new service, and made clear five "no" commitments, that is, all participating in the old for new air conditioning industry have no restrictions on brand, age, product phase, door-to-door dismantling, no charge, and no complex process operation; at the same time, they can cooperate with the hang up air conditioning industry to the maximum Up to 450 yuan can be up to 600 yuan of RMB 1 billion replacement subsidy, so that users can save time, worry and money on the way to replace new air-conditioners, encourage users to replace old air-conditioners with new air-conditioners to the maximum extent, accelerate the popularization of new air-conditioning market, and meet the healthy and new quality needs of consumers.
0