On March 5, it was reported that iqoo mobile officially announced more information about its iqoo Neo 5 mobile phone on the social platform. In the official announcement, we learned that iqoo Neo 5 will be equipped with a flash charge of up to 66W, which can fully charge the mobile phone in 30 minutes at the fastest.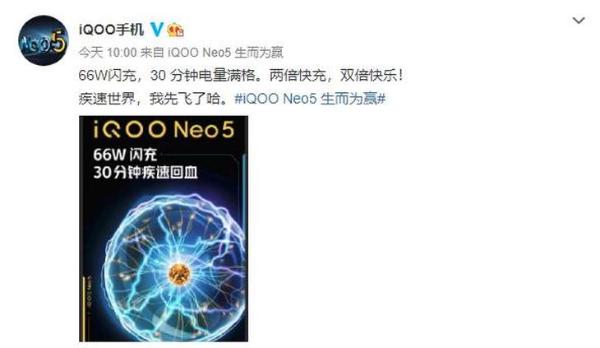 According to the official information of iqoo, the iqoo Neo 5 mobile phone will be equipped with a capacity of 4400mAh composed of double cells, and the special precious metal "rhodium ruthenium" will be electroplated on the charging interface, which is corrosion-resistant and wear-resistant, greatly improving the reliability of the interface, providing a more excellent experience for the whole charging scene.

In addition, the original travel charger of iqoo Neo 5 standard configuration is also compatible with up to 45W PD output, which can meet the charging requirements of some notebook computers supporting PD protocol, such as switch, and make it more convenient for users.
Iqoo Neo 5 will be officially released on March 16. As a flagship mobile phone equipped with flagship SOC snapdragon 870 and 66W ultra fast flash charging, iqoo Neo 5 should bring us a lot of surprises. Let's look forward to the official release of iqoo Neo 5.
Author: Chen Zihong